Ed Brown, renowned for their custom 1911s, continues their Fueled Series with its new custom Smith&Wesson M&P 2.0 9mm—the MP-F4.
Full List Of Customized Components On The MP-F4:
Machined Pins
Slide Backplate
Magazine Baseplate
Magazine Well
Extractor
Trigger
Sights
Accuracy Rail
Slide
Barrel
The recently announced MP-F4 from Ed Brown is the fourth and latest installment in their custom Smith and Wesson M&P line that they call the Fueled Series. Much like with their 1911s, the Fueled Series guns are improved and customized on both a micro and macro level.
The luxurious overhauls included in this package begin to blur the line between a competition pistol and a defense gun. The components that have been upgraded lend themselves to not only improved reliability and accuracy, but to quicker reloads and cleaner trigger pulls. Effort was also certainly put in to making the MP-F4 a handsome gun as well, at least for those who are partial to the "space blaster" aesthetic.
Optics And Suppressor Ready
In 2021, is a custom gun really custom unless it has a red dot and a can? The suppressor market has exploded in recent years and has helped encourage manufacturers to ensure their threads are concentric and their guns are up to the extra abuse imparted by shooting suppressed. The MP-F4 comes with a match grade, 416 stainless steel barrel. It is fluted, threaded (with a custom thread protector), and titanium nitride coated to give it a distinct golden color. The ported slide reduces weight while also exposing more of the barrel to view.
The custom slide is also cut to accept a Trijicon RMR or any other compatible optic. When ordering the MP-F4 from Ed Brown, one can either purchase the standalone pistol or buy it as a package with a Trijicon RMR or SRO.
The Heart Of The MP-F4
Ed Brown begins each custom Fueled Series job by replacing the factory front rail block with an improved accuracy rail. Ed Brown claims that this new rail enables their gunsmiths to fit each gun to much tighter specs than what are normally found on Smith and Wesson M&Ps. By securely mating the slide to the frame, the accuracy rail eliminates rattle and improves the mechanical accuracy of the system.
The upgrades found throughout the MP-F4 mean that the gun can outperform most shooters who pick it up. For those who have religiously trained on their standard M&Ps, this may be just the gun to squeeze that last bit of possible accuracy out of the platform.
The MP-F4 begins at $2,195 and goes up from there if packaged with an optic.
For more information on the MP-F4 and the Ed Brown Fueled Series, please visit edbrown.com.
More Concealed Carry Guns: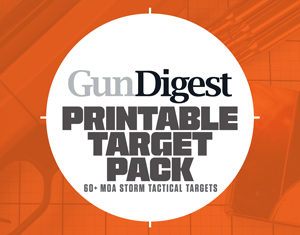 Next Step: Get your FREE Printable Target Pack
Enhance your shooting precision with our 62 MOA Targets, perfect for rifles and handguns. Crafted in collaboration with Storm Tactical for accuracy and versatility.
Subscribe to the Gun Digest email newsletter and get your downloadable target pack sent straight to your inbox. Stay updated with the latest firearms info in the industry.