Taurus is continuing to expand its GX4 line of 9mm handguns, this time with the GX4 Carry.
The design ethos driving carry pistols these days seems to be about squeezing as much firepower into as discreet of a package as possible, and the new Taurus GX4 Carry follows suit. Now boasting a 15-round magazine capacity of 9mm, the new model is larger than its older GX4 or GX4 XL siblings while remaining a concealable size.
The original Taurus GX4, as well as the GX4 XL with its longer barrel, used either flush-fit 11-round or extended 13-round magazines. Now with a larger yet still compact frame size (an overall height of 5.16 inches versus 4.4 inches), the GX4 Carry comes standard with 15-round magazines. It has a 3.7-inch barrel, about the same length as the GX4 XL, but the Carry now also has an accessory rail on its dust cover for mounting a light or laser. Speaking of mounting things, the GX4 Carry is also a T.O.R.O. model (Taurus lingo for optics-ready), and it's ready to accept any red dot that's compatible with the Holosun K footprint.
Other features of the GX4 Carry include its three interchangeable backstrap options, its reversible magazine release and its loaded chamber indicator. It also uses industry-standard iron sights, so the included black steel set can be easily replaced if desired. Like other GX4 pistols, it also has a flat-faced, serrated trigger, a satin black DLC barrel coating and a Gas Nitride slide finish.
The Taurus GX4 Carry is available now, has an MSRP of $504.99 and each pistol ships with two magazines.
For more information, please visit taurususa.com.
---
More 9mm Handguns: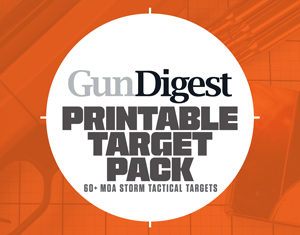 Next Step: Get your FREE Printable Target Pack
Enhance your shooting precision with our 62 MOA Targets, perfect for rifles and handguns. Crafted in collaboration with Storm Tactical for accuracy and versatility.
Subscribe to the Gun Digest email newsletter and get your downloadable target pack sent straight to your inbox. Stay updated with the latest firearms info in the industry.