Taurus has just announced the GX4XL, a new enlarged version of the GX4 available in both optics-ready and standard configurations.
In late 2021, we looked at Taurus' newly released GX4 T.O.R.O., a compact 9mm carry pistol that aimed to capitalize on the optics-ready pistol trend. The next CCW trend that the company has set its sights on is making an enlarged version of its 9mm compact carry gun. The result is the GX4XL, now featuring a longer barrel and slide, plus the choice between an optics-ready or standard version at launch.
A similar concept to the Sig P365XL, the new Taurus GX4XL features a slightly longer barrel and slide while retaining the same magazine capacity and grip size as the compact model. The GX4XL barrel is 3.7 inches (.64 inches longer than the GX4's), and Taurus emphasizes that the change will result in greater muzzle velocity for more power down range and a longer sight radius for increased accuracy. Other notable features of the GX4XL include interchangeable backstraps, a reversible magazine release and a flat-face trigger.
The standard model will ship with a steel drift-adjustable rear sight and a fixed white dot front sight. The T.O.R.O. (Taurus Optic Ready Option) GX4XL model will also be ready to mount any red dot sight that utilizes the common Shield RMSc-pattern footprint. Regardless of the model chosen, each will include one 11-round flush-fit magazine and one extended 13-round mag. 10-round magazines are also available for states with capacity restrictions.
The standard GX4XL has an MSRP of $429 and the optics-ready model has an MSRP of $459. Both are available now.
For more information, please visit taurususa.com.
---
More CCW Pistols: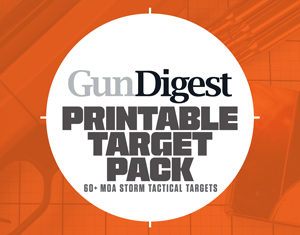 🎯 Exclusive Offer: Get Your FREE Printable Target Pack!
Dive into precision shooting with our 62 Exclusive MOA Targets featuring DOT Drills. Perfect for both rifle and handgun enthusiasts, these targets are designed for accuracy, especially for long-range shots.
Why You'll Love This Pack:
🎯 Expertly Crafted: Brought to you in partnership with the renowned Storm Tactical.
🎯 Versatile Use: Suitable for both rifle and handgun range sessions.
🎯 Precision Design: Target grids and bullseyes meticulously measured in MOA for the best shooting experience.
Bonus: By grabbing this offer, you'll also be subscribing to the Gun Digest email newsletter, keeping you updated with the latest in the world of firearms.
Don't miss out!
Simply enter your email below, and we'll send your downloadable target pack straight to your inbox.