The popularity of the 1911-style pistol has never been in dispute. Ever since its creation in the early 20th century, it has held a place of prominence in the shooting sports. The vast majority of these pistols have historically been chambered in the potent .45 ACP cartridge; however, in recent years, more and more manufacturers have been creating 1911s chambered in the smaller 9mm, which a larger portion of shooters can more comfortably handle.
It is in this same vein that Ruger has announced the addition of the SR1911 Lightweight Commander in 9mm to its lineup of 1911-style pistols.
Similar to the .45 ACP SR1911 Lightweight Commander already in Ruger's SR1911 line, the 9mm version features a commander-length slide and an aluminum frame. These changes reduce the overall weight to almost a half-pound less than the all-stainless steel Commander-Style configuration.
Unlike the previous SR1911 Lightweight Commander, the new 9mm model sports a slightly different look — black rubberized grip panels and a gray anodized frame — as well as a higher capacity of 9+1 given the smaller cartridge. And, as anyone who's shot a 9mm 1911-style pistol can attest, there will be noticeably less recoil than with a standard 1911 chambered in .45 ACP.
Because of its lightweight aluminum frame, 4.25-inch barrel, Commander-length slide and 9mm chambering, the new SR1911 Lightweight Commander in 9mm is an excellent candidate for concealed carry. Adding to its utility in that role are genuine Novak LoMount Carry three-dot sights, a lowered and flared ejection port, an extended magazine release, an oversize thumb safety, a beaver-tail grip safety and a skeletonized hammer and skeletonized aluminum trigger for fast, accurate shooting. The gun also features improved cocking serrations on the slide and a ramped barrel for reliable feeding.
The new SR1911 Lightweight Commander in 9mm is CNC-machined in the U.S. and comes with Ruger's classic series 70-type lockwork. It currently has a MSRP of $979 and ships with two nine-round magazines, a bushing wrench and a cable locking device. Specifications for the new 9mm Lightweight Commander can be found below.
Specifications:
Caliber: 9mm
Barrel length: 4.25 inches, 1:10 RH twist
Overall length: 7.75 inches
Weight: 29.3 ounces (empty)
Height: 5.45 inches
Width: 1.34 inches
Sights: Novak LoMount three-dot
Action: Semi-automatic, Single-Action
Frame: Gray Anodized Aluminum
Slide: Low-Glare Stainless
Capacity: 9 + 1
Price: $979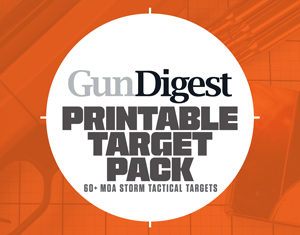 🎯 Exclusive Offer: Get Your FREE Printable Target Pack!
Dive into precision shooting with our 62 Exclusive MOA Targets featuring DOT Drills. Perfect for both rifle and handgun enthusiasts, these targets are designed for accuracy, especially for long-range shots.
Why You'll Love This Pack:
🎯 Expertly Crafted: Brought to you in partnership with the renowned Storm Tactical.
🎯 Versatile Use: Suitable for both rifle and handgun range sessions.
🎯 Precision Design: Target grids and bullseyes meticulously measured in MOA for the best shooting experience.
Bonus: By grabbing this offer, you'll also be subscribing to the Gun Digest email newsletter, keeping you updated with the latest in the world of firearms.
Don't miss out!
Simply enter your email below, and we'll send your downloadable target pack straight to your inbox.