Once upon a time, if a shooter was in the market for a single-stack .45 ACP for the most part the choices were 1911 and 1911. Those days, however, are long gone.
The venerable John M. Browning-designed handgun is still as ubiquitous as dandelions in summer. But gun makers have expanded options when it comes to single-stack pistols chambered for the hard-hitting, popular round.
As anyone familiar with handgun trends can guess, this has meant more polymer-framed, striker-fired .45s. Smith & Wesson is one of the most recent to join this club.
The Massachusetts gun maker unveiled the M&P45 Shield earlier this month at the 2016 NRA Annual Meeting and Exhibits. And from the looks of it, the pistol should get the hearts of those searching for a potent, yet clandestine concealed carry piece fluttering.
As with the entirety of Smith & Wesson's compact, single-stack line, one of the M&P45 Shield's biggest selling points is its concealability.
The new pistol matches the slight dimensions of the earlier Shields, measuring only .99 inches in width and 6.45 inches in length. However, tipping the scales at 20.5 ounces, the new Shield is a whisker heavier than its smaller-caliber counterparts, but not so much as to be noticeable.
The M&P45 Shield is outfitted with a 3.3-inch stainless steel barrel, which helps keep its overall size in check. But this means a reduced sight radius and the potential for more muzzle flip — both can be challenges to accuracy. Of course, these are more than manageable facets to this and all compact pistols that can typically be resolved through practice.
Smith & Wesson, however, has made an attempt at making the M&P45 Shield more manageable with upgraded grips. Giving the pistol an aggressive texturing should facilitate a positive grip, thus making it more manageable. The company has also aimed to make the pistol easier to operate, giving it front cocking serrations.
The M&P45 Shield comes with two magazines — one extended, the other flush fit. The extended magazine gives the pistol a 7+1 capacity, while the flush fit gives it 6+1. It is outfitted with white-dot sights, adjustable for drift and its metal components have an Armomite finish. Smith & Wesson is also giving shooters the option of a thumb safety, if they so desire.
Presently, Smith & Wesson's M&P45 Shield has an MSRP of $479.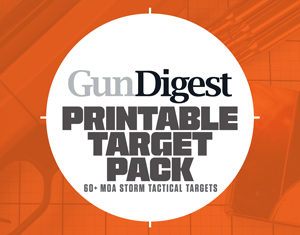 Next Step: Get your FREE Printable Target Pack
Enhance your shooting precision with our 62 MOA Targets, perfect for rifles and handguns. Crafted in collaboration with Storm Tactical for accuracy and versatility.
Subscribe to the Gun Digest email newsletter and get your downloadable target pack sent straight to your inbox. Stay updated with the latest firearms info in the industry.