Here's some of the latest new concealed carry gear to help stack the odds in your favor.
What are some great new carry gear products to give you the edge in a defensive scenario?
Owning a carry gun isn't the same as actually carrying it. In fact, new concealed carry gun owners often don't know where or how to carry, so they end up leaving their new handgun at home — and that could be a fatal mistake.
The good news is that there are countless choices when it comes to carrying comfortably and discreetly. Whether you want to tuck your gun inside your waistband — or even wear a shirt or pair of pants designed specifically for those of us who refuse to be victims — there's something out there for everyone. A growing number of companies are making clothing just for women who carry concealed, too.
Check out the list below, and remember: If you're going to own and train with a carry gun, you might as well carry it, too. Find something that works for you … and use it.
5.11 Tactical Defender Jeans
Carry in comfort with 5.11 Tactical's Defender Flex denim jeans. Made with an innovative 10-ounce cotton/polyester stretch denim, you'll have more freedom of movement, more comfort and more confidence when you carry, no matter where you go. The Defender Flex jeans are built with reinforced stitching and bar tacks in the high-stress areas, a button-top fly and locking YKK zipper, fitted waistband, five-pocket styling and dual back patch pockets. They're available in straight or slim fit to accommodate any body shape. ($69.99; 511Tactical.com)
Alien Gear Cloak Dock
It's near impossible to wear your concealed carry gun every second of the day, but you still want to keep it concealed when it's not on you. Alien Gear's new Cloak Dock allows you to attach your Alien Gear Cloak Tuck IWB holster anywhere you want. Attach the holster dock under your desk, your nightstand — even your vehicle — to keep your favorite carry gun just a quick reach away. It's made with highest-quality engineered polymer and mounts to almost any structurally sound surface. The Cloak Dock comes with two mounting brackets, hardware and a drill bit for easy installation. ($11.88; AlienGearHolsters.com)
Black Hills Honey Badger Ammo
When your life is on the line, nothing matters more than bullet performance. Black Hills Honey Badger ammo isn't just hard hitting — the unique fluted bullet design cuts through barriers without over-penetrating. The non-expanding bullets, designed in concert with Lehigh Defense, create larger and deeper wound channels and perform flawlessly when you need it most. New options include 125-grain 9mm, 135-grain 45 ACP and a 160-grain 44 Magnum. (Black-Hills.com)
Blackhawk TacFlow Shirt
What good is your concealed carry gun if you can't reach it when you need it most? With Blackhawk's TacFlow shirt, you'll not only be able to carry discreetly, you can draw in the blink of an eye. It's not only made with a breathable, quick-dry fabric, it's built with reinforced heat-seal taping along high-stress points for durability. Even better, the fabric obscures the outline of your holster and carry gun, allowing you to not only to carry in style, but to also carry discreetly. A breakaway snap placket allows for near-instant access, too. Available in three colors and sizes S through 2XL. ($89.99; Blackhawk.com)
Clinger Comfort Cling Holster
It's no secret that guns are hard. But toting a carry gun doesn't have to be, thanks to Clinger's Comfort Cling holster. The clipless holster is built with three special-purpose layers, including a non-slip exterior layer that holds your carry gun exactly where you want it without slipping, shifting or otherwise moving. The middle layer is made with comfort in mind and uses a gel-like material that softens hard edges for all-day comfort, and the interior layer is built so you can draw fast without friction, hang-ups or other delays. ($19.99; ClingerHolsters.com)
DeSantis Raptor Holster
Perfect for either inside the waistband (IWB) or outside the waistband (OWB) carry, the DeSantis Raptor holster is made from thermoformed Kydex that will last a lifetime. It's constructed with a pre-formed, curved back and has most of the detailed molding on the outer portion of the holster for maximum comfort and concealability. The Raptor holster comes with 1.5- and 1.75-inch belt loops and soft polymer straps for IWB comfort. It also features a rear sweat guard and a trigger guard detent. The Raptor is available for seven Glock models and one S&W gun. ($79.99; DeSantisHolster.com)
SIG Sauer Elite Performance 9mm FMJ
High-quality concealed carry ammo can be expensive, so why burn through it at the range when you can shoot a near-identical bullet for a fraction of the cost? SIG's new full-metal jacket ammo is identical in weight to its popular and effective V-Crown personal defense ammo, but it's less than half the cost. That gives you the exact same feel as you'd get if you practiced with the more expensive carry ammo. The more you shoot, the better you'll shoot when accuracy counts. The 9mm FMJ loads are available in three options that match the V-Crown jacketed hollow-point: 115-, 124- and 147-grain projectiles.
($19; SIGSauer.com)
Federal HST Micro .38 Special Ammo
Too much bullet for too little gun can lead to flinching — and that can lead to trouble for you. Federal's HST Micro ammo is designed specifically for small carry guns and includes deep bullet seating that eliminates inconsistent powder burn rates. The proven HST bullets are fully capable of performing under pressure and offer ideal penetration and expansion without over-penetrating. Originally available in .380 Auto and 9mm, Federal expanded the line to include .38 Special in a 130-grain +P load. ($30.95; FederalPremium.com)
Rothco Concealed Carry Jacket
Stay warm, look good and be safe — all in one versatile jacket. Rothco's CC Jacket is made not just to help you stay warm and safe at the same time, but also so you can reach your concealed gun fast. It's built with two inner pockets made specifically for your favorite carry gun, plus two inner magazine pockets. All inside pockets are identical and are built on both sides, making the jacket a must-have for left- and right-handed shooters alike. The jacket is made from a lightweight cotton/poly blend and comes with two zippered front, outside pockets and adjustable button wrist closures. ($81.99; RothCo.com)
Versacarry Pro Holster
Concealed carry holsters don't need bells and whistles, which is why the Versacarry Pro might be the perfect holster. The no-frills concealed carry holster has all the features you need without the gimmicks and add-ons you don't. It's made with a self-molding, dual comfort guard design, reducing user contact with sharp edges. And, it's built with super-strong neodymium magnets sewn into the lining for solid, reliable closure and a super-fast draw. The Versacarry Pro fits belts up to 1.5 inches wide and can be worn inside or outside the waistband. ($39.99; Versacarry.com)
SnagMag Mag Holster
The SnagMag provides an easy, comfortable and discreet way to carry an extra handgun magazine. The unique magazine holster is designed to be carried in your support-side front pocket (left side for right-handed shooters, right side for left-handed shooters). The SnagMag remains firmly in position by use of a pocket clip that creates the appearance of a pocket knife. Your magazine slides out easily while the SnagMag remains in place, allowing for fast, trouble-free reloads. SnagMag models are available to accommodate nearly every handgun magazine on the market today. ($34.95; SnagMag.com)
Galco King Tuk Air Holster
You don't have to be uncomfortable while carrying in hot, humid weather. Galco's new King Tuk Air allows you to carry in comfort, no matter what the weather is like. It combines Galco's world-famous high-quality rigid Kydex holster pocket with a ventilated, full-grain steer hide back plate for cooler, more comfortable concealment. The IWB holster has removable metal belt clips that can be adjusted up or down, allowing for the perfect height and angle. It's available for popular models such as Glock, SIG, S&W and Springfield. ($59.95; GalcoGunleather.com)
UnderTech Women's UnderCover Zip-Pocket Leggings
Look great and stay safe in leggings — yes, leggings — thanks to UnderTech's Zip-Pocket Leggings. Made especially for women who never leave home without their favorite handgun, these two-holster leggings are ideal for either left- or right-hand draw. The pants come with two fashionable zippered pockets and a unique, comfortable waistband designed to eliminate "muffin-topping," thanks to mid-weight compression. ($109.99; UnderTechUnderCover.com)
UltiClip XL
Retention is crucial when carrying concealed, and UltiClip's new XL draws on the manufacturer's award winning, patent-pending retention system found on earlier versions. The UltiClip XL serves as both a multi-tool holster clip and a locking steel belt loop. The locking belt loop allows the user to carry a holster, knife sheath or accessory inside the waistband, outside the waistband or even without a belt. The XL's multi-tool has a screwdriver and multi-stage wrench, and the device's unique bracket permits adjustments to ride height or to rotate or reverse the item being carried. The XL uses high-quality spring steel and is rated at more than 200,000 pounds per square inch tensile strength. ($14.99; UltiClip.com)
Editor's Note: This article is an excerpt from the 2017 Concealed Carry special issue of Gun Digest the Magazine.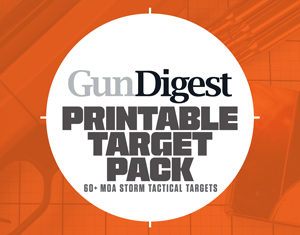 Next Step: Get your FREE Printable Target Pack
Enhance your shooting precision with our 62 MOA Targets, perfect for rifles and handguns. Crafted in collaboration with Storm Tactical for accuracy and versatility.
Subscribe to the Gun Digest email newsletter and get your downloadable target pack sent straight to your inbox. Stay updated with the latest firearms info in the industry.