Springfield's new 15-round Hellcat magazines bring even more firepower to a small package.
How Do The Hellcat 15-Round Mags Improve The Pistol?
Enhances firepower over the original 13-round magazines.
Only marginally larger in sized that the smaller-capacity mags.
Features texturing to enhance grip of the micro-9mm.
Clint Smith, famous firearms instructor, once said this about concealed carry pistols: "For carrying them, none of them are too small. For fighting with them, none of them are too big."
This is a concise way to summarize the dilemma of creating the ideal concealed carry handgun. In a word: compromises. The gun's design must balance concealability with usability, weight with durability, size with capacity. Everything is a tradeoff. The most popular carry guns released in recent years are getting closer to finding that happy medium.
Springfield believes they have achieved this balance in their Hellcat pistol, especially when paired with their new 15-round magazines. Springfield asserts the Hellcat is the "smallest, highest-capacity micro-compact 9mm handgun in the world," a claim the company made when only the original 13-round magazines were available.
The new magazines are only slightly larger than the 13-rounders. As with all things in gun design, this is still trading some concealability for capacity, but the negligible difference in size helps to compensate for the almost 15% increase in ammo capacity. For maximum concealability, the Hellcat can still be carried in the holster with a flush-fitting 11-round mag. If you also carry spare magazines, however, there is really no reason to stick a 13-rounder into your pocket when the 15-round magazine is so similar in size.
The first widely adopted pistol to use double-stack magazines was the Browning Hi-Power, a large-framed service pistol that also had a 13-round capacity. This was considered a technological marvel when it was first invented, but modern pistols like the Springfield Hellcat show how many bullets can fit into a small package. Both 9mm handguns, the Hellcat is significantly smaller and more concealable than the Hi-Power. Yet it can now be carried with larger magazines than what were originally fielded with the full-sized duty gun.
Available in both black and desert FDE colors, just like the Springfield Hellcat itself, the new 15-round magazines have an MSRP of $39.95.
On a side note, Sig Sauer recently alleged that Springfield's Hellcat magazines infringe on a patent held by Sig, but Springfield refutes these claims. Sig's P365 and Springfield's Hellcat have been competing over which gun is the best compact, high-capacity 9mm for concealed carry, and it's been a tight race. Both are fine pistols, but it will be interesting to see how Sig's claims play out in court.
For more from Springfield Armory, please visit Springfield-Armory.com.
---
Load Up On More 9mm Knowledge: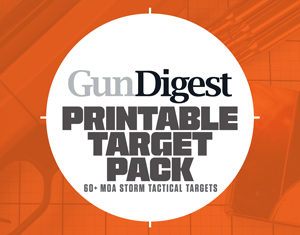 Next Step: Get your FREE Printable Target Pack
Enhance your shooting precision with our 62 MOA Targets, perfect for rifles and handguns. Crafted in collaboration with Storm Tactical for accuracy and versatility.
Subscribe to the Gun Digest email newsletter and get your downloadable target pack sent straight to your inbox. Stay updated with the latest firearms info in the industry.