Making certain a defensive firearm is in working order is imperative, but simple. They need cleaning, lubrication and, if magazine fed, magazine rotation. What's that last one, you say? Magazine rotation? Yes, like any mechanical device, a magazine is prone to ware. Particularly, if loaded consistently, the springs can soften and eventually lead to a failure to feed. In turn, it's important to give the magazines a rest and call a fresh one into action. Firearms instructor and member of Colt Combat Unit Ken Hackathorn goes over a simple magazine rotation system in the above video that ensures they perform when they're called into duty. Granted, the system costs a little extra money, given it requires having extra magazines on hand. But it will get more life out of each magazine and, more importantly, ensure they function flawlessly if ever called into duty.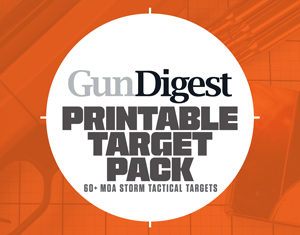 Next Step: Get your FREE Printable Target Pack
Enhance your shooting precision with our 62 MOA Targets, perfect for rifles and handguns. Crafted in collaboration with Storm Tactical for accuracy and versatility.
Subscribe to the Gun Digest email newsletter and get your downloadable target pack sent straight to your inbox. Stay updated with the latest firearms info in the industry.