[imagebrowser id=471]
Street-proven concealed carry handguns for everyday defense.
Taking on the responsibility of concealed carry, personal protection means choosing the right handgun. That can be a daunting task. You need to factor in the type of handgun, the caliber, and how you will carry the pistol on your person. Include training time, too, since you need to be proficient with your chosen handgun. Handle as many models as you can to find the one you can operate and shoot the best.
Remember the trade off is this: Smaller pistols are easier to conceal but are harder to shoot accurately and operate. You might find a slightly larger pistol easier to control and fire more efficiently but is bulkier on your hip.
The 10 concealed carry handguns listed here are on my short list of safe, concealed carry pistols. All are proven performers, and all have the ability to blend in with your everyday life so you will be ready if you should need it.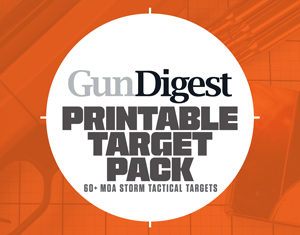 Next Step: Get your FREE Printable Target Pack
Enhance your shooting precision with our 62 MOA Targets, perfect for rifles and handguns. Crafted in collaboration with Storm Tactical for accuracy and versatility.
Subscribe to the Gun Digest email newsletter and get your downloadable target pack sent straight to your inbox. Stay updated with the latest firearms info in the industry.