Wonder why red dot optics have stormed the gun world? They just plain work.
There's always a case for iron sights. They're simple, effective and, perhaps best of all, tough as whang leather. The buggers can take a beating and still deliver the goods shot after shot.
That said, the dependability and simplicity of the traditional aiming solution is no excuse to wed yourself exclusively to the system. There's a lot of technological wizardry available to shooters today and, honestly, iron sights are more than happy playing a backup role.
Phil Massaro, a man who fully appreciates classic guns and established methods of getting them on target, even has to admit there's something to the newfangled optic. The Gun Digest author and custom ammo manufacturer puts a Smith & Wesson M&P15 through its paces in his trip to New York's Double Eagle Training in this week's Modern Shooter. And topped off with a SIG ROMEO4H red dot, Massaro pounds a steel plate with the carbine until sings like it's in a choir.
What particularly wows Massaro about the red do is the speed of its target acquisition. Banging the gong, especially at close quarters, is a point-and-click affair. Additionally, he's able to keep both eyes open throughout the entirety of the drill, giving him better situational awareness. In real life this would deliver a decisive upper hand, permitting him to identify and neutralize multiple targets with greater ease.
There's a reason why red dot optics have stormed the shooting world — they just plain work. And if you haven't tried them, they're well worth investigating. Don't worry, your iron sights will always be there if you need them.
Catch the rest of the action of this heart-pounding episode of Modern Shooter 10:00 p.m. EST Friday on the Pursuit Channel. The episode rebroadcasts Monday at 12 p.m. EST and Tuesday at 11:30 a.m. EST.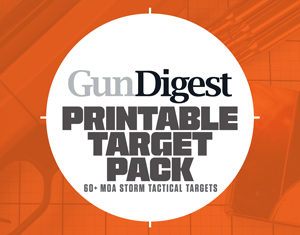 Next Step: Get your FREE Printable Target Pack
Enhance your shooting precision with our 62 MOA Targets, perfect for rifles and handguns. Crafted in collaboration with Storm Tactical for accuracy and versatility.
Subscribe to the Gun Digest email newsletter and get your downloadable target pack sent straight to your inbox. Stay updated with the latest firearms info in the industry.