Adaptable for specific applications, the Revolution 9 is like having multiple suppressors in one package.
Modularity is the hot concept in firearms today. Makes sense, given the ability to jump between calibers and configurations adds desirable flexibility, whether you're talking about the good old AR-15 or the cutting-edge modular pistols. Honestly, who doesn't want a gun that does more?
Intriguingly, the idea of a single device that transforms for multiple applications has infected more than just the gun world. Suppressors have also embraced the adaptability of modularity, offering multipurpose noise-reduction options all that operate off one platform. Among these jewels, none shine more brightly than Griffin Armament's 9mm can.
The company's Revolution 9 has the mild-mannered appearance of an everyday suppressor, but a few twists here and there proves it handles more than one job with ease. Target practice or plinking for the day, the suppressor's full-sized eight baffle configuration is the ticket. Need a practical noise-reduction device for home defense, the "K" configuration — three baffles shorter — has you covered.
Designed with ease of use in mind, it only takes minutes to go from one to the other. Griffin pulls off this ingenious feat elegantly, with a removable booster housing, which comes off with the aid of the included armor's wrench. It goes long or short in a matter of minutes. In either case, it does its job exceptionally, reducing a 9mm's report a full 34dB when full length and 32dB when in the "K" configuration.
Nowadays, shooters expect more out of their guns. More uses. More calibers. More customization. The same should hold true for firearms accessories. Griffin Armament's Revolution 9 makes it a reality, at least where it concerns suppression.
For more information on the Revolution 9, please visit: www.griffinarmament.com.
For more information on Silencer Shop, please visit: www.silencershop.com.
---
Get More Suppressor Info: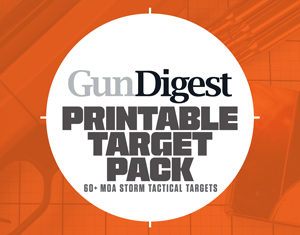 🎯 Exclusive Offer: Get Your FREE Printable Target Pack!
Dive into precision shooting with our 62 Exclusive MOA Targets featuring DOT Drills. Perfect for both rifle and handgun enthusiasts, these targets are designed for accuracy, especially for long-range shots.
Why You'll Love This Pack:
🎯 Expertly Crafted: Brought to you in partnership with the renowned Storm Tactical.
🎯 Versatile Use: Suitable for both rifle and handgun range sessions.
🎯 Precision Design: Target grids and bullseyes meticulously measured in MOA for the best shooting experience.
Bonus: By grabbing this offer, you'll also be subscribing to the Gun Digest email newsletter, keeping you updated with the latest in the world of firearms.
Don't miss out!
Simply enter your email below, and we'll send your downloadable target pack straight to your inbox.