Get a look at the new must-have guns, optics, ammo and targets unveiled at SHOT Show 2019.
The first day of SHOT Show 2019 is in the bag, and there are some pretty cool new guns and gear heading your way. From long-range targets that definitively let you know you've made a hit to one of the hottest new carry guns to hit the market, here are the highlights from the show.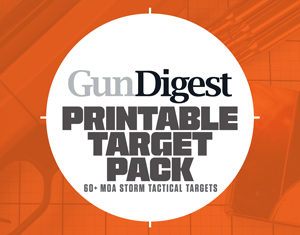 🎯 Exclusive Offer: Get Your FREE Printable Target Pack!
Dive into precision shooting with our 62 Exclusive MOA Targets featuring DOT Drills. Perfect for both rifle and handgun enthusiasts, these targets are designed for accuracy, especially for long-range shots.
Why You'll Love This Pack:
🎯 Expertly Crafted: Brought to you in partnership with the renowned Storm Tactical.
🎯 Versatile Use: Suitable for both rifle and handgun range sessions.
🎯 Precision Design: Target grids and bullseyes meticulously measured in MOA for the best shooting experience.
Bonus: By grabbing this offer, you'll also be subscribing to the Gun Digest email newsletter, keeping you updated with the latest in the world of firearms.
Don't miss out!
Simply enter your email below, and we'll send your downloadable target pack straight to your inbox.