It's not what is "new" from Kahr (P.O. Box 220, Dept. GDTM, Blauvelt, NY 10913/(845) 353-7770/www.kahr.com), but what seems to be selling and right now, that company's CW pistol series is enjoying lots of popularity.
Available in 9mm. .40 S&W and .45 ACP, the three CW pistols are striker-fired semi-autos have pinned-in polymer front sights, locking breech, passive striker block and a Browning-type recoil lug. The rear sight is drift adjustable with two white dots. Each pistol comes with a single stainless steel magazine. The 9mm holds seven rounds while both the .40 and .45 hold six rounds.
---
Best Starter Kit for Concealed Carry:
Disclosure: Some of these links are affiliate links. Caribou Media Group may earn a commission from qualifying purchases. Thank you!
---
While one suspects there must be something special on the way from Kimber (1 Lawton Street, Dept. GDTM, Yonkers, NY 10705/(888) 243-4522/www.kimbramerica.com) for 2011, they're being tight-lipped and instead would tell me only that the Super Carry models are "going nuts."
It certainly hasn't hurt any to have images of the Super Carry Pro on at least two prominent magazine covers. Of all the Super Carry models, that's the hottest seller, with its 4-inch barrel, two-tone finish, checkered grips, ambidextrous safety, bobbed heel, three-dot sights and beavertail grip safety.
Click Here to Learn About Glock Cleaning and Disassembly
---
Recommended 1911 Resources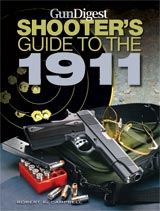 New! Gun Digest Shooter's Guide to the 1911
Massad Ayoob's Greatest Handguns of the World
1911 Series Disassembly-Reassembly DVD