The new SideSaddle and Picatinny Rail Mount from TacStar expands Remington shotgun ammo capacity and optics options.
When it comes to outfitting a tactical shotgun, there are typically two considerations that top the list.
First, there is always the need to tote around extra ammo to feed what sometimes seems to be the insatiable appetite of a smoothbore. Next, there is normally the need to add a rail of some kind for the addition of other accessories.
For fans of one of the most popular shotgun makers in the country, TacStar appears to have solved both problems in one felled swoop. The subsidiary of Connecticut-based Lyman recently released its SideSaddle and Picatinny Rail Mount in a model compatible with Remington 12-gauges.
The 13-ounce unit is designed to fit on Remington's 870, 1100 and 11-87 and can be installed without a gunsmith. The system simply screws on through two pin holes on the receiver of the three models that retain the fire control.
Once mounted, the SideSaddle allows shooters to carry six more shells on the left-hand side of the receiver. It also allows for the quick and easy addition of an accessory on the Picatinny Rail, situated right above the receiver.
The configuration of the rail is designed mainly for the addition of an optic. With this in mind, the SideSaddle appears to have been engineered for maximum stability in mind. In particular, the unit straddles the receiver giving it four points of contact with its bolts.
The rail feature also should give the SideSaddle some crossover appeal with hunters. It could especially be popular with many turkey hunters who like to draw a bead on gobblers with a red-dot optic.
No matter how the unit is called into action, it looks like it should be a fairly durable and convenient addition to a shotgun.
The SideSaddle is made of billet aluminum and boasts a hard coat anodized finish. And the unit tips the scales at only 13 ounces.
But the shell holder/rail does have a bit of a price tag. Presently, TacStar has the shotgun rail mount listed with an MSRP of $89.98.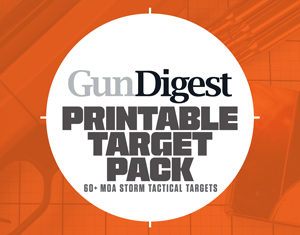 Next Step: Get your FREE Printable Target Pack
Enhance your shooting precision with our 62 MOA Targets, perfect for rifles and handguns. Crafted in collaboration with Storm Tactical for accuracy and versatility.
Subscribe to the Gun Digest email newsletter and get your downloadable target pack sent straight to your inbox. Stay updated with the latest firearms info in the industry.