Misperceptions about the ability to own a gun suppressor abound. Getting one is actually easier than you think.
Choose Your Suppressor
The idea of firing a shot with little noise is naturally intriguing to many of us who love to shoot, and in the past couple of years I've noticed more and more suppressors in the hands of individuals, both at the range and at competitions.
In fact, the suppressor/silencer industry has become one of the fastest growing segments in the firearms market today. One of the reasons for this growth is that many states have relaxed laws concerning their purchase and use, and folks are learning the process just isn't as intimidating as they once thought it was.
Since the cost of a suppressor can be as much as the firearm it's attached to, and the tax stamp required costs $200 in addition to the cost of the suppressor, it makes sense to have the ability to use the suppressor on more than one gun. That flexibility should be part of the decision when choosing the right suppressor for your needs.
As in the selection of any other device, there are trade-offs to be made when selecting a suppressor. Rimfire units can be quite small and light but will not work on centerfire guns. All other considerations being the same, larger units are more efficient but, of course, are heavier and bulkier.
Centerfire silencers can be used on rimfires, but they should be made with the capability to disassemble and clean because rimfire ammunition tends to be much more dirty.
If you choose to use your suppressor on different guns, you'll want a unit that's easy to remove and replace. In choosing a suppressor, you should also take into consideration the rate of fire. High rates of fire really heat up smaller units and can damage them.
I recently tested a Yankee Hill 9mm silencer that uses a serviceable one-piece baffle and a quick twist ½-inch 28 thread that's compatible with rimfire versions of M4, M16 and AR-15 rifles. It's designed to be used on 9mm pistols and rifles, but it works equally well on .22 rimfire ARs, .22 pistols and other rimfire rifles, giving complete versatility in the ability to be used on any gun fitted with an adapter.
If the suppressor is only to be used on a single rifle or pistol, the mounting system can be simpler, and there is some additional cost for quick-change systems. Some guns are integrally suppressed, with the silencer built into the barrel unit for a lighter, cleaner look.
For centerfire rifles, suppressor units can be multipurpose as well. Chris Cerino, of "Top Shot" television fame, uses a Gemtech .308 can on his Remington 700 and has a quick adapter for his .223 AR platform rifles, as well.
"I know there may some loss of efficiency, but the .308 works so well I really can't tell it from a dedicated .223 unit. The level of sound suppression seems as good, though the unit is heavier and larger than a dedicated .223 unit," Cerino says. "There's a great bonus in the ability to get double duty out of the .30 caliber unit."
Caliber Selection & Sound
Of course, if you want truly quiet operation, caliber selection is tantamount. In pistol and rimfire calibers, finding subsonic ammunition isn't that difficult. For centerfire rifle use, it's quite a bit more difficult. The .300 Blackout, created by Advanced Armament Corp. in cooperation with Remington Defense, has the same case base as the .223 round and therefore works perfectly in AR-platform rifles and magazines.
The .300 Blackout was developed specifically for use in suppressed firearms, and is capable of taking deer-sized animals with bullets from 200 to 250 grains at subsonic speeds. In supersonic loadings with lighter bullets, it duplicates the 7.62×39. A suppressor designed for .300 Blackout can be used on ARs in .223, as well as rimfire pistols and rifles.
In some states, recent laws have made it easier to obtain a suppressor. For instance, in my home state of North Carolina, a December 12, 2012, change in the law makes the legal requirements identical to federal law, and thus the process simpler.
This year our state passed a law that allows for using a silencer for hunting. Other states have passed similar laws. Your dealer can inform you on the requirements in your state.
With the growing interest in suppressors and the simplicity of obtaining them, this is becoming a fast growing part of recreational shooting. Silencers or suppressors offer practical applications for recreational and competitive shooting, as well as hunting. While the process to silencer/suppressor ownership isn't simple, it's only a little more complicated than the process of buying a surplus M1 rifle from the Civilian Marksmanship Program.
Get Your Own
You can register the purchase of a suppressor in three ways: as an individual, as a trust or as a corporation. All have advantages, but the most expedient for most people is to set up a trust (See "NFA Trusts" page 26). Most silencer companies can refer you to a lawyer who can assist you with setting up the trust, and some claim to be able to process the trust in as little as 24 hours. Currently, 39 states allow private ownership of suppressors.
They include Alabama; Arkansas; Alaska; Arizona; Colorado; Connecticut; Florida; Georgia; Idaho; Indiana; Kansas; Kentucky; Louisiana; Maine; Maryland; Michigan; Missouri; Mississippi; Montana; North Dakota; Nebraska; Nevada; New Hampshire; New Mexico; North Carolina; Ohio; Oklahoma; Oregon; Pennsylvania; South Carolina; South Dakota; Tennessee; Texas; Utah; Virginia; Washington; West Virginia; Wisconsin and Wyoming.
Presently, gun-rights groups are working in the other 11 states to secure the legal use of suppressors for target shooting or hunting use. Odds are with so many states permitting suppressor ownership, it's a good bet you are among the number of recreational shooters who can buy and own your very own silencer.
Modern Shooter sponsor Silencer Shop makes getting your own suppressor easy. They walk buyers through the entire application and purchasing process and even track approval of your application with the BATFE. Visit their website at silencershop.com.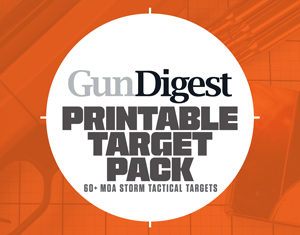 Next Step: Get your FREE Printable Target Pack
Enhance your shooting precision with our 62 MOA Targets, perfect for rifles and handguns. Crafted in collaboration with Storm Tactical for accuracy and versatility.
Subscribe to the Gun Digest email newsletter and get your downloadable target pack sent straight to your inbox. Stay updated with the latest firearms info in the industry.