In this Swampfox Kraken review, the author analyzes the pros and cons of the company's new closed emitter pistol red dot sight.
Released in 2022, the long-awaited Swampfox Kraken closed emitter pistol red dot sight is finally here. The optic is small, rugged and compatible with nearly any firearm. From pistols to rifles to shotguns and everything in between, the Swampfox Kraken is ready to perform regardless of the platform it's mounted on.
Swampfox itself already conducted a rigorous torture test on the Kraken, and the company claims that it passed with flying colors. According to Swampfox's test, the optic is capable of surviving being submerged for 24 hours, frozen, set on fire and racked off many objects including a dumpster. It would be difficult to top those tests at home, and since the optic's ruggedness is already ostensibly proven, today we'll be focusing more on the features and performance that the Kraken has to offer.
Overview And Features
The Kraken is Swampfox's newest optic as of this writing, and the company clearly has its sights set on the closed emitter red dot market that is currently dominated by the Aimpoint ACRO, Holosun 509T and the Steiner MPS (Micro Pistol Sight).
In addition to its rugged 7075 aluminum construction and enclosed emitter design which helps shield it from the elements, the Kraken has some nice quality-of-life features as well. The tactile buttons, small adjustments (0.5-MOA per click) and use of common CR2032 batteries all enhance the optic's functionality, and the Kraken logo emblazoned on the side gives it some visual flair too.
The included mounting plates allow it to fit on any RMR or Glock MOS footprint. While some pistols require custom milling to fit closed emitter optics, this is not the case for the Kraken. If you can run an RMR or Holosun 407/507 series, you can run this too. Admittedly, I'm not crazy about adaptor plates as they increase the height of the optic while also creating another failure point, but this is a versatile mounting option that allows users to mount the Kraken to any RMR-milled slide or Glock MOS.
Besides the two adaptor plates, all Swampfox Krakens ship with an adjustment wrench, a lens cloth, a battery, blue threadlocker and four sets of screws.
Fitment
The Kraken fit every gun that I tried to mount it to without issue. As an offset optic it can be a little bulky, but trading some height for a more reliable and rugged RDS with a closed emitter may be worth it. On top of a pistol, I don't like the size, but I tend to prefer smaller red dots so that's mostly my personal preference. The 16mm lens seems bigger than it reads on paper, and I had no problems picking up or tracking the crisp 3-MOA reticle. The battery compartment juts out a bit more than I'd like on the right side, I will note, but it does house a very common CR2032 battery that can be replaced without removing the optic.
Loadout
In all, I tried running the Kraken on top of a Shadow Systems MR920 Elite, on top of an AR Pistol and on my Ballistic Advantage AR-15 as an offset to my Primary Arms 3x Prism scope. Swampfox's battery-saving "Shake N Wake" technology is welcome and appreciated on all platforms, but even more so if you're going to run the optic on a home defense or duty weapon. The 3-MOA dot is available in either red or green, but both models feature 10 brightness settings including two levels that are compatible with night vision. The buttons used to adjust the brightness are also very tactile and easy to use.
One downside worth mentioning is that when mounted to an AR using Swampfox's Rebel Riser, the Kraken does not co-witness with Magpul MBUS sights. Many similar red dots on the market do co-witness when mounted with their respective manufacturer's standard AR mount, so take note that if you want co-witness capabilities with this optic you'll have to find a different mount elsewhere.
When running the Kraken with Swampfox's 45-degree Rebel Offset mount, it performed well. As mentioned, it is a bit bigger than a standard pistol RDS, but what you gain in bulk you make up for with dependability. Its IPX7 waterproof rating means if you find yourself fording rivers or shooting in the rain, you don't have to worry about the water droplets interfering with your dot or inducing malfunctions. I ran the offset Kraken alongside a 3x prism optic, and I found the combo very easy to use when transitioning between targets inside 30 yards.
Likes And Dislikes
There are many things I like about this optic. It is completely capable of competing with other closed emitter red dots on the market, and I think that's what Swampfox set out to do for a fraction of the price. Heck, it takes the same batteries as most all of them and even has similar aesthetics to the ACRO, 509T and MPS. I actually like some aspects of the Kraken a bit more, namely the tactile clicks of the buttons and the 0.5-MOA adjustments (as opposed to 1-MOA adjustments found on many other optics, lending the Kraken to use on rifles as well). The optic's versatility is also appreciated, as it will be right at home on nearly any platform from handguns and rifles to shotguns and PCCs.
Throughout the Kraken's evaluation, it didn't lose zero or present any issues. The 3-MOA dot was crisp and easy to pick up regardless of what platform it was mounted on, and it was easy to re-zero when I moved the optic between firearms.
My dislikes are few—and this may be more of an indictment of enclosed emitters and my personal preference—but on a pistol, it just strikes me as too damn big. I found myself wondering if this mailbox has its own zip code when it was on top of my MR920. That's not to say that it didn't perform, because it did. It performed as well if not better than the RMRs and Holosun 407/507s that I've run for hundreds if not thousands of rounds. But I carry most of my guns with optics, and this just added another inch on top of a pistol that's large enough that it would be hard for me to conceal the setup without dressing around it. It will likely end up living on top of a full-size duty gun like a DR920 or my competition CZ SP-01.
With concealability out of the question, all the Kraken's other benefits would be still very useful. It's Impact resistant, generally rugged, waterproof to 1 meter and most importantly it has a closed emitter that can't be affected by the environment.
My final complaint is that it didn't co-witness with my iron sights when mounted to my handgun. Almost every other optic I've run on a Shadow Systems MR920 provided at least a lower one-third if not absolute co-witness. I know this will not be a deal breaker for some.
However, on a rifle as a primary optic or on a 45-degree offset mount, I have zero complaints. In fact, I'm a big fan of the Kraken as an offset optic because it's rugged, enclosed, and can take a beating. If your primary optic goes down, like an LPVO or 3x prism in my case, you can rest assured that you still have some type of optic to get the job done be it during a match or when defending your home.
Overall, if you're looking for an enclosed emitter to put on your pistol, rifle, or shotgun, don't sleep on the Swampfox Kraken. They have a solid warranty and I've experienced nothing but good things from their customer service and build quality.
Swampfox Kraken Specs:
Dot Size: 3-MOA
MOA Adjustment: 0.5-MOA per click
Magnification: 1x
Lens Diameter: 16mm
Waterproof: 1 Meter/ IPX7
Illumination Positions: 10
Brightness Adjustments: Up/Down Arrows
Shockproof G Forces: 1500Gs
Battery Type: CR 2032
Max Battery Life: Approximately 2-Year Real-World (Shake 'N Wake)
Dimensions: 1.85 inches(length) x 1.38-inches (width) x 1.27 inches
Weight: 2.5 ounces without battery
Lens: "Multi-Coated Ruby Red – Red Dot or Multi-Coated Silver – Green Dot"
Specialty Coatings: Anti-fog, hydrophobic, anti-scratch
Eye Relief: Unlimited
Mount Type: RMR Adapted / MOS Adapted
Chassis: 7075 Aircraft-grade aluminum
Windage/Elevation Movement Range (MOA): 45-MOA/ Total 90-MOA Range
MSRP: $349
Site: swampfoxoptics.com
---
More On Pistol Red Dots: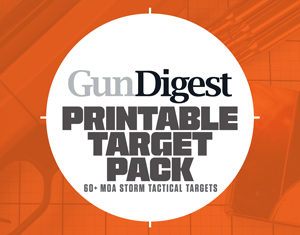 Next Step: Get your FREE Printable Target Pack
Enhance your shooting precision with our 62 MOA Targets, perfect for rifles and handguns. Crafted in collaboration with Storm Tactical for accuracy and versatility.
Subscribe to the Gun Digest email newsletter and get your downloadable target pack sent straight to your inbox. Stay updated with the latest firearms info in the industry.