One of the largest AR manufacturers is jumping in the pistol-caliber carbine game, with Stage Arms introducing two new 9mm lines.
There is a certain appeal of having a rifle and handgun chambered for the same round. Heck, the Wild West was tamed – in part – by such a system.
The concept has not been relegated to the dusty streets of Deadwood and Dodge City, either. In the World Wars, U.S. soldiers fed both their 1911 sidearms and Thompson sub-machine guns the same fodder – the celebrated .45 ACP.
And today, there is every imaginable combination of carbine and pistol that can be mated and sustained on the same ammo. Recently, one of the largest AR manufacturers in the nation has embraced this idea – well, at least the rifle end.
Stag Arms released its first pistol-caliber carbine in August, in response to what the company said was overwhelming demand from its customers. And the Connecticut-based company definitely sees a place for its new Model 9 and 9T series of 9mm rifles.
"Compared to the 5.56 cartridge, the 9mm cartridge used in a carbine configuration is the ideal choice for short range (and) self defense use – up to 200 yards due to decreased muzzle blast, decreased muzzle flash, lower recoil, reduced over-penetration, and a heavier bullet," Stag said, in a press release. "An added benefit is that you can also shoot this rifle at most pistol caliber only indoor ranges."
The company looks to have put together a fairly slick package for its convenient, close-quarters carbine lines. In particular, Stag appears to have gone the extra mile in tailoring the firearm to the round.
This eye to making a 9mm carbine is especially seen in two areas – the magazine well and action.
Stag designed the mag well specifically for standard Colt 9mm AR magazines, instead of using drop-in blocks to convert a standard 5.56 well. Then, the hammer, magazine catch and buffer are scaled down and tailored for the round. These features, the company claims, produce a tighter performing firearm.
The 9 and 9T receivers are both constructed of 7075 T6 Aluminum and have type 3 hard coat anodizing. The upper receiver has a modified ejection port (with dust cover) and brass deflector. It houses a one-piece bolt and carrier, a standard configuration in most pistol-caliber AR-style carbines.
Both carbines boast 16" heavy barrels, button rifling with 1/10 twist, 6-position adjustable butts stocks and come in right- and left-handed configurations. They both also have safety, charging handle, and magazine release functions the same as any AR-15.
Each firearm also comes with A2-style plastic grips and 32-round magazines.
There are a few differences between the rifles, the most drastic being actions. The Model 9 operates off a direct-impingement carbine-length gas systems, while the 9T boasts a blowback operation.
The Model 9 and 9T also have different configurations. The Model 9 has a railed gas block and drop in Diamondhead VRS-T modular handguard with no sights. The Model 9T is the tactical version with a free floating 13.5″ Diamondhead VRS-T modular handguard and aluminum Diamondhead flip up sights for faster target acquisitions. Both rifles will accept the Diamondhead rail sections for customization
The final difference between the carbines is their price. The Model 9 rings up at $990, while the Model 9T at $1,275. This is mid to high range for pistol-caliber carbines.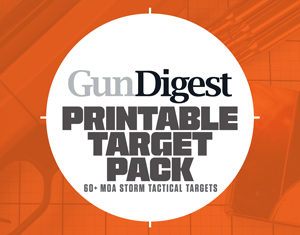 Next Step: Get your FREE Printable Target Pack
Enhance your shooting precision with our 62 MOA Targets, perfect for rifles and handguns. Crafted in collaboration with Storm Tactical for accuracy and versatility.
Subscribe to the Gun Digest email newsletter and get your downloadable target pack sent straight to your inbox. Stay updated with the latest firearms info in the industry.