Lovingly dubbed "Cindy" and "Eliza", the integrally suppressed shotguns from Phoenix Weaponry speak with a soft voice, but pack a punch.
Unless you're Anton Chigurh, you might generally consider suppressors a pistol or rifle deal. That's pretty much where the market is centered, but certainly, cans aren't exclusive to these types of firearms. While more niche, noise-reduction devices are available to knock the edge off your shotgun, which given some model's reports is no bad old deal. Though, up to this point, few have come close in terms of elegance to what Phoenix Weaponry has cooked up. Meet "Cindy" and "Eliza".
Integrally suppressed Remington 870 and Mossberg 500 pump-action shotguns, the system enhances the smoothbores' noise signature and enhances their performance while maintaining much of the guns' original footprint. Cindy is Phoenix Weaponry's entry-level model, while Eliza is an upgraded iteration with top-to-bottom enhancements(more on that in a second). In both cases, the outcome is impressive, though it takes the custom gunmaker some doing to get there.
Phoenix Weaponry starts with an 870 or 500 factory barrel, removes a fore section of sight rib where the suppressor mounts and machines ports into the sides of the barrel. From there, the rear sleeve cap is installed along with the front suppressor threads and the company's proprietary 6-inch Delta Monocore suppressor core. Finishing it off, Phoenix Weaponry fits a sleeve and end cap … voilà, an integrally suppressed barrel. One, worth mentioning, that doesn't do much to add to the shotgun's overall size or weight—tacking on 1 pound and 5 inches in length.
"We have achieved the perfect balance between sound suppression, ability to change your chokes, and ammo functionality up to 3.5-inch shells." Phoenix Weaponry Owner Aaron Cayce said. "You can use everything from buckshot to birdshot and even slugs through our integrally suppressed shotguns."
As to the models, Cindy is pretty much an off-the-shelf 870 or 500 with the suppression system install, as well as the forcing cone extended and chamber polished. Eliza is, well, a bit more dolled up. Along with Cindy's assets, it also has its action deburred and polished, as well as your choice of winter/spring/summer Duracoat camouflage, Magpul, Houge or Mesa Tactical furniture and the addition of a side-saddle shell holder.
The basic Cindy and Eliza packages are 12-gauge, but being a custom gunmaker Phoenix Weaponry will put the system together in other bores. Of course, the guns are NFA items, in turn, you owe the Feds their cut—both in money and hoop-jumping. And the manufacturer already isn't exactly giving them away, especially compared to stock 870s and 500s. The base price for Cindy is $1,350 and Eliza $2,550. But if you're shooting for a stealthier Turkey season or the like, either shotgun will most likely prove a great value.
For more information on Phoenix Weaponry's Cindy and Eliza, please visit phoenixweaponry.com
---
Draw A Bead On Shotguns: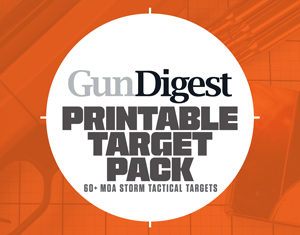 Next Step: Get your FREE Printable Target Pack
Enhance your shooting precision with our 62 MOA Targets, perfect for rifles and handguns. Crafted in collaboration with Storm Tactical for accuracy and versatility.
Subscribe to the Gun Digest email newsletter and get your downloadable target pack sent straight to your inbox. Stay updated with the latest firearms info in the industry.