A new twist on a popular over/under line, the 16-gauge CZ Redhead Premier should continue to stoke interest in the classic bore.
What Are The Finer Points On The 16-ga. CZ Redhead Premier:
28-Inch Barrels
Fixed IC and Mod chokes
Turkish Walnut Stock
Single Mechanical Trigger
2 3/4-Inch Chamber
Fine tweed and sharp pointers, there was a time if you weren't hunting a 16-gauge you weren't hunting. Particularly if you were a well-to-do swell or fancied yourself patrician. It was the "gentleman's gauge", suitable for taking bobwhites and ruffed grouse in the finest of company at the turn of the 20th Century. Not as brutish as the ruffian-class 12 bore, favored by American market hunters of the day. Then the game of skeet killed it … almost.
Languishing through the Second World War and countless American booms-and-bust cycles, the woebegone gauge is finally enjoying a Renaissance. Fueled by what it's hard to say. But any rock-ribbed shotgunner will celebrate the revival of the 16 and the many affordable doubles in which it now appears. Among the most recent, the CZ-USA Redhead Premier.
Flagship of the gunmaker's over/under catalog, CZ christening a 16-bore Redhead isn't surprising. However, this isn't the company's first foray into the chambering. Preceding the 16-gauge Redhead by a few years is the lightweight Sharp-Tail, a capable gun, but one that perhaps pales to the new release, if for no reason other than the smaller side-by-side audience. That and the Redhead Premier is right on the money when it comes to price, a very accessible $988 MSRP.
---
Draw A Bead On Shotguns:
---
Studied smoothbore fans might already guess what keeps the over/under south of $1,000—its origin, which is the Anatolian Peninsula. Turkish manufacturer Huglu is the name behind CZ's O/U and has done a solid job turning out a quality scattergun at an affordable price. Amenities abound on the Redhead Premier, including satin silver chrome receiver, laser-engraved scrollwork, Turkish walnut stock, solid 8mm mid-rib, top rib, ejector and Prince of Wales grip. Additionally, the gun has a single mechanical trigger, which switches barrels after a shot. However, there is a manual selector on the tang safety, jumping between the fix modified and improved choke barrels. A tidy package, especially for what most will use as a dedicated field gun.
In the Redhead Premier's 16-gauge iteration, the gun boasts 28-inch barrels and is chambered for 2 ¾-inch shells. 12- and 20-gauge versions have a 26-inch barrel option, so it will be interesting if the 16 follows suit sometime in the future. Given the long barrels, the gun does tend heavy at 8 pounds, but not unmanageable. Briefly touching on the stock, the grip and fore-end are both checkered, but not overly aggressively—just enough for a solid handle.
The 16-gauge coming back into fashion for the first time since Coolidge was in office is a good thing. So is CZ expanding the Redhead Premier line to include the classic bore.
16-Gauge Redhead Preimum Specs:
MSRP: $988.00
Chambering: 16 Gauge
Max Shell Length: 2 3/4 inches
Barrel Length: 28 inches
Chokes: Fixed IC/MOD
Stock: Turkish Walnut
Length Of Pull: 14 1/2 inches
Receiver Finish: Silver Satin Chrome
Barrel Finish: Gloss Black Chrome
Ejector: Ejectors
Rib: 8mm Flat Vent
Overall Length: 45.75 inches
Weight: 8 pounds
Comb: 1 3/8 inches
Heel: 2 1/4 inches
Trigger: Mech Mechanical, Selectable For Barrel
Safety: Manual Tang Safety
For more information on the 16-gauge CZ Redhead Premier, please visit cz-usa.com.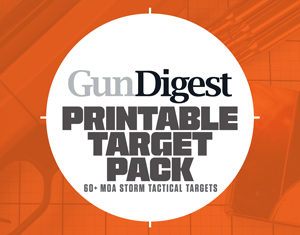 🎯 Exclusive Offer: Get Your FREE Printable Target Pack!
Dive into precision shooting with our 62 Exclusive MOA Targets featuring DOT Drills. Perfect for both rifle and handgun enthusiasts, these targets are designed for accuracy, especially for long-range shots.
Why You'll Love This Pack:
🎯 Expertly Crafted: Brought to you in partnership with the renowned Storm Tactical.
🎯 Versatile Use: Suitable for both rifle and handgun range sessions.
🎯 Precision Design: Target grids and bullseyes meticulously measured in MOA for the best shooting experience.
Bonus: By grabbing this offer, you'll also be subscribing to the Gun Digest email newsletter, keeping you updated with the latest in the world of firearms.
Don't miss out!
Simply enter your email below, and we'll send your downloadable target pack straight to your inbox.