Recent turbulent waters of bankruptcy haven't sunk Big Green, as is evidenced by these four new Remington shotguns.
What Are The New Remington Shotguns for 2019:
Remington has gone through ups and downs as of late. The renowned New York gunmaker declared bankruptcy in 2018 along with its sister brands, including DPMS, Marlin, Bushmaster and Dakota Arms. But it has come roaring back this year with a full slate of top rifles, handguns and shotguns. Jay Pinsky was lucky enough to get a peek at what the company cooked up, spending 3 days with the Remington staff at one of their ammunition facilities in Lonoke, Ark. And what the next generation of Remington guns was nothing short of spectacular. So, without further ado, here are four brand new for 2019 Remington shotguns.
Remington V3 Compact
Remington's popular V3 line of shotguns now comes in a compact version. The V3 Compact is engineered to balance the shotgun's action and recoil cycle toward the middle of the gun, which translates into a soft-shooting and easy-to-manage multi-shot-capable platform — and that is exactly what any semi-automatic shotgun should strive to be. It comes in a matte black finish, a 1-inch length-of-pull shorter-than-standard stock with LOP adjustment shims included, a compact 21.5-inch Rem choke barrel, ivory front bead and a steel mid bead, Supercell+ recoil pad, and cast and drop adjustment shims. Available in 12 Gauge. MSRP: $915
Remington V3 Tac-13
The V3 line of shotguns goes tactical with the V3 Tac-13, which features a 13-inch cylinder-bore barrel with a bead front sight, Shockwave Raptor pistol grip and synthetic forend with a retention strap, an extended magazine capacity of 5+1, is non-NFA and can manage heavy and light loads down to 1-ounce target loads. MSRP: $915
---
On The Mark With More Shotgun Info:
---
Remington V3 Turkey Pro
The V3 lineup gets a dedicated turkey gun for 2019 with the V3 Turkey Pro. The 12-gauge semi-automatic shotgun features useful turkey hunting tweaks, such as an oversized bolt handle, oversized safety, oversized bolt release, smoother opening loading port, full camouflage in Realtree Edge and comes with a Picatinny rail and TruGlo optic bore-sighted to 40 yards for easy patterning. MSRP: $1,195
Remington V3 Waterfowl Pro
Duck and goose hunters have their own dedicated V3 shotgun from Remington now, thanks to the V3 Waterfowl Pro. The 12-gauge comes in two waterfowl-specific camouflage patters: Realtree MAX5 and Mossy Oak Shadow Grass Blades. The shotgun features an oversized bolt handle, safety and bolt release; an improved opened loading port; Cerakoted receiver and barrel; Hi-Viz fiber-optic front sight and steel mid-bead; three extended black chokes; and a sling. MSRP: $1,195
This article originally appeared in the January 2019 issue of Gun Digest the Magazine.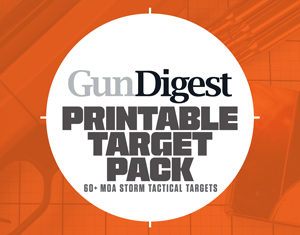 Next Step: Get your FREE Printable Target Pack
Enhance your shooting precision with our 62 MOA Targets, perfect for rifles and handguns. Crafted in collaboration with Storm Tactical for accuracy and versatility.
Subscribe to the Gun Digest email newsletter and get your downloadable target pack sent straight to your inbox. Stay updated with the latest firearms info in the industry.