A look back at the idiosyncratic and effective Browning BLR Lightweight '81 Stainless Takedown.
What Makes The Browning BLR Standout Among Lever-Actions:
Locks up much like a bolt-action with a rotating bolt head.
Utilizes a rack-and-pinion system, which makes for very smooth operation.
Side ejecting, making it function flawlessly with a scope.
Capable of chambering long-action cartridges and magnums.
Feeds off a detachable box magazine, allowing it to safely shoot spitzer bullets.
I often wonder what John Moses Browning would have to say if he walked into a modern gun shop. Would he stare with disgust at anything that wasn't properly blued and with a checkered walnut stock? Or would he look at a synthetic design with a Cerakote metal finish and nod in approval at the strength and resilience of the materials?
We'll never know, but one thing is for certain: Firearms sure have gone through some changes since Mr. B. was at the drawing board. Some of his designs—quite obviously, timeless—are still perfectly viable and get used each season in the hunting fields … or on a daily basis, in the case of the 1911 pistol.
The company that bears his name remains innovative, and while Browning's name is associated with some of the most iconic lever-action rifles ever designed (is there any question as to how popular the Model 1894, 1886, 1892 and 1895 rifles are or were?), the BLR is an inventive, modern twist that I'd wager John would appreciate.
Browning BLR: A Bolt Rifle Operated by a Lever
Introduced in 1969, the Browning Lever-Action Rifle (BLR) operates in a similar manner to the earlier Winchester Model 88: It uses a detachable box magazine in lieu of a tubular magazine and locks up by means of a rotating bolt head, much as a bolt-action rifle does. The Browning BLR uses a rack-and-pinion system, making for a very smooth lever throw with even the longest cartridges. Yes, the BLR is fully capable of using much more than the standard rimmed cartridges so often associated with lever-action rifles, including magnum cartridges such as the 7mm Remington Magnum and .300 Winchester Magnum. With true side-eject, mounting a scope on the top of the receiver poses no issue. To be honest, this lever-action gun performs more like a bolt-action rifle.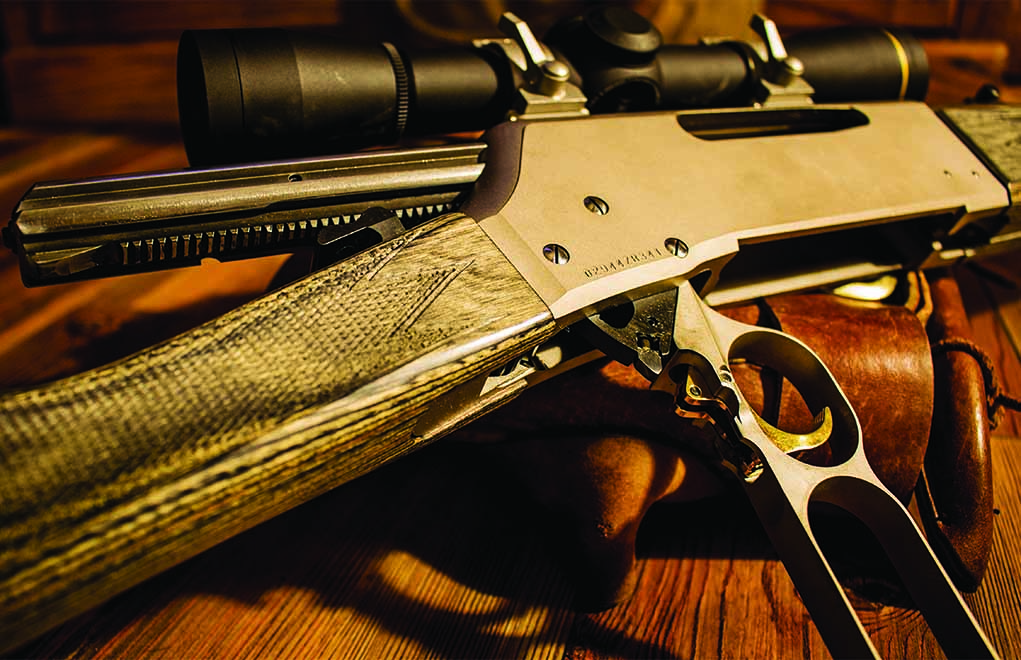 Because of its lack of a tubular magazine, the Browning BLR is not limited to round- or flat-nosed bullets. This is yet another reason this design is often referred to as a "bolt rifle operated by a lever," and the BLR has nearly the same hunting potential as the bolt guns. Additionally, as if all these features of the standard BLR aren't enough to hold your attention, the model I received offered even more.
You see, Browning has taken its lever gun and made it lighter, stronger, impervious to weather and even capable of breaking down into two pieces for easy packing. Yes, the Lightweight '81 Stainless Takedown is probably the antithesis of what many younger shooters and hunters would consider to be a "proper" rifle.
---
Bone Up On Browning:
---
However, once you look at the design and spend a bit of time with it at the bench or in the field, this rifle grows on you. In theory, a takedown rifle with a thin barrel and a rack-and-pinion bolt maneuvering system shouldn't print the tiny, little groups this rifle prints—there's no pillar bedding or 10-ounce trigger here—but in defiance of all the rules of accuracy, this gun is a shooter.
Two for One
This rifle is, wonderfully, two rifles in one. It's a fast iron-sighted rifle, well-balanced, light and compact enough to throw in a backpack for a mountain adventure for whitetail, black bear or even moose. With an adjustable rear sight and a TruGlo/Marbles bright-orange front sight, target acquisition is seriously fast. The laminate stock and Cerakote finish ensure you can forget about the weather (that's an important thing in the mountains of the Northeast), and the balance of the rifle makes it a perfect choice for tracking whitetails in the snow, where a single shot opportunity might be all you have all season … and that buck is certainly not going to pose for a picture.
I mention balance, because that was one of the appealing attributes of the lever-action design: It's wonderfully quick to the shoulder.
For the Lightweight '81 Stainless Takedown's receiver, Browning has used a good, strong aluminum alloy, which not only reduces weight but also balances the rifle very nicely. Yes, I said, "aluminum"—but not as in cheap, flimsy soda-can aluminum. It's a rigid-but-light alloy that's handled hundreds of rounds of .30-06 Springfield with no issues whatsoever; that includes some of my handloads, which run on the higher side of the pressure spectrum.
Adding a Scope To The Takedown Browning BLR
If iron sights aren't your cup of tea, Browning has drilled and tapped the top of the barrel to allow for a scout-style scope that won't shift zero as you're breaking down the rifle. This is also a rifle that—providing you don't need to break down the rifle often and lose zero—has the accuracy potential to rival most .30-06 bolt rifles I've ever spent a considerable amount of time with.
As I said earlier, this rifle probably shouldn't shoot as well as it does, but it does, and that seems to be common for this model in many different calibers. Mount a good scope on top of that aluminum receiver, and you've got, at least in the case of my test gun, a rifle worthy of shots out to sane hunting distances (or what I call inside of 450 yards).
For my own purposes—whitetail and black bear hunting in the Catskill and Adirondack mountains of New York—I mounted a Leupold FX-II 4×33 fixed-power scope in Talley's excellent detachable rings, giving me the option of using the iron sights should something terrible befall the riflescope.
The 4x magnification allows me to make the farthest shot available in that terrain (probably 175 yards—and that's a rarity), yet I can pick up close targets very quickly. And, like all of Talley's detachable rings, they return to zero each time—or so close that it won't matter in the deer woods. I've also tested a Leupold VX-3i 1.5-5x20mm on this rifle. Either scope makes an excellent choice.
Not the Same, Old Rifles
The Browning BLR Lightweight '81 Takedown has a straight-grip rear stock of laminate hardwood and is checkered to 18 LPI, culminating in a ½-inch-thick polymer recoil pad with a nice texture on the butt end. The forend is also checkered and has a rather square front end (perhaps the only thing I don't like about this rifle) just ahead of the barrel band. Underneath the forend, just north of the receiver, is the release lever for takedown. Overall, I find the feel of the BLR '81 Lightweight to be a breath of fresh air in comparison to the multitude of cookie-cutter, polymer-stocked rifles on today's market.
Operating the lever, you'll find a different feel from the traditional Marlin 336 or Winchester 94 or 1886; that rack-and-pinion system gives all sorts of leverage. And, the fact that the trigger moves along with the entire lever assembly avoids the pinched trigger finger that plagues so many shooters. Even the .30-06 Springfield case (longer than most of the traditional lever-action cartridges) operates with what feels like a shorter lever throw than other designs.
The exposed hammer—with a wide surface that gives a good grip, even with gloves on in cold weather—has a half-cock feature via which you can tilt the hammer downward in order to verify the position at a quick glance. The trigger, as I mentioned earlier, isn't a 10-ounce trigger, but it wasn't as bad as some earlier BLR models have. My Lyman digital trigger scale gave an average reading of 5 pounds, 4 ounces; and while the front part of the trigger pull is a bit gritty, the accuracy of the rifle makes up for this.
Tough Guy BLR
This BLR was very happy with a good number of factory loads, as well as my own handloads. Because it's chambered in .30-06, you get the wide selection of .30-caliber bullets; and, from 125 grains all the way up to 220 grains, there was a load for nearly all occasions. This gun liked the Federal Power Shok Copper 150-grain load (putting three of them into just under ¾-inch groups at 100 yards), as well as the Nosler 180-grain Ballistic Tip load, with the group size opening up just a little.
Norma's new Bondstrike load, built around its proprietary polymer-tipped, bonded-core bullet, shot very well in the BLR, giving exactly 1 MOA performance. I've used this bullet on game in both the .308 Winchester and the .300 Winchester Magnum, and it's a wonderful design for any big-game animal.
The BLR's 22-inch barrel gave velocities very close to the advertised figures, and although it's on the thinner side, barrel heat wasn't a serious issue. My own handloads—built around the 180-grain Federal Trophy Bonded Tip and the 180-grain Nosler Partition—gave ¾-inch accuracy with no feeding or pressure issues in the lever gun.
This is a definite testament to the strength of the Browning BLR action: While other lever designs can handle the pressures of the .30-06 Springfield (the 1895 Winchester is certainly one), few can handle the 7mm Remington Magnum and .300 Winchester Magnum. The BLR, in any configuration, is one tough hombre.
I'm not overly fond of detachable magazines, because I admittedly lose things easily, but the design of the BLR steel magazine is sound. There are no plastic tabs to break or chip, and I know of many that are approaching the half-century mark and are still giving good service. Knowing my own propensity for misplacing things, I would definitely advise buying a second magazine as either a spare or a means of fast reloading—although with a capacity of four rounds, you probably won't need a fast magazine change.
Hunting with a lever-action rifle is usually a means of connecting with our hunting heritage. Lever guns are undeniably nostalgic, although they are as effective in the heavily wooded areas today as they were a century ago. It often seems that those now carrying lever rifles in the field are either carrying grandpa's rifle (and there's absolutely nothing wrong with that) or have purchased an historic or historically inspired rifle.
However, in spite of the radical advancements in the bolt-action rifles, the lever rifle still hangs on. I'm glad Browning has seen fit to offer the BLR Lightweight '81 Stainless Takedown; it's a rifle that deserves to evolve and deserves to be taken afield. I do a significant amount of hunting with bolt-action rifles in calibers from .22 Long Rifle up through the .440 Jeffery, and I enjoy time in the deer and bear woods with a lever gun.
The Browning BLR just so happens to be a product of rifle evolution. So, before you cry, "Blasphemy!" give the rifle an audition. You might just make a new friend.
Browning BLR Takedown Specs:
Weight: 7 lbs., 4 oz.
Calibers: .30-06 Springfield (tested), .243 Winchester, 7mm-08 Remington, .308 Winchester, .358 Winchester (wicked cool!), .450 Marlin, .270 Winchester, .300 WSM, 7mm Remington Magnum, .300 Winchester Magnum
Action: Lever action; aluminum alloy receiver
Barrel: 22 in.; stainless steel
Magazine: Detachable box; four-round capacity
Sights: Marbles/TruGlo red front sight; adjustable rear sight; drilled and tapped for both receiver scope mounts and on-barrel scout scope mounts
Stock: Gray laminate wood; cut checkering, 18 LPI
Overall Length: 43.0 in.
MSRP: $1,309.99
For more information on the Browning BLR, please visit browning.com.
The article originally appeared in the December 2019 issue of Gun Digest the Magazine.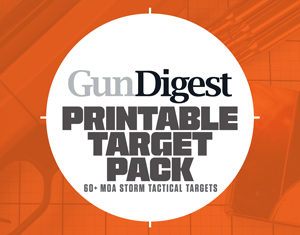 Next Step: Get your FREE Printable Target Pack
Enhance your shooting precision with our 62 MOA Targets, perfect for rifles and handguns. Crafted in collaboration with Storm Tactical for accuracy and versatility.
Subscribe to the Gun Digest email newsletter and get your downloadable target pack sent straight to your inbox. Stay updated with the latest firearms info in the industry.