The new Springfield Armory SAINT is a feature-packed rifle at an affordable price designed for honest Americans looking to defend their legacies.
Most people familiar with the Springfield Armory brand, or with the firearms industry as a whole, know that the company built a name for itself, at least initially, with its production of classic designs like the M1911 and the M14, which it produced in a commercial variant as the M1A. The M1A was synonymous with Springfield Armory ever since its official founding in 1974, just six years after the U.S. Government closed the original Springfield Armory, which had been in service as a federal armory since George Washington ordered its creation almost 200 years prior in 1777.
The American manufacturer has diversified its handgun offerings since its inception. It introduced the XD series back in 2001, and it has brought out many different versions of the XD in the following years, as well as a number of 1911 variants. However, on the rifle side of production, the M1A has still been pretty much the only horse in Springfield's stable.
At least, this was the case until November 1, 2016, when the company revealed its new Springfield Armory SAINT, an AR-style carbine, to the public. This represented the manufacturer's first-ever AR-15 to be developed and produced for the civilian market, and despite the sea of other black rifles available and the vast number of new and existing firearm manufacturers jumping into the AR market in recent years, the SAINT certainly made a splash, with shooting blogs and websites of all stripes carrying the news of Springfield's latest creation.
An Improved AR
A few weeks ahead of the SAINT's official launch in November, Springfield Armory held an event in Las Vegas where it revealed the rifle to a group of gun writers and industry media. I was fortunate enough to be in attendance and was able to get a firsthand look at the new SAINT and to shoot it extensively.
Upon first glance, the rifle looks very similar to other entry-level ARs on the market. And the SAINT's retail price of $899 certainly positions it in, or very near, that category. However, Springfield has made some nice changes to the base AR with the SAINT, which elevates it from a lot of other ARs out there.
One of the most important improvements Springfield made was its decision to use a mid-length direct impingement gas system instead of the traditional carbine-length system found on most base-model ARs. The mid-length system has typically been a smoother experience than the carbine length, and this certainly felt true on the soft-shooting SAINT. The choice of a mid-length system also allows the shooter to use a longer handguard as well, which is helpful if you're like me and prefer to place your support hand farther forward on the forend than standard handguards permit.
Speaking of handguards, another change Springfield Armory has implemented with the SAINT is to use furniture from Bravo Company Manufacturing instead of the typical GI-style furniture found on most entry-level guns. The handguard on the SAINT is Bravo Company's new PKMT Handguard, a slim-profile, polymer handguard with KeyMod attachment points. This handguard was developed and produced exclusively for the SAINT, but was slated to become available as one of Bravo Company's aftermarket accessories a little while after the 2017 SHOT Show.
The PKMT has a relatively comfortable, smooth feel in the hand, and while it's not quite as long as I would prefer, it did have a nice hand stop built into the polymer design, which helped keep me from sliding my hand too far forward and making contact with the barrel. Overall, it was a dramatic improvement over the standard M4 handguard.
Other Bravo Company additions include the manufacturer's Mod 3 pistol grip, BCM Gunfighter stock and BCM Gunfighter oversized trigger guard. The Mod 3 grip has a good feel, being adequately textured for positive retention and featuring a reduced angle that improves ergonomics. Aesthetically, the adjustable BCM Gunfighter stock has a great appearance and, once adjusted to your desired length, fits the shoulder well; however, to me, making adjustments seemed more difficult than with the standard GI-style six-position stock or many of the other aftermarket stocks on the market. While I didn't really get to test the SAINT with gloves, an enlarged trigger guard always seems like a good idea for those users who will.
The receivers on the new Springfield Armory SAINT are both type III hard-anodized aircraft-grade 7075 T6 aluminum. The flat top upper receiver comes equipped with a forward assist and M4 feed ramps, while the lower features Springfield Armory's proprietary Accu-Tite Tension System, which consists of a nylon-tipped tension set screw that tightens the fit between upper and lower to remove any play that might exist. The SAINT also has an M16 bolt carrier group with a Carpenter 158 steel shot-peened and magnetic particle inspected bolt for more reliable function and a properly staked gas key.
The Springfield Armory SAINT features a 16-inch Chrome Moly Vanadium (CMV) barrel chambered in 5.56 NATO and utilizes a 1:8 twist. The 5.56 NATO chambering obviously permits shooters to use both standard 5.56 NATO loads and the host of .223 Remington hunting, personal defense and target loads available to shooters. The 1:8 twist also helps in this endeavor, being a compromise between the faster 1:7 and the slower 1:9 rates, and which allows it to adequately stabilize a wide array of bullets ranging from those in the 50-grain range up to the heavier 70- and 80-grain bullets. As an added bonus, the barrel's chamber, bore and external surfaces receive a Melonite finish for increased durability.
The trigger on the SAINT is a proprietary design from Springfield that's a GI-style trigger, which has been enhanced with a Nickel-Boron coating for a smoother, less-gritty pull than is often found with standard factory AR triggers. The rifle also utilizes a heavier "H" tungsten buffer in its buffer assembly that helps reduce wear and tear on internal components and improves upon the SAINT's already light recoil. Sights on the SAINT consist of a GI-style "F" height front sight that is adjustable for elevation and one of Springfield Armory's low-profile flip-up, dual aperture rear sights that's adjustable for windage.
Potent and Practical Defender
At its heart, I firmly believe the SAINT is intended, and is well suited, for use as a home defense or personal defense carbine. Based on the teasers and promotional material Springfield Armory devised for the gun's release, it seems that's also what the company envisioned for its use. A major emphasis of the entire event in Las Vegas, and of Springfield's marketing efforts, was the notion of average Americans of all sorts "Defending their Legacies." As such, the Springfield Armory SAINT is not expressly intended for the "tacticool" crowd or hardcore hunters. Rather, it's a simple, easy-to-use AR with excellent features for the money that can be used for protection of home or person.
To that end, at the event in Las Vegas, the writers in attendance were able to put the new Springfield Armory SAINT through its paces with a Trijicon MRO — a great choice for a defensive carbine — as well as a low-powered Bushnell scope, which we used for engaging targets at more intermediate ranges. We used the MRO-equipped SAINT in a competitive challenge in which we had to engage 100 steel popper targets for time, and it performed admirably in that and during all the other shooting we did with it at the event.
Along with several other writers and industry media, I was also able to run a SAINT with Force on Force training rounds and gear through a home defense scenario put together by professional firearms trainer Rob Pincus. It was a relatively simple scenario, but it was certainly enough to get my heart rate elevated and to affect my decision-making abilities, and it underscored Springfield's emphasis of using the SAINT for self-defense applications.
A while after the event, Springfield sent me a sample of the SAINT for review. The SAINT ran flawlessly during my time in Vegas with it, so I was pretty sure it would do so again in my independent testing, but I did want to see what kind of accuracy it was capable of producing, something I was not able to do at the event itself.
For accuracy testing, I chose to equip the Springfield Armory SAINT with the recent Tango 6 3-18x44mm scope from SIG's relatively new Electro-Optics line. It's a great mid- to long-range scope that features a first focal plane reticle with illuminated ¼ MOA milling marks and comes with SIG's LockDown Zero System turrets.
In my testing, I used five different loads to gauge performance, all .223 Remington loads: HPR's 55-grain FMJ, Hornady's new American Gunner 55-grain HP and BLACK 62-grain FMJ, Aguila Ammunition's 55-grain FMJ and SIG Sauer's Elite Performance 77-grain OTM Match. I measured velocities with a Competition Electronics ProChrono Chronograph from Brownells placed about 10 feet from the muzzle. Accuracy data was produced from three, five-shot groups taken at 100 yards from a Caldwell Matrix shooting rest, also from Brownells.
The HPR 55-grain FMJ load produced the best average group at 1.41 inches. It also scored the best group overall at 1.07 inches. The Hornady American Gunner 55-grain HP load was close behind, with an average group of 1.44 inches and a best group of 1.09. Before I pulled one of the shots, a four-shot cluster in one of the American Gunner groups measured 0.74 inch. And the 77-grain SIG Sauer load was right at its heels with an average group size of 1.47 inches.
Overall, the SAINT's accuracy was about what I anticipated. It wasn't stunningly accurate, but it was plenty capable for a defensive carbine — accuracy that I'd feel comfortable with in a defensive scenario at close to intermediate ranges.
The SAINT's proprietary Nickel-Boron-coated, GI-style trigger I think certainly makes a difference. I've shot some less-than-stellar GI triggers in entry-level ARs, and the SAINT's felt like a definite improvement. Even if the pull weight remains the same, the added smoothness with the Nickel-Boron coating seems to help.
Parting Shots
In a crowded market of black rifles, particularly at the entry level, the new Springfield Armory SAINT manages to stand out from the rest. With its mid-length gas system, Bravo Company furniture, Nickel-Boron coated trigger, heavier buffer tube and other improved features — not to mention its sub-$900 MSRP — the SAINT represents an excellent value to potential buyers.
I believe Springfield envisioned the SAINT as sort of an everyman's defensive carbine, and based on my experiences with the rifle, it has largely succeeded in that endeavor. The SAINT has most of the things a shooter could want in a serious self-defense carbine, and it's available at a very competitive price.
It has taken a while for Springfield to finally jump into the AR game, but it has done so in dramatic fashion and with a product that I'm certain will prove itself worthy in the coming years.
Specifications:
Springfield Armory SAINT
Type: Semi-auto, direct impingement gas
Gas System: Mid-length system
Barrel: 16 in., 1:8 twist, Melonite finish
Overall Length: 32.25-35.5 in.
Weight: 6 lbs., 11 oz.
Receivers: 7075 T6 aluminum, hard anodized, Accu-Tite Tension System (lower)
Trigger: Springfield proprietary Nickel-Boron-coated single-stage trigger
Sights: A2-style front post; flip-up, dual aperture rear
Grip: BCM Mod. 3
Handguard: BCM PKMT KeyMode
Stock: BCM Gunfighter, six position
Capacity: 30 rounds
Price: $899
Manufacturer: Springfield Armory; Springfield-Armory.com
Editor's Note: This article is an excerpt from the May 2017 issue of Gun Digest the Magazine.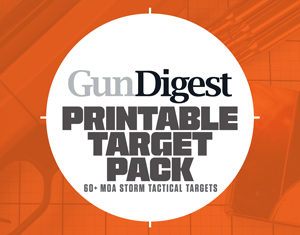 Next Step: Get your FREE Printable Target Pack
Enhance your shooting precision with our 62 MOA Targets, perfect for rifles and handguns. Crafted in collaboration with Storm Tactical for accuracy and versatility.
Subscribe to the Gun Digest email newsletter and get your downloadable target pack sent straight to your inbox. Stay updated with the latest firearms info in the industry.