The firearms industry has, at times in its history, been accused of being hidebound, stuck in the past and resistant to innovation, but there's plenty of evidence that is no longer true.
As a case in point, consider the Spanish manufacturer Bergara, which found success over the past 10 years producing aftermarket replacement barrels and OEM barrels for rifle makers. Bergara's approach was to wed an old technology—button rifling—to state-of-the-art machinery, robotics and exacting processes to mass-produce affordable, custom-quality barrels from the finest Spanish stainless steel. Bergara succeeded, in part, thanks to guidance from the late Ed Shilen, a legendary precision barrel-maker.
Building on that success, Bergara's parent company, BPI Outdoors, launched a line of U.S.-built Bergara custom rifles in 2012, and the guns quickly established a solid reputation for accuracy. These rifles, as you might expect of most guns with the word "custom" attached to them, were not cheap. Recognizing the demand for more affordable high-quality rifles, the company responded last year with two new lines of production rifles, the Premier Series and the Performance Series, which brought prices more in line with high-end production guns.
One of the newest offerings to emerge from the Premier Series is the BPR17 LRP Elite, a chassis rifle chambered in .308 Win., 6.5 Creedmoor and, surprisingly, the 6mm Creedmoor, a wildcat.
Now, before you stodgy old hunters (like me) deride this new gun as just another heavy chassis rifle for snipers or the tacticool crowd, you may want to take a closer look. With a weight of 10.5-11 pounds, depending on caliber, the gun is heavier than most traditionally stocked bolt-action rifles, but that added weight is no hindrance in a deer blind. It can actually be advantageous when sniping prairie dogs at distance in wind, and you get the added advantages of bulletproof bedding and the ability to accessorize with optics, lights, lasers and suppressors. The LRP Elite has already found a home with several law enforcement agencies, and it's showing up in PRS (Precision Rifle Series) matches.
Custom-Quality Barrels
To understand Bergara rifles, you need to understand Bergara's innovative approach to making barrels. This is the only component of the LRP Elite rifle that isn't made or assembled in the U.S.
Our .308 Win. test rifle came with a 20-in., 416 Premium stainless steel, Cerakoted barrel. It began life as a straight bar of highly regarded Olarra stainless steel, which must demonstrate less than .004 in. of deviation before Bergara will use it for a barrel. It is straightened, if necessary, and a precise hole is drilled through the bar. Three separate honing spindles with diamond-tipped bits polish the interior surface to a mirror-like finish, removing tool marks and leaving only a very fine cross-hatch pattern.
"These honing marks are truly microscopic and are similar to, but much finer, than what you will find in a freshly honed engine cylinder," said Ben Fleming of BPI Outdoors.
A carbide rifling button is then drawn through the barrel, at an appropriate twist rate per caliber, and the barrel is inspected to ensure groove diameter deviation of less than 2/10,000 (.0002) of an inch. Barrels are then stress relieved in a high-temperature heating process. Since much of the work is accomplished with advanced machinery (and one or two manufacturing secrets that Bergara won't reveal), the company is able to offer custom-quality barrels at production-barrel prices.
Rifled barrels for the LRP Elite are shipped to a shop in Georgia, where final production and assembly of the rifle is done. This includes barrel profiling, chambering, threading and crowning. The No. 5 taper LRP Elite barrel, which I would call a medium-heavy profile, comes with a threaded muzzle (5/8×24) and a Dead Air Armament Key Lock Muzzle Brake. Whether a .308 rifle really needs a muzzle brake is open to debate, but this one does more than reduce perceived recoil. It serves as a mount for attaching Dead Air Armament Sandman-L and Sandman-S suppressors directly to the brake.
It's worth noting that all work at the Georgia facility is overseen by a former production manager from the U.S. Marine Corps Precision Weapons Section.
Slick Action, Great Trigger
The Georgia facility is the birthplace of the LRP Elite action. Bergara says it has a Remington 700 "footprint," and one of the first things you'll notice when you pick up this rifle and work the spiral-fluted bolt is the smoothness of the action. It is, in a word, slick. I found it easy to cycle the action using just the pinky finger of one hand.
The action is made of 4140 Chrome Moly steel and has a black Cerakote finish like all other exterior metal surfaces on the rifle. The bolt head, gas shield and other small parts are nitride-finished to increase hardness and wear resistance. The bolt body is made of 416 stainless steel and left unfinished as a nice contrast to the otherwise all-black, all-business countenance of the rifle.
The floating, two-lug bolt head is self-adjusting, which theoretically contributes to enhanced accuracy. Inside the bolt face, you'll find a standard plunger ejector. The extractor is a sliding plate design, and is dovetailed into the face of a locking lug. The bolt handle is smooth and slightly oversized.
I was pleased to discover that the rifle is equipped with a Timney 517 flat-blade trigger. I haven't counted lately, but I'd guess that half of my bolt-action rifles wear Timney triggers, so it's safe to say I'm fond of them. This one comes with a two-position safety which does not lock the bolt down. The trigger's pull weight is adjustable from 1½ to 4 pounds. The trigger on our test rifle broke cleanly and crisply at 3 pounds 2 ounces, with absolutely zero creep, and I left it at its factory setting to duplicate a buyer's out-of-the-box experience.
The LRP Elite rifle comes standard with a 20 MOA base, manufactured by Talley, attached with 8×40 screws versus standard 6×48 screws.
No Bedding Required
A Mega Orias chassis (a collaboration between Killer Innovations and Mega Arms) nestles the Remington 700-ish action into a solid V-block, and secures it using a patent-pending, self-adjusting recoil lug locking system. Tightening the bolt on the bottom of the chassis makes an expansion clamp expand against the recoil lug. The recoil lug, in turn, is pushed against a self-adjusting, half-round piece of steel that's held in place with a magnet. This system automatically adjusts for any angularity difference between the recoil lug and the chassis, eliminating the need for traditional bedding materials. The system sounds more complicated than it is, but provides rock-solid bedding for the action.
"It is genius," said Fleming.
The Orias chassis is machined from 7075-T651 billet aluminum and has a protective black Cerakote finish. It has a removable rear trunnion which is compatible with all AR-style buffer tubes and buttstocks. There are four hardened-steel, anti-rotational, nitride-coated QD inserts for attaching slings, and you'll find 11 KeyMod attachment slots on either side of the forend and seven on the underside.
There's also an ambidextrous magazine release consisting of twin paddles, with raised grooves, riding flush with the leading edge of the trigger guard and protruding to either side. It takes a bit of getting used to if you haven't used this style of magazine release before, but operating it quickly becomes second nature. There's plenty of room inside the trigger guard for a gloved trigger finger, and gloves won't get in the way of using the magazine release.
The chassis comes with a rubberized pistol grip that will find favor with those who like finger grooves. It is also equipped with a Magpul PRS (Precision rifle/sniper) stock. I've used this stock to good effect before, most notably in a NRA long-range shooting school, while working over targets at 400-1,000 yards. The stock, which is adjustable for length of pull and comb height, provided a precise individual fit and optimal eye-to-scope alignment.
Range Results
Happily, our test rifle arrived with a Nightforce NXS 5.5-22×56 scope mounted and zeroed at 100 yards, minimizing set-up time for testing. Unfortunately, I had to contend with spring weather in south-central Texas, which meant thunderstorms with windy days in between. As a result, all testing was done over two days when the wind gave me mild fits, with wind speed varying eight to 19 mph on both days. Talk about real-world conditions.
The Bergara handled it like a champ, turning in great groups despite the windy conditions and being fed only hunting, not match, ammunition. Half of the tested loads turned in average groups measuring an inch or less, while all six tested loads averaged well under an inch and a half.
Federal's 165-grain Trophy Copper load and Hornady's Custom Lite 125-grain SST load tied for best-group honors, with both loads producing single-best groups measuring 0.58 inches. For that matter, the rifle shot sub-MOA best groups with all but one of the tested rounds. With factory hunting ammo, under windy testing conditions, this was very good performance.
There was only modest velocity drop-off, ranging from 29 to 88 fps, from factory advertised velocities for five of the loads out of the rifle's 20-inch barrel. The Federal Trophy Bonded Tip load actually zipped along 32 fps faster than advertised.
Functionally, the rifle did everything it is supposed to do. It fed from the detachable five-round magazine flawlessly. Extraction and ejection were normal. The trickiest part of operating the rifle was inserting the magazine while shooting the rifle from the bench. It takes a little practice to get the magazine started smoothly, and I would gently suggest that the chassis could benefit from a little beveling of the magazine well.
That's just nit-picking on my part. Overall, it's hard to find fault with the way the rifle is put together or how it performs. The main objection some may have is the price ($2,600), but it helps to remember that you're essentially buying a custom-quality gun at a production-gun price. As I quickly discovered, the more you shoot the LRP Elite, the more it starts to look like a bargain.
Specifications:
Bergara Premier Series LRP Elite
Type: Bolt action, pushfeed
Caliber: .308 Win., as tested
Barrel: 20 in., 416 stainless steel, 1:10 twist
Weight: 10.5 lbs.
Chassis: Mega Orias
Stock: Magpul PRS
Grip: Rubber finger groove
Trigger: Timney 517 flat blade
Magazine: Accuracy International 5-round
Muzzle Device: Dead Air Armament Key Lock Muzzle Brake
Price: $2,640
Manufacturer: Begara
Editor's Note: This article is an excerpt from the July 2016 issue of Gun Digest the Magazine.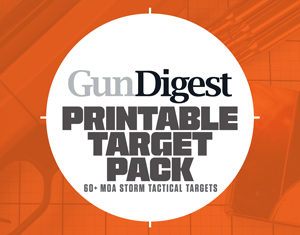 Next Step: Get your FREE Printable Target Pack
Enhance your shooting precision with our 62 MOA Targets, perfect for rifles and handguns. Crafted in collaboration with Storm Tactical for accuracy and versatility.
Subscribe to the Gun Digest email newsletter and get your downloadable target pack sent straight to your inbox. Stay updated with the latest firearms info in the industry.