The .475 Turnbull lever gun from Doug Turnbull and his talented staff is a jaw-dropping and highly functional piece of art.
No firearm stands out quite like a Turnbull. In a world of synthetic stocks and sub-$500 rifles, the company bearing Doug Turnbull's name is well known for making what he calls functional art, replete with top-shelf wood stocks and the classic look of color case hardening. It's the one firearm that, without fail, produces prolonged stares and jaw-dropping admiration at the gun store and on the range.
Turnbull Restoration & Manufacturing, Co., as the name implies, was started several decades ago with the restoration of fine firearms in mind but has since grown in the production of original works of fine art. Doug now produces everything from .470 and .475 lever guns to the new and stunning Ruger Mark IV and a host of 1911s, all with iconic looks and impressive functionality. While some carry price tags in the thousands, others, like the Mark IV, bear incredible value at less than $600.
What's even more impressive, perhaps, is that Turnbull's guns function and shoot as well as any I've ever handled. The .475 Turnbull, which is built off the Winchester 1886 lever-gun platform, is no exception.
Featuring a high-quality wood stock, color-case-hardened receiver and octagonal barrel, side load and top ejection ports, the .475 produced highly impressive accuracy results and ran like a champ when we recently reviewed it. Pretty to look at and even better to shoot—that's my kind of rifle.
Form Meets Function
Winchester's original 1886 was designed by none other than John Moses Browning and built to withstand large calibers of the time like the .45-70, .45-90 WCF and .40-82 WCF. Since then it's been adapted to take on other big bores, like the .45-90 Sharps and, in the slightly modified Model 71, the .348 Winchester.
Over a century after its introduction, Turnbull modified the 1886 to accept his new cartridge, the .475 Turnbull. The .475 relies upon a blown-out and necked-up .348 Win. case with a .475-caliber bullet, a caliber that is widely available for reloading purposes. It's a great round for reloaders, as dies are available from Hornady and RCBS, as well as a host of bullets from Barnes and Nosler. Turnbull also sells many of these components on its website.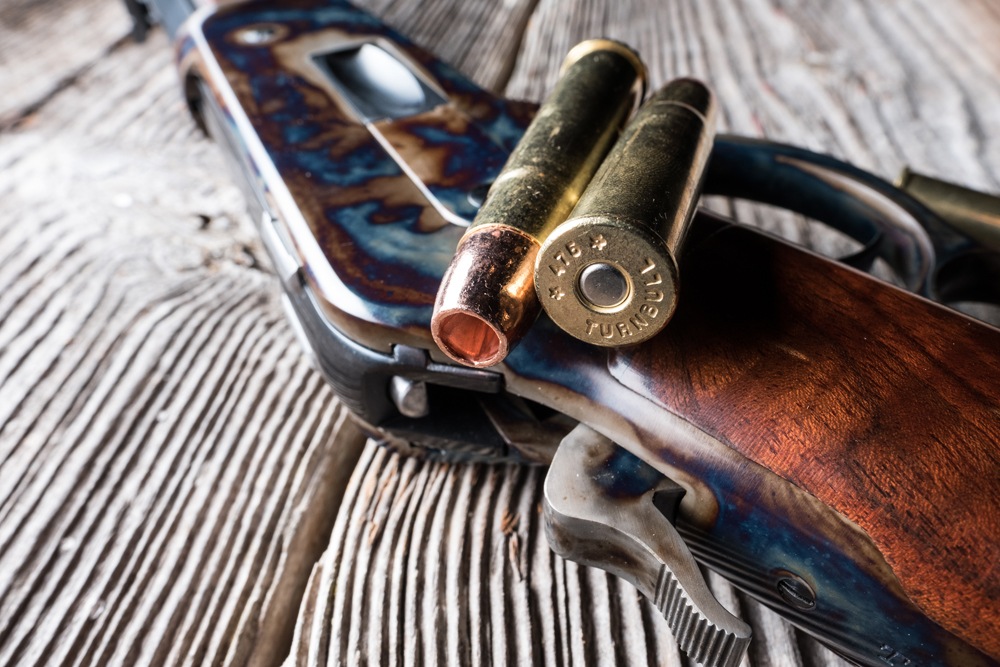 Turnbull also produces and sells ammunition for the .475, which is what I utilized for this review. Accuracy testing was conducted with 425-grain lead bullets leaving the muzzle at 1,700 fps, though bullet options are available from 350-500 grains, with load velocities varying from 1,900-2,500 fps.
I also utilized the 350-grain Barnes TSX loads, which hit like a freight train and are supremely accurate, especially given how poorly I typically shoot iron-sighted rifles. Shooting freehand at 50 yards to simulate an actual field hunting experience, the 350-grain bullets came in right around an inch, and from a bench rest and Caldwell lead sled were much better even at 100 yards.
The 350-grain TSX load produces a muzzle velocity of around 2,300 fps with a whopping 4,110 ft.-lbs. of energy, which is why the .475 is considered a major player in the big and dangerous game category. Of course more energy and larger bullets mean serious increases in recoil, which is why I appreciate the plush rubber recoil pad rather than the standard brass butt plate.
The .475 Turnbull features side loading and top ejection ports, which is why the rifle comes standard with iron sights. The 26-inch octagonal barrel bears the resemblance of the original 1886, though newer steel advancements allow the rifle to handle the increased pressures of the .475 cartridge (generally between 40,000-42,000 psi).
The original 1886 action can handle the newer load, but the old barrels could not, which is why a restored and converted 1886 gets a new barrel. To put things in perspective, a 350-grain bullet in the .475 Turnbull produces velocities roughly 900 fps faster than the .45-70 Government with a 300-grain bullet, with about 2,800 ft.-lbs. of additional energy. Again, recoil is greater, but so is your "stopping power." With the right bullet, you can do some serious big and dangerous game hunting with the .475 Turnbull.
Doug also makes a .470 Turnbull, which offers very similar ballistics: The 350-grain Barnes TSX leaves the muzzle at 2,300 fps with a shoulder-pounding and beast-stopping 4,110 ft.-lbs. of energy. The main difference is that the .470 is slightly shorter and fits in the Marlin Model 1895 action. The parent case of the .470 is still the .348 Win., though the .470 case measures 2.55 inches instead of 2.78 for the .475. The .470 features a shoulder angle of 10 degrees, while the .475 has an angle of roughly 17 degrees. For the sake of comparison, the .470 is more or less ballistically equivalent to the .450 Marlin.
Parting Shots
The .475 from Turnbull is hardly inexpensive, carrying a price of $5,650, and depending on your reloading skills, the ammunition isn't exactly what I'd call cheap, either. The rifle is a hog to carry in the field, hardly like your grandfather's old .30-30 that you'd carry into the deer woods. That being said, it's still relatively affordable as far as large-caliber dangerous game rifles go, and it's stunning to behold.
Doug builds an extremely accurate rifle, too, and from our testing, the lever-action ran smoothly and without issue. Most freehand groups at 50 yards were around an inch, and just above that at 100 from the bench. Realistically I'm not going to be shooting buffalo at 500 yards with an open-sighted lever gun, so as long as you keep your own limitations and application in mind, this is a fantastic rifle.
Recoil obviously increases depending on bullet selection and load, but a good shooting bench and lead sled will mitigate a lot of discomfort, at least when you're getting dialed in. With 350-grain and 425-grain loads, I was actually surprised by the recoil — it really wasn't that bad.
Many of the fast magnums I've shot in the past left me feeling much worse, and as others have pointed out, the big bores are more of a heavy push than a snappy punch to the upper torso. Once you move to a standing position or from sticks, recoil becomes even less worrisome.
Fine and functional art, the .475 Turnbull is among the best the company has ever produced. And that's saying a lot.
Specifications:
Turnbull Model 1886 – Turnbull 475
Caliber: .475 Turnbull
Action: Lever
Barrel Length: 26 in.
Barrel Type: Octagonal
Butt Plate: Rubber Recoil Pad
Finish: Turnbull color case hardened finish
Price: $5,650
Editor's Note: This article is an excerpt from the April 2017 issue of Gun Digest the Magazine.
---
NEXT STEP: Download Your Free Storm Tactical Printable Target Pack
62 Printable MOA Targets with DOT Drills - Rifle Range in YARDS
This impressive target pack from our friends at Storm Tactical contains
62 printable targets
for rifle and handgun range use. Target grids and bullseye sizes are in MOA. Ideal for long-range shooting!
Subscribe to the Gun Digest email newsletter and we'll send your print-at-home target pack right away.
Just enter your email address below.
---