Accurate as they come, versatile and affordable the CZ 457 has earned a dedicated following among rimfire shooters in the know.
Why The CZ 457 Appeals To Rimfire Shooters:
Modularity, including a switch-barrel design, the rifle offers flexiblity over most other rimfire bolt-actions.
Aftermarket stocks are extensive and allow it to be configured to suit a shooter's application.
A 60-degree bolt throw makes the rifle fast to cycle and allows for larger scopes.
The trigger is ajustable and pretty dang sweet.
The CZ 457 lineup of bolt-action rimfire rifles has a dedicated cadre of fans. Spend anytime behind one on the match line or in the squirrel woods, and it's easy to see why. For those in the know, CZ remains the unquestioned best value in rimfire shooting. Simply put: You just get more for your money with CZ. To fully understand why, it's best to consider the history.
Wayback With CZ
The earliest Czech firearms can be traced back to the 1370s, but like so much of modern European manufacturing, the most relevant threads spin out of Nazi Germany and the political fallout of World War II. 
In October 1918, the Czech and Slovak people declared their independence from the Austro-Hungarian Empire and established the new state of Czechoslovakia. The new government created the national Československá Zbrojovka, or "Czechoslovakian Armory," in the city of Brno.   
After the Treaty of Versailles disarmed Germany, Československá Zbrojovka and Zbrojovka Brno, or the "Weapons Factory of Brno," began production of Mauser and Mannlicher rifles. In the mid 1920s, a new factory in Brno brought automobile production lines under roof, as well as expanded bolt gun and machine gun production. In the 1930s, it diversified further with Remington-licensed typewriters and tractors.  
In 1936, Adolf Hitler openly rejected the terms of Versailles with the remilitarization of western Germany along the French border. As the specter of war reemerged on the continent, Československá Zbrojovka opened a new weapons factory in Uherský Brod in eastern Czechoslovakia—far away from the German border. Early production focused on military arms, particularly aircraft machine guns, military pistols and small-bore rifles. Two years later, the Nazis annexed the Czech-controlled Sudetenland, before pushing into historically Czech lands in March 1939. With the Czechoslovakian government in exile, the Germans took the territory, managed under various sham governments, but all as part of the Third Reich.  
At the end of the war, when the victorious Allies divided Europe, the Czech and Slovak people landed in Soviet hands. Czechoslovakia, along with their highly regarded manufacturing facilities Zbrojovka Brno and Uherský Brod, went Communist.  
The Wehrmacht and the Communists both wanted a quality .22 LR military training rifle, an inexpensive, mass-produced firearm to train marksmanship on the cheap. In 1943 or 1944, at the request of the occupying Germans, Zbrojovka Brno developed what became known as the BRNO Model 1. In 1947, the Model 1 was mass produced for export, and, in 1954, a parallel model was released, as the BRNO Model 2, stamped ZKM-452—an acronym for Zbrojovka (for the national arsenal), Koucký (for the rifle's designer, Josef Koucký) and Malorážka (literally "small arms" in Czech).
Zbrojovka Brno was destroyed by Allied bombing at the end of the war, and most Česká Zbrojovka arms production continued on at Uherský Brod, known now by its initials CZUB. The communist Ministry of Foreign Trade and Czechoslovak Proof Authority soon after decided any rifle built for export would bear the name Brno, as it had greater international name recognition. (Zbrojovka Brno was rebuilt, and continued to make their own BRNO rifles into the 1970s.) In 1989, after the Velvet Revolution, the one-party communist system collapsed, and, in 1993, Czechoslovakia amicably split into two countries, the Czech Republic and Slovakia.   
During that political transition from Communism to Democracy—and one country to two—CZUB was privatized. Over the decades, the Uherský Brod facility has expanded with the factory walls built out to the city streets on all sides. Today, it's the largest small arms facility in the world, as measured by square footage under roof, and it employs more than 1,800 people.   

In 1997, the subsidiary CZ-USA was established to import small arms into the U.S. BRNO Model rifles, widely known for their accuracy and affordability, had trickled into the U.S. through the 1960s, '70s and '80s, under various exporter/importer agreements, but with CZ-USA the front door blew open—and soon came wide availability of the CZ 452.  
---
More Rimfire Info:
---
Old School: The Model 2 to the 452

Compared to the Model 1, the Model 2 had a rear sliding tangent sight marked off from 25 to 200 meters. (For collectors, this is the fastest way to identify them.) The Model 2 also came with an improved Winchester Model 70-style trigger, vent holes in the bolt, a narrower crescent-shaped ejection port and a Mauser-like perpendicular top safety. There were various other BRNO rimfire models (Model 2E, 3, 3S, etc.), but the Model 2 in its true "military trainer" style was by far the most produced. CZ keeps production numbers close to their chest, but collectors believe about 140,000 Model 2s were produced, compared to around 7,000 of the target-specific Model 3, for example.
The cold hammer-forged carbon steel barrels were central to the success of these early rifles—a process still used in part today. It began by "seasoning" the steel, leaving it outside and exposed to the elements for at least one year—forcing the metal through several natural freeze/thaw cycles.
"It's a little science and a lot of tradition," says Zachary Hein, marketing communications manager for CZ-USA, who traveled to the BRNO workshop to watch the 452 Grand Finale rifles built on the original machines, with this original process. Barrels were sourced from the Uherský Brod factory, where the blanks were being drilled with a bore diameter greater than .22 RF and are then fed into a cold hammer forge, a machine which Hein says is about "the size of a semi tractor." The barrel steel is drawn over a .22 RF mandrel as the forge's giant circular hammer slams down around it, molding the rifling into the barrel by brute force.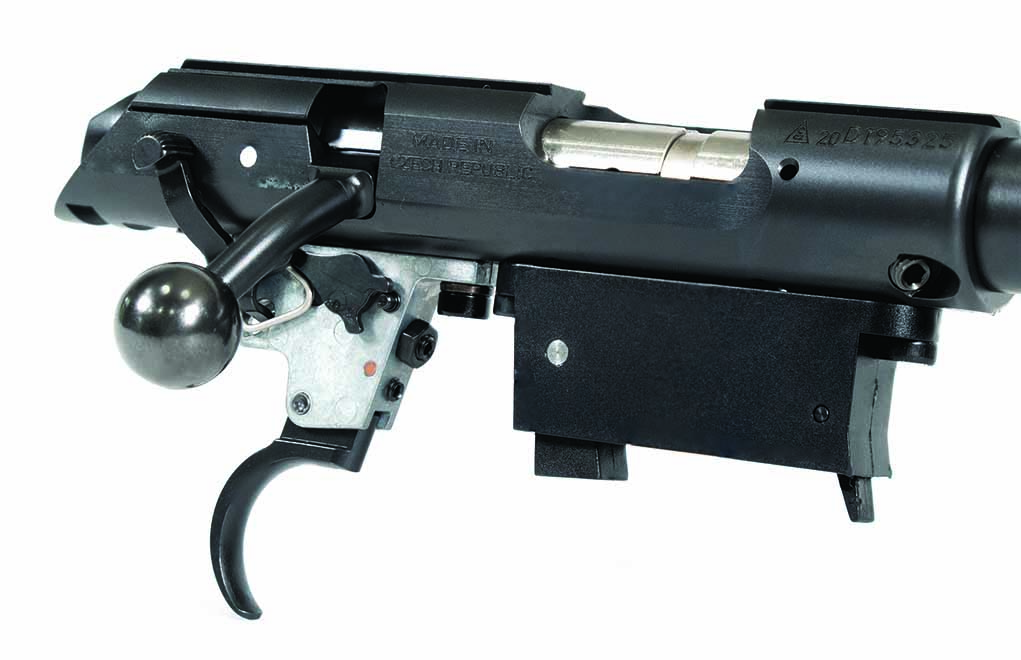 After that, barrels were lapped and threaded at the tenon, except in the case of the .17 HM2 rifles where the barrels were pinned to the receiver. Headspacing was done by feel. "They screwed the barrel onto the receiver, then the builders physically used their hip—literally, they put their body weight into the breaker bar to make sure it was tight," Hein remembers. "It was incredibly old school, but that's the way they used to build them."  
On gun store shelves, consumers couldn't spot the old-world build techniques. What set the 452s apart from so many other .22s was the wood. In the 1990s and early 2000s, many rifles, especially inexpensive rifles, moved away from walnut and into polymer and synthetic stocks. CZ shelved a few synthetics, but the company never slowed down on more classic styles in American and Turkish walnut, and less expensive models in beechwood.
The stock lines and handling of many of their designs were true sporters—nimble and quick-pointing. Some of the walnut even had excellent figuring, which no one expects from a $500 rifle. CZ fans refer to these specimens as "hitting the wood lottery." Even today, order a walnut-stocked CZ and you might get one commiserate with the price, or you might get something many degrees nicer.
The Model2/452 design ran in regular production from 1954 to 2011, when CZ updated the design with 455. There was also briefly a 453 with a French-style set trigger. Die-hard 452 fans collectively groaned when the rifle was discontinued—replaced really, with the switch barrel 455—so CZ-USA spearheaded a final run of 452 Grand Finale edition rifles as a final goodbye. It's a premium build with a walnut and ebony stock, hand-engraved metalwork and a jeweled bolt. A fitting end for a design that was birthed in conflict, that outlived communism and which found widespread success in the land of the free and the home of the brave.
New School: The 455 & 457
It's not easy to own a gun in Europe. This is why switch-barrel rifles, where the shooter can swap various caliber barrels—and multi-barreled firearms, like drillings—are so popular across the pond. Legally, it's one gun.
When the Czechs planned the updated 455 with a switch barrel, the Americans at CZ-USA enthusiastically supported it. "From the start, we wanted to build of a culture promoting and encouraging modularity and aftermarket support," Hein said. "When they talked up the new design, we were like, Heck yeah! We looked at it like the AR-15 model."
With the 452, different calibers had different bottom metals and different stock inlets. With the 455, that was all standardized. The machinery that made the new receivers was upgraded, too. While the 452 was a milled receiver, the 455 was cut on a CNC to much tighter tolerances.
By standardizing the receiver mounts, footprint, barrels and triggers across the lineup, it created a kind of swapability and aftermarket of custom options in the rimfire world only seen with Ruger's 10/22. But this was a bolt gun. A parent could buy their kid a CZ 455 Scout, with a short iron-sighted barrel and youth-sized stock, and swap it for a full-sized stock with longer barrel and optics as the child grew up. Or, more likely, a serious rifle shooter could build a full-sized .22 LR that replicated the look and feel of their centerfire precision rifle.
As the 455s came into the U.S. in late 2010 and early 2011, CZ-USA cultivated this idea of a serious .22 LR for a serious shooter. They partnered with Boyd's and rolled out a model in "Tacticool" stock (now called the Pro Varmint) with a tactical-inspired vertical grip, raised Monte Carlo cheek piece and a butt hook for shooting off bags. All of a sudden, there was a "sniper style" .22 LR on the market for around $500. Chambered in .17 HMR, it quickly proved an excellent and affordable varmint rig to about 300 yards.
CZ also partnered with fellow Kansas City business, Manners Composite Stocks, and rolled out the CZ 455 Varmint Precision Trainer in .22 LR. As long-range PRS-style shooting skyrocketed in popularity, competition rifle shooters started asking for "trainers" for low-cost, low-recoil practice—very much the same ask militaries had in World War II and the postwar years.
Fundamentals of hitting what you aim at don't change, whether it's a .22 LR or .416 Barrett. With the CZ 457 Varmint Precision Trainer, guys running a 6.5 Creedmoor in a Manners at a weekend match now had a weekday trainer that could safely spit .22 LRs at steel targets off the back deck. Make those steel targets 1 inch or smaller, and all of a sudden, it's possible to drill positional shooting like kneeling, sitting or shooting off a barricade at 25 or 50 yards—skills that translate 100 percent when shooting larger calibers at long distances.
The 455 was a huge success, but there were many things that the European design didn't get 100 percent correct for an American market. These were largely corrected in the 2019 update, the 457. The stamped bottom metal was swapped out for a sculpted two-piece system. A push-to-fire safety was installed, instead of the "backward" European version on the 455 and its many predecessors. The bolt rotation was tweaked from 90 degrees to 60, so big scopes can be mounted lower, and the action can be run faster with one hand while in firing position.
CZ also lightened the firing pin for faster strikes, and cut almost an inch off the overall action length, and slab sided it to make it as trim and lightweight as possible. The ho-hum 455 trigger, which needed aftermarket springs to really sing, was replaced with a fully adjustable model that can be taken down to nothing right out of the box.
The 2019 rollout of the CZ 457 was a big deal in the rimfire world, with nine models ranging from a new Manners-stocked Varmint Precision Trainer to the traditional sporter American and the youth Scout. This year, it was updated with a 457 Varmint Precision Chassis model, in a CZ-USA-designed billet aluminum chassis with a Luth AR buttstock, and a very European hogsback 457 Jaguar with a 28.5-inch iron-sighted barrel. But what really set the 455—and now the 457—apart, was that thriving aftermarket. It was possible now to not only buy a high-quality, affordable and accurate .22 LR bolt-action, but also to take that rifle and really make it your own.
The Best Value In Rimfire
When it comes to rimfire rifles, there are generally two schools of thought in the U.S. The first I consider the Savage model—make a rifle that shoots great, and is affordable, with a great price-versus-performance ratio. The second is the Ruger model—make a rifle that's affordable, and modular, then support and encourage an aftermarket.
CZ's straddles these two schools of thought. On the one hand, a CZ 457 American Combo with a .22 LR and .17 HMR barrel set can be found online for $420. They shoot incredibly well right out of the box. Half-inch groups at 50 yards should be expected from the entire 457 lineup. But for a tinkerer who wants to work their rifle to the next level, the 457 platform makes that possible.
There are stock and chassis options from all the great builders, like Manners, MDT and Masterpiece Arms. There are barrels from Proof and Lilja, among others. (I've topped a CZ Varmint Precision Chassis with a Proof that's among my go-to NRL22 rigs. My new squirrel gun of choice is a 457 with a limited run Lilja .17 HM2 stainless tube and Maven RS.3 optic.) There's trigger springs and kits from YoDave and BScar. From muzzle to buttpad, there's options to make the CZ more accurate and make it your own.
Or you can take it straight from the box, never touch it, and still have an excellent rifle.
The current vogue in precision rimfire is Remington 700 everything. Vudoo, RimX, Bergara and Ultimatum all have near custom-level .22 LR actions that fit a R700 footprint, opening the wide world of aftermarket Remington stocks, triggers and accessories to smallbore. The same can't be said of the 457, but what the CZ has where the others fail is performance at a price point most shooters can get behind. It's a good rifle as sold, but can expand as a shooters interest does. This should not be understated.
There's also something to be said for not having an oversized ACIS pattern magazine that Vudoo invented, and we're now seeing in RimX, Bergara and other rifles. Like fellow European Anschutz, the .22 LR magazines from CZ just work. You don't have to pay special attention to how you load them: They feed well, they don't often mar bullets, they're inexpensive and, from a pure rimfire shooter perspective, they're not clunky.
I run a small monthly NRL22 match, and the question I'm always asked by new shooters is, "What rifle should I get?" I send them what's become a form email, linked out to a few different write-ups, with options ranging from $330 to well over $1,000. Nine times out of 10, these new shooters come back with a CZ. Why? Because when you do your homework, there isn't a better deal in bolt-action rimfire rifles. There are more expensive rifles. There are more accurate rifles. But with CZ, you get every nickel worth … and then some.
For more information on the CZ 457, please visit cz-usa.com.
Editor's Note: This article originally appeared in the November 2020 issue of Gun Digest the Magazine.
---
NEXT STEP: Download Your Free Storm Tactical Printable Target Pack
62 Printable MOA Targets with DOT Drills - Rifle Range in YARDS
This impressive target pack from our friends at Storm Tactical contains
62 printable targets
for rifle and handgun range use. Target grids and bullseye sizes are in MOA. Ideal for long-range shooting!
Subscribe to the Gun Digest email newsletter and we'll send your print-at-home target pack right away.
Just enter your email address below.
---