The new Model 700 SPS (Special Purpose Synthetic) Tactical AAC-SD centerfire rifle, chambered in 308 Win., features the time-proven Model 700 action.
The number one choice of police and military marksmen and one of the most popular bolt-action rifle series in America, with some of the latest performance-driven features including a threaded muzzle. This mid-year introduction to Remington's expanding line of tactical rifles and shotguns is designed to impress from the bench or in the field at a very affordable price.
At the core of the 700 SPS Tactical AAC-SD is the machined solid-steel, cylindrical Model 700 receiver design ensuring uniformity, strength and solid bedding area. Unique to this precision rifle is the 20-inch heavy-contour clean barrel, threaded to accept AAC and all 5/8-24 threaded flash hiders, muzzle breaks and suppressors. The tactical-style carbon steel, hammer-forged barrel is the perfect balance between handling in tight spots and delivering pinpoint accuracy. With a twist rate of one in 10 inches, this rifle is optimized for accuracy. These specialty, bolt-action rifles are shipped with a thread protector installed.
The rock-solid barreled action is bedded into a well-designed, Hogue® Overmolded® Ghillie Green pillar bedded synthetic stock with a semi-beavertail fore-end for added stability. This soft-touch, sure-grip stock is extremely comfortable for extended, long range shooting and assures a positive grip in both stressful situations and inclement weather. The dual point pillar bedding guarantees a solid interface between the action and stock to help insure cold bore accuracy and prevent point of-impact shifts. Add Remington's X-Mark Pro externally adjustable trigger, designed to "break like-glass" and set at 3 ½ pounds from the factory, and this rifle delivers surgical-like accuracy.
Other key features include receiver drilled and tapped for the addition of optics; distinctive, laser engraved "Tactical Rifling 1 in 10" roll mark; convenient hinged floorplate magazine with 4-round capacity; non-reflective, black oxide external metal finish; and sling swivel studs.
Available in the widely popular 308 Win chambering, the Model 700 SPS Tactical AAC-SD with Threaded Muzzle is the perfect tactical bolt-action rifle and available at a very affordable price.
Suggested retail price: $756.57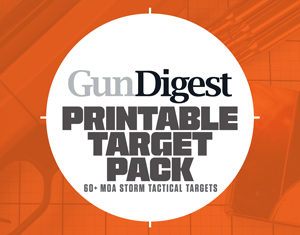 Next Step: Get your FREE Printable Target Pack
Enhance your shooting precision with our 62 MOA Targets, perfect for rifles and handguns. Crafted in collaboration with Storm Tactical for accuracy and versatility.
Subscribe to the Gun Digest email newsletter and get your downloadable target pack sent straight to your inbox. Stay updated with the latest firearms info in the industry.