To the delight of Walther fans, the manufacturer has brought out a subcompact version of its classic pistol for 2018 — the PPQ SC.
The big story on the subcompact PPQ SC:
The PPQ SC is a scaled-down version of Walther's popular full-sized PPQ.
It has a 3.5-inch 1:10 twist barrel; it's a full 3 ounces lighter than the PPQ at 21 ounces.
It's overall length is 6.6 inches, height 4.4 inches and width 1.3 inches.
It is outfitted with Walther's exceptional Quick Defense Trigger.
The PPQ SC's MSRP is $649.
Concealed carry has been, and remains, an incredibly hot topic and a very popular segment of the larger overall firearms market. The number of those who carry concealed has continued to grow in recent years, and with the passing of a national concealed carry reciprocity measure in the U.S. House of Representatives in December of last year, the country has perhaps never been closer to seeing such legislation become law.
This year's new gun introductions from manufacturers strongly reflect this continued emphasis on the concealed carry market. And Walther Arms is no exception.
At the 2018 SHOT Show, the largest annual trade show for the firearm industry, Walther debuted its brand new PPQ SC (Sub-Compact). As the name suggests, this is a subcompact variant of the manufacturer's popular striker-fired PPQ pistol. A subcompact PPQ is something fans of the Walther brand and fans of the PPQ have been excitedly anticipating for some time, and it's sure to carve out a space within an already crowded concealed carry handgun market.
Although its official launch was ahead of the SHOT Show, Walther also held a private media event in Utah back in October of 2017, during which it introduced the PPQ SC to a small group of industry writers and editors. I was fortunate enough to be among those invited to get a firsthand look at the new gun and to participate in a training course put on by Deliberate Dynamics, a veteran-owned tactical gear and equipment company based out of South Salt Lake, Utah, that also offers a host of training programs ranging from basic pistol courses to extreme long-range shooting.
Over the course of 2 days in an old abandoned mining town, which Deliberate Dynamics has repurposed into a full-fledged training ground suitable for a number of disciplines, trainers had us doing everything from basic shooting drills on a static range to live-fire CQB house clearing drills and shooting around cars. But more on that later. For now, a closer look at Walther's new PPQ SC.
Trimming The Fat
Of course, the major observable change with this pistol — and the one that will be most obvious to shooters — is that it takes the full-size PPQ down to a subcompact level. This is to the benefit of those who carry or those simply looking for a more compact PPQ.
The new PPQ SC has a 3.5-inch barrel with a 1:10 twist rate. It has an overall length of 6.6 inches, a height of 4.4 inches and a width of 1.3 inches.
This shaves off roughly a half-inch in length and about an inch in height from the 9mm PPQ M2 with a 4-inch barrel. The width remains the same across both models. That might not sound like a lot of difference, but any little bit helps when it comes to concealed carry, and the reduction in height is perhaps the most important to prevent printing and keep the gun's appearance concealed. Obviously, if you compare these figures to the longer 5-inch PPQ M2, they look even more impressive.
In terms of weight, the SC is also cut down here as well. The PPQ SC offers a weight reduction of a little more than 3 ounces, taking the 4-inch PPQ M2 from 24.5 ounces down to 21.2 ounces. Again, it's not a huge margin, but any weight taken off is good for those carrying a gun all day, every day.
For the sake of comparison, let's briefly look at some other common subcompacts. The Glock 26 Gen4 is 6.41 inches in overall length, 4.17 inches in height, 1.18 inches in width and weighs 21.71 ounces. The Springfield XD Mod.2 3-inch subcompact is 6.25 inches in length, 4.75 inches in height, 1.19 inches in width and weighs 26 ounces. The Sig P320 subcompact is 6.7 inches long, 4.7 inches in height, 1.3 inches in width and weighs 24.9 ounces.
The PPQ SC falls right in with these figures. It's the lightest among those listed, and it's shortest in height with the exception of the G26. The SC is longer than two of those examples, but then again length isn't always a bad thing, as it also corresponds to a longer sight radius. The PPQ SC's is 5.6 inches, which is pretty good for a gun designed for carry. I appreciated this during the training event in Utah and in my own independent testing, and I firmly believe it helped me shoot the gun more accurately than I have some other carry guns.
Width is also at the higher end of these example guns. Again, this isn't inherently a bad thing. Guns that are too thin or too small can have a tendency to wiggle about a bit for me. I don't have ridiculously large hands, but I've generally found that I tend to shoot better with guns that more fully fill out the palm of my hand. And I found this to be true with the PPQ SC.
In terms of capacity, Walther's PPQ SC is also competitive with other double-stack subcompacts. It offers a standard 10-round capacity with a flush-fitting magazine. Walther also provides a 15-round magazine with an extension sleeve. Of course, with that option, you do sacrifice some of the gun's concealability.
A Strong Family Resemblance
The dimensional changes listed above are great, but it's also important that they don't come at the cost of quality or features. From what I can tell having put many hundreds of rounds through the PPQ SC, they have not.
A lot of the things that shooters have come to love about the PPQ are also present in the SC. Probably at the top of most people's list is the trigger.
Walther's classic PPQ is renowned for its exceptional trigger in a striker-fired pistol. That same great Quick Defense Trigger is on full display in this new subcompact version.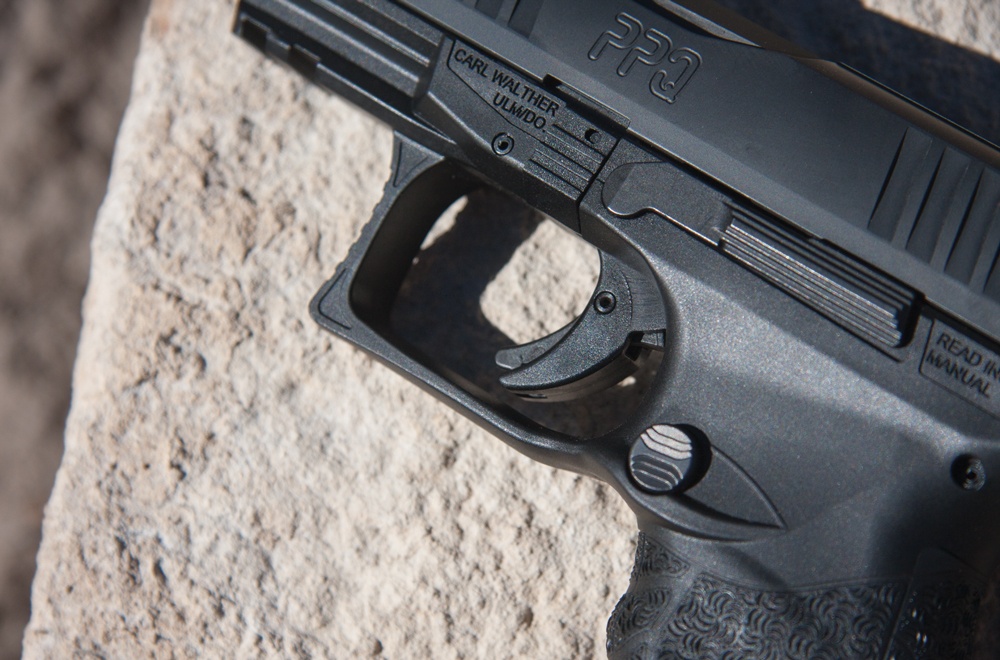 The PPQ SC's trigger pull is listed at 5.6 pounds, and the trigger's travel and reset are stated as 0.4 inch and 0.1 inch, respectively. During testing, this seemed to be more or less confirmed. The trigger pull was smooth, with predictably little travel, and the reset was quick and audible following a shot. As performance figures illustrate, the trigger certainly didn't seem to hurt my accuracy, and it felt very similar, if not identical, to my experiences shooting a full-size PPQ.
Another one of my favorite things about the PPQ — and something other Walther fans appreciate — is the signature Walther grip ergonomics. This, too, is foremost with the new SC version.
As with the standard PPQ, the subcompact's grip features a comfortable shape and the signature non-slip cross-directional surface texturing. The texturing makes the gun easy to hold securely, and it avoids moving from "grippy" territory into "abrasive" during those long days at the range. This might just be me, but the PPQ — and the new PPQ SC — also seems to fill my hand perfectly. The finger grooves line up in just the right spot and the texturing feels heavy where it's needed.
I recognize this may not be the case for everyone, but it's still something that should be felt for one's self. And, it's worth noting that, like the PPQ, the SC's backstrap is also interchangeable should you find the one from the factory doesn't fit right.
Other shared features found on the PPQ SC include a reversible, ambidextrous, thumb-activated magazine release button; an ambidextrous slide stop; front and rear cocking serrations on the slide, a Tenifer coated slide, barrel and internal action parts; and a forward accessory rail for mounting attachments. Like the standard PPQ, this new gun too wears a matte black finish. And sights are low-profile three-dot polymer combat sights, which are plenty effective for carry and less apt to snag on the draw.
The basic disassembly process is also virtually identical, and just as quick. As with a lot of striker-fired designs, this pistol requires the user to pull the trigger during takedown.
After ensuring the gun is unloaded — both visually and physically — pull back the slide. Then, pointing the muzzle in a safe direction (the gun is still unloaded), depress the trigger. While keeping the trigger depressed, pull down on both the takedown levers on each side of the frame, releasing the trigger after they are pulled down. The slide should then slide freely off the frame, and then the recoil spring and then the barrel can be removed for cleaning. Assembly is simply the reverse. Both processes take mere seconds.
There are some differences between the internals of the standard PPQ and the PPQ SC, but these don't seem to affect reliability or performance in any way. The PPQ SC uses an internal extractor instead of the PPQ's external extractor, and there are a couple changes in the trigger bar and the slide's internals. But over the course of testing, I came across no functional issues.
Range Time
Although I got plenty of range time with the new PPQ SC at the training event in Utah running through drills and casually shooting at steel using Inceptor Ammunition ARX and RNP loads, I also wanted to conduct some accuracy testing in my independent review. I set up with four different loads to use in testing: the Inceptor Ammunition 65-grain ARX 9mm Luger +P, Federal Premium 124-grain Hydra-Shok JHP 9mm Luger, Blazer Brass 124-grain FMJ 9mm Luger and Winchester 115-grain FMJ 9mm Luger.
I measured muzzle velocities with a ProChrono Chronograph from Brownells placed roughly 5 feet from the muzzle. Accuracy data for each load was the result of three, five-shot groups fired at a distance of 15 yards from a Caldwell Matrix rest, also from Brownells. The Matrix rest is nice in that, in addition to being a rifle rest, it's also configurable for use as a pistol rest as well.
Some might state that pistols are supposed to be tested at 25 yards, but I know of many who test concealed carry handguns at 15, or even 7 yards, as those are more in line with the distances at which they'll be employed. In fact, in his book, Straight Talk on Armed Defense, concealed carry expert Massad Ayoob provides statistics that suggest the vast majority of shootings — for both law enforcement officers and responsible armed citizens — occur within 21 feet.
In any case, I was able to achieve decent enough groups with the PPQ SC, and I don't confess to being any sort of great marksman. My best five-shot grouping came with Federal's 124-grain Hydra-Shok JHP and measured 1.65 inches. And it accounted for the best average group at 2.14 inches. Incidentally, and perhaps not coincidentally, it also had the lowest standard deviation in terms of velocity among all loads tested.
I also had a few four-shot groups that — minus a single flier — would've been quite good. A four-shot group with Winchester's white box FMJ load measured right around a half inch, while two of the four-shot Blazer Brass groups measured 0.77 inch and 1.17 inch, respectively, without the fliers. So, the gun is certainly capable of excellent accuracy if the shooter does his or her part.
In terms of reliability, I had virtually no issues with the PPQ SC, both in training in Utah and in my own testing. There was a tendency for the slide to not lock back on empty sometimes, but I quickly discovered this was due to my thumb placement interfering with the slide stop. There were no failures to feed, extract or eject.
Parting Shots
In a market that's hot and trending hotter all the time, I think Walther's new PPQ SC certainly has a place. It has the dimensions to be a great — and comfortable — carry gun. And it's got all the great features from Walther's full-size PPQ that shooters have come to expect.
It has been made quite concealable without becoming difficult to shoot in the process. The gun's length keeps it shootable with a relatively long sight radius for a carry gun, and the low-profile three-dot sights are unobtrusive yet perfectly functional. Add to that the excellent ergonomics that Walther is known for, and the German manufacturer might have a true winner on its hands in the concealed carry market.
Editor's Note: This article originally appeared in the March 2018 issue of Gun Digest the Magazine.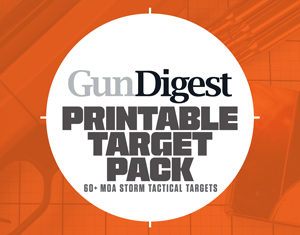 Next Step: Get your FREE Printable Target Pack
Enhance your shooting precision with our 62 MOA Targets, perfect for rifles and handguns. Crafted in collaboration with Storm Tactical for accuracy and versatility.
Subscribe to the Gun Digest email newsletter and get your downloadable target pack sent straight to your inbox. Stay updated with the latest firearms info in the industry.