Just in time for SHOT Show 2013, Glock has released yet another model to their lineup, the Glock 30S. It's the result of feedback from the law enforcement community for a more concealable pistol, which also makes it a winner for concealed carry.
Glock calls the new model a "hybrid," because it marries the Glock 36 slide (the .45 ACP SlimLine, with a width of 1.13 in.) to the Glock 30SF frame — making it essentially an even slimmer 30SF. It holds 10 rounds of .45 ACP.
"The G30S platform has been more than a year in the making," explained Josh Dorsey, GLOCK Vice President. "Our original request from the field – particularly from law enforcement – was to have a more concealable .45 that still carries 10 rounds, so we utilized the G30 SF frame after it was thoroughly tested, presented and accepted as the desired frame for the G30S."
SPECS
Dimensions

Length (overall): 177 mm / 6.97 inch
Length (slide cpl.): 172 mm / 6.77 inch
Width: 32.5 mm / 1.28 inch
Height with magazine: 122 mm / 4.80 inch
Barrel length: 96 mm / 3.78 inch
Length of twist: 400 mm / 15.75 inch
Trigger distance: 72.5 mm / 2.85 inch
Trigger travel to discharge: 12.5 mm / 0.49 inch
Length between sights (polymer): 150 mm / 5.91 inch
Magazine capacity (rounds): 10
Barrel profile: right hand twist; octagonal
Standard Trigger pull: ~5.5lbs
Muzzle velocity V0**: 787 fps
Muzzle energy E0**: 317 ft lb
**depending on ammunition used
4 New Gen4 Models Introduced
Glock also added to its 2013 offerings with four new Gen4 models – the G20, G29, G30 and G33. The G20 is the massive 10mm gun favored by big game hunters, while the G29 is the compact 10mm.
The G30 Gen4 is the standard .45 ACP, also 10 rounds, and the G33 the hot little .357 SIG gun.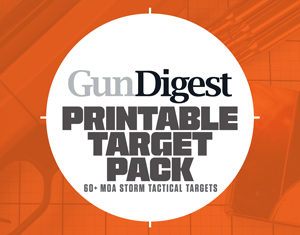 Next Step: Get your FREE Printable Target Pack
Enhance your shooting precision with our 62 MOA Targets, perfect for rifles and handguns. Crafted in collaboration with Storm Tactical for accuracy and versatility.
Subscribe to the Gun Digest email newsletter and get your downloadable target pack sent straight to your inbox. Stay updated with the latest firearms info in the industry.