The Remington RP9 is the American manufacturer's first full-size striker-fired handgun, and it's got a lot to offer in a price-friendly package.
It's no secret these days that more and more shooters are moving away from traditional metal-framed single- and double-action handguns and toward polymer-framed striker-fired pistols. Long gone are the days when insults and skepticism were hurled derisively at so-called "plastic" guns. Over the years, they have proven their reliability and their performance capabilities, turning skeptics into converts along the way.
Now, instead of just the few original manufacturers, it seems like there are a countless number of companies, both foreign and domestic, producing these guns. This past fall, one of the biggest names in the U.S. gun industry decided to make its own move into the full-size, striker-fired game. I'm speaking of course of Remington and its new RP pistol.
Some writers within the industry, and certainly more than a few potential buyers, were quick to point out the lateness of the move. A host of other manufacturers had already jumped on the polymer, striker-fired train and had been on it for a while. So, with a sea of other similar guns to choose from, many wanted (and still want) to know what made the RP special?
While there are of course differences, much that is nice about the new RP is also what makes it very similar. The new RP is a classic tilt barrel, locked breech, striker-fired pistol with a polymer frame. Its appearance, and more importantly, its controls and operation should be very familiar to anyone who's used other striker-fired guns. The reversible magazine release, slide stop and takedown lever are all in the typical positions.
The gun has a standard trigger safety, which is its only manual safety mechanism. However, it also features passive safety features in the form of a disconnector, the inertial striker system, striker safety and of course the trigger guard.
Disassembly is fairly similar to many other polymer-framed guns, being both quick and easy. After ensuring the gun is empty, the user simply locks the slide to the rear, rotates the takedown lever down 90 degrees, releases the slide stop and allows the slide to come forward, pulls the trigger and, while keeping the trigger pulled, removes the slide from the frame. And then of course from there, all that's left is removing the recoil spring/guide rod assembly and the barrel. The entire process probably takes longer to read than it does to accomplish.
Like many striker-fired guns, the trigger on the new RP is pretty good. With an advertised pull weight ranging from 5.5 to 7 pounds, the break itself is light and crisp. It also has a short, tactile reset that is quite nice.
The RP's slide comes with a loaded chamber indicator as well as front and rear slide serrations. The frame also incorporates a standard picatinny rail up front for accessories such as a weapon-mounted light or a laser sight.
Sights are drift adjustable, and the rear sight incorporates a "fighting surface" that allows for one-handed slide operation if necessary. The gun uses a precision 4.5-inch stainless steel barrel. Both the slide and barrel receive a PVD finish for increased durability.
Of course many, if not most, of these features are what we as shooters have come to expect on full-size striker-fired guns. The fact that Remington was able to hit on a lot of these is a very good start. But let's return to the differences mentioned earlier.
Comfort is King

In the polymer-framed, striker-fired pistol arena, what often separates two guns from each other is how they feel in the hand. The beautiful thing about gun owners is that we are all different, and even in a market as crowded as the polymer-framed handgun, there will still be personal preferences that can influence the buying decision.
It is in this spirit of inclusivity that the engineers at Remington have developed the grip on the new RP9. The pistol features a very slim grip circumference that, according to Remington, fits virtually 95 percent of all shooters. And for that other 5 percent of shooters, the company has also included interchangeable back-straps to fit small-, medium- and large-sized hands.
One of the most surprising things about this slimmer grip is that Remington was still able to use a double stack magazine capable of holding 18+1 rounds in 9mm and 15+1 rounds in .45 ACP. That's a lot of boom in one handgun, especially one with such a lean grip. Given this large round count and comfortable grip, I think a lot of people might (and should) give the RP a look as a home defense handgun.
In terms of shootability, the gun also has several features designed to improve performance and comfort. The gun has an ergonomic, optimized grip angle to reduce felt recoil, as well as an undercut trigger guard for higher hand placement and improved control. In addition, the slide is weight balanced for a more controlled muzzle rise.
While shooting during the course of this review, and during a Remington event back in September where the company first introduced the gun to the media, it did seem very controllable, and I think the grip design plays a real part in that. I had little difficulty firing and getting the sights back on target.
With an overall length of 7.91 inches, a height of 5.56 inches, and a weight of 26.4 ounces, there's no mistaking the RP for anything other than a full-size gun. The gun's slide also has an enlarged profile, which Remington has done to ensure secure slide manipulation, even if the shooter is wearing gloves.
All in all, the RP9s (9mm) I used, both in testing and at the event, felt very good in the hand. This was true during extended firing as well as in a more general sense.
At the Range

Everything above is great, but what most shooters are concerned with, especially for polymer-framed, striker-fired guns, is reliability and performance. Thankfully, in my time with the Remington RP9, it did not disappoint.
In the course of testing the RP9 I received, I put close to 250 rounds through the test gun. During the Remington event, I fired probably around 100 rounds through one of the test guns, and that doesn't include the number of rounds fired by many of the other writers and members of the media in attendance before that. In both cases, I experienced no real mechanical failures, with the exception of the slide failing to lock back on an empty mag a couple times during my accuracy test.
For my independent testing I used four loads: Winchester's 115-grain FMJ, Blazer Ammo's Brass 115-grain FMJ, Aguila Ammo's 124-grain FMJ, and SIG Sauer's Elite Performance 124-grain V-Crown JHP. I measured velocities through a Competition Electronics ProChrono Chronograph from Brownells placed approximately 10 feet from the muzzle. Accuracy was measured using three, five-shot groups at both 25 and 15 yards using a Caldwell Matrix rest, also from Brownells.
Average velocities were in the low to high 1,100 fps range, with the exception of the Aguila load, which was a little slower at 1,043 fps. Groups were also plenty adequate with the average at 25 yards hovering around 3 inches (a better handgun shooter probably could've improved that figure quite a bit). Predictably, at 15 yards, groups were tighter, with the average around 2 inches or less. The best overall group at 15 yards went to the 115-grain Winchester FMJ load at 1.07 inches.
Parting Shots

While it's true that many feel Remington is a little late to the game with its new striker-fired gun, that shouldn't take away from what the manufacturer has achieved with the RP. Remington's first full-size, polymer-framed, striker-fired pistol has what it takes to compete with any of the other similar guns on the market. At its excellent, sub-$500 MSRP ($489), it's likely to be a very popular alternative, and it should be. It feels great in the hand, performs reliably and comes with everything you'd expect from a good polymer-framed, striker-fired handgun.
It's certainly true that there are a lot of similar handguns vying for buyers' dollars right now, but because preferences are always subjective and varied, Remington's new RP definitely has a chance to find success. With people currently gobbling up strike-fired pistols the way they are, there's plenty of elbowroom for another contender in the ring.
Specifications:
Remington RP9
Type: Semi-auto, striker fired
Caliber: 9mm
Barrel: 4.5-in., stainless
Overall Length: 7.91 in.
Height: 5.56 in.
Width: 1.27 in.
Weight: 26.4 oz.
Frame: Polymer
Slide: Steel, PVD finish
Trigger: 5.5-7 lbs.
MSRP: $489
Manufacturer: Remington; Remington.com
This article is an excerpt from the January 2017 issue of Gun Digest the Magazine.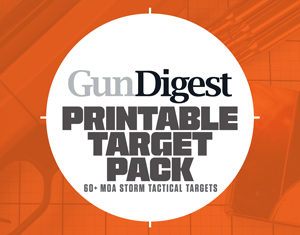 Next Step: Get your FREE Printable Target Pack
Enhance your shooting precision with our 62 MOA Targets, perfect for rifles and handguns. Crafted in collaboration with Storm Tactical for accuracy and versatility.
Subscribe to the Gun Digest email newsletter and get your downloadable target pack sent straight to your inbox. Stay updated with the latest firearms info in the industry.