This custom single stack Infinity 1911 in .40 S&W helps prove that one-of-a-kind never goes out of style.
This gun is perhaps one of a kind. It certainly has a unique build history.
We like to think of custom as bespoke, purpose-made dream guns, if you will. However, this one just sort of happened.
A long time ago, in a galaxy far, far away, I was a serious and persistent competition shooter. Each year, I'd shoot at least two club matches a month, the Second Chance Pin Shoot, a couple (or more) USPSA Nationals and The Steel Challenge. I was shooting a lot, and I was winning a lot. One of the prizes (I think from a USPSA Nationals) was a certificate good for a hi-cap frame from SVI/Infinity.
Well, I already had a slew of hi-cap frames. So, I put on my best smiley-face, good-guy, serious competitor look and asked the Infinity guys if they could, pretty please, do it as a single stack. In .40 caliber. Because at the time the Single Stack Nationals was getting spun up into being as a USPSA Nationals, and all the big dogs were winning it with .40s. I later found out that the big dogs were winning with .40s not because it had any inherent advantage, but because they had all been loading and shooting .38 Super and .40 ammo for so long that they either no longer had a .45, or they couldn't find the dies and components in their loading rooms.
While talking the project over with the builder, I mentioned that I already had a basket full of SVI/Infinity parts, and I was going to build it up with those, once the frame arrived.
"What do you have?" he asked. Oh, a slide, barrel, a selection of grip safeties, some odds and ends, enough to assemble a 1911. "Forget that; box up what you have that is SVI, ship it and we'll put in the rest."
Well, an offer like that doesn't come along every day, so of course I boxed up and shipped.
Have It Your Way
A few weeks later, I get an email. It seems that the build process involves more than just assembling parts; there's a laundry list of choices I have to check off. So, I go down the list. A stainless slide, done in two-tone, with a recessed panel ahead of the rear cocking serrations. No front serrations, thank you very much, and the top done in a tri-top configuration, not a standard radius. A red fiber-optic front sight and Infinity adjustable rear.
The barrel would be the Infinity Classic .40 S&W AET I had sent, which was then (and probably still is) the primo barrel to have. The frame was to be a carbon steel single stack, blued, with extended dust cover and snub-nose ball-end cut on the slide to match. Underneath the barrel, there's a full-diameter stainless steel guide rod, full-length, and it adds a nice bit of extra weight to dampen felt recoil. The barrel isn't a bull barrel, but a bushing barrel, in part because I was expecting to run this both in IDPA as well as USPSA, and bull barrels weren't entirely kosher at the time. (At least, that's what I recall. Rules change and things could be different today.)
The barrel is integrally ramped to provide maximum case support for the .40 caliber. What we had found out back then was that the .40 could be pretty grumpy at the edges of the performance envelope. Loading the heaviest bullets, with the fastest-burning powders, to make Major (but not any more than the barest of margins) could mean blown cases.
Also, the chamber is reamed to a long-lead dimension. This is where the 180-grain (we all gave up on 200-grain bullets after blowing enough cases, it wasn't worth the minuscule advantage) bullet is seated long, halfway between the length of the stock .40 cartridge and the 10mm length. This promotes reliable and smooth feeding and still allows the use of then dirt-cheap .40 brass. Back then, a lot of police departments had switched to .40, and you could buy once-fired brass almost by its weight as scrap metal. The rifling is further forward that it would be on a stock .40, but the longer bullet seating places the bullet up to the rifling, and so there's no loss of accuracy.
The front strap checkering is 30 lpi, with the top of the front strap lifted to provide a higher grip. On the back end, the Ed Brown grip safety and thumb safety are fitted perfectly. The gap (a fine line, really) of the grip safety is even all the way around its fit to the frame. The bottom curve of the thumb safety matches the curve of the frame at that point. The thumb safety positively clicks up and down, and stays down during recoil, even if my thumb isn't riding on it.
To give you another idea of the attention to detail that the Infinity builders watch for, the shaft of the thumb safety, where it comes through on the right side of the frame, is fitted to be flush with the frame. The mainspring housing is flat and checkered, at 20 lpi. I didn't opt for a magazine well funnel, as I had my own ideas as to what constituted an appropriate mag funnel and planned to take care of that myself when the time came.
Topnotch Trigger
The hammer and trigger system is exemplary. First of all, the fire control parts are, for the most part, wire EDM manufactured. This is where they take a plate of pre-hardened steel and use a wire to cut the shape of the hammer (and other parts) out of the plate, to the utmost tolerances.
How good is this? If you're old-school and you go to "tune up" the hooks of the hammer, or the nose of the sear, with a stone, you are making it worse. You're not improving it. The Infinity trigger comes as a two-piece assembly. There's the bow and its seat; they deliver your trigger-press pressure back to the sear. And then there's the bow, or face, of the trigger. The two-part assembly allows Infinity to make triggers any size and shape you desire, and in colors as well. I opted for a flat-cased trigger at the long length, long enough that someone with smaller hands probably can't reach the trigger face.
The grips are double-diamond VZ Grips in black G10 and secured in place by Torx-head grip screws that have been serrated around their borders.
Oh, and as one last bit of custom work: I requested a special serial number. You can do all, or most of all this, by simply jumping into the Infinity gunbuilder section on their webpage. Pick what you want; they even have photos of what is what, and when you submit it as a build, they'll send you a price and delivery time quote. What I ended up with was essentially a tailored jacket, one that wouldn't fit anyone else but me.
You might notice that the magazine that came with it (and the matching set I assembled from my 1911 magazine bin) is a Wilson Combat .45 magazine. Yes, a .45 magazine to feed .40s. Why? Because it works.
The fit of the slide to frame and barrel to slide is superb—which you'd expect from the guys at Infinity. We're accustomed to checking the fit of a slide to frame in the 1911 by trying to wobble the slide on the frame. That's a complete and utter waste of time here.
But the real 1911 mavens expect that and check fit a different way: We feel for the friction when the slide moves as we rack it. When slowly moving the slide back and forth on the frame, you can feel how many toolmarks might be present, how big they are and what kind of differential they have to the base dimensions.
Again, a waste of time here. The slide might as well be running on well-greased ball bearings, for all the feel of toolmarks you might try to garner. And the amateur test of trying to press down the barrel when the slide is locked in place? Pu-leeze.
Infinity Single Stack On The Range
I'd love to regale you with tales of matches entered and won with this superb bit of firearms art. Alas, soon after its arrival here, I began my career as a full-time writer, and as far as I can recall, never shot it in a Single Stack Nationals. I shot it enough to discover that it shoots one-hole groups out to 25 yards, with ammo it likes—which is pretty much everything I could feed it. It hasn't failed to work properly at all, and on top of that, it's a cool-looking 1911 in an understated sort of way.
Alas, it's also semi-obsolete. The .40 has a ticking clock on it.
Yes, the ammo companies are making ammo for it (trying to keep up, anyway) but there are no new .40 pistols being designed or made. When I had this pistol built, there was no hint, nor even a suggestion, that the .40 would go the way of Caesar, albeit more slowly. Thanks for nothing, FBI. Had I gotten it made with the replaceable breechface Infinity offers on some guns, I could simply have a 9mm breechface and barrel fitted, and motor on. (Oh, the serial number would be a small problem, but hey, what can you do?)
So here I am, with the problem of a custom gun in a cartridge that has a use-by date on it. And making it work with something else would be a lot of work. Such is life. My plan is to enjoy using it, loading for it and marveling at it, and letting my heirs worry about what to do with it when that day (long time from now, hopefully) comes.
You can simply do yours up in .45 ACP or 9mm and solve that minor problem.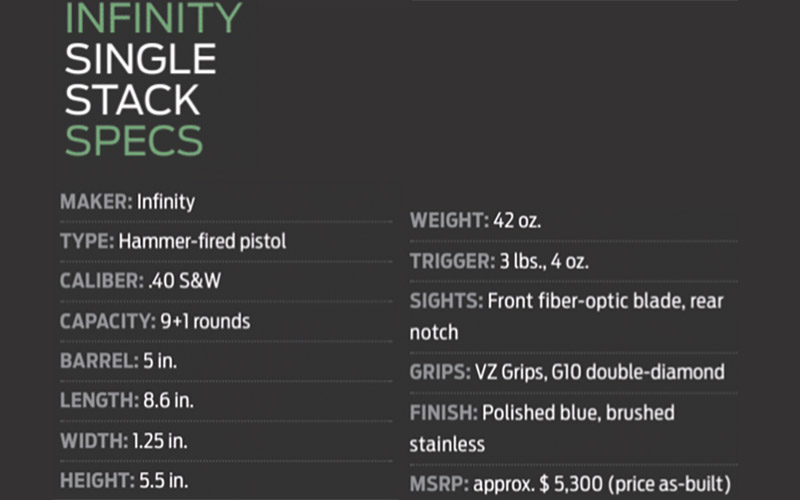 Editor's Note: This article originally appeared in the March 2022 issue of Gun Digest the Magazine.
---
More Handgun Reviews:
---
NEXT STEP: Download Your Free Storm Tactical Printable Target Pack
62 Printable MOA Targets with DOT Drills - Rifle Range in YARDS
This impressive target pack from our friends at Storm Tactical contains
62 printable targets
for rifle and handgun range use. Target grids and bullseye sizes are in MOA. Ideal for long-range shooting!
Subscribe to the Gun Digest email newsletter and we'll send your print-at-home target pack right away.
Just enter your email address below.
---