Updated 4/5/2023
The best concealed carry handguns for women as chosen by women.
Editor's Note: This page contains both the original Concealed Carry Handguns For Women article as well as its follow-up piece from the 2022 CCW special issue of Gun Digest the Magazine. Please click HERE to jump to the original article or read on to see the most up-to-date list.
---
The Best Concealed Carry Handguns For Women (2023)
How The Handguns For Women Ranked:

The guy drove a big diesel pickup, jacked up with huge tires, and walked into the gun shop with a swagger, dressed like he was headed for a rodeo.
"I want to buy a couple of guns for my wife and her girlfriend," he said. "I want to get them something really special." He then walked to a display case filled with 1911s and started looking at .45s. Eventually, he chose two identical full-sized 1911s in .45 ACP. He talked to the gunsmith and asked if they could be Cerakoted in pink, and he chose two sets of fake ivory grips.
Over the years, I've learned that telling a guy he's making a bad choice rarely ends well, so I stood by and watched as he paid for the guns and made arrangements to pick them up after the work was done. I smiled, wishing I could see how his choice worked out.
Sometime later, two women showed up for a concealed carry certification class with those two ungodly .45s. Neither of them could operate the slide, and they used my loaner guns for the qualification.
Somewhere out there are two pink 1911s with fake ivory grips, very likely unfired.
Girls Just Wanna Have Guns (That Work For Them)

Women often have different needs in a concealed carry handgun. While men's clothes fit and wear in the same different pattern, whether it's for work, casual or more formal attire, women wear a wide variety of styles from form-fitting stretch pants to loose tunics or dresses. Many have relatively low hand strength and are sensitive to recoil. I'm glad to admit there are women who can outshoot me with any gun I have, but they're the exception.
A few years ago, I wrote an article for Gun Digest pointing out some of the best guns for women. As the result of the shooting industry keeping an ear out for what people really need, things have changed for the better. Only two of the original guns in that article are in this test, and they were the first and second place entries. The development of defensive concealed pistols is in a period of unprecedented growth and development, and the result is that what was the best gun is still a great gun, but new models are always pushing the envelope.
Women need guns that are light, small, easy to operate and easy to shoot well. All the guns chosen are capable of concealed carry use, and all weigh in at about 20 ounces or less. All (but one) have a magazine capacity of 10 or more and have good, usable sights. The guns were tested by 10 women of various ages—from college to retirement—and skill levels. None were sport shooters, and their need was for concealed carry. All were women who have taken instruction in my classes, all related to defensive shooting skills.
The Guns were rated on a scale of one to five, with five being great and one being a no-starter. Criteria included size, weight, grip, operation, sights, trigger, recoil, accuracy and looks. Several women said looks weren't important in a defensive pistol, and I tend to agree. No ones were scored, but there were a lot of fives. One shooter in the group gave the Hellcat RDP fives in all but two categories.
1. Springfield Armory Hellcat RDP

The Springfield Hellcat RDP was the most expensive gun in the group, and it was the hands-down winner with 410 points of a possible 450. It scored well in recoil, possibly because of the self-indexing compensator and a little more weight. Almost everyone loved the SMSc red dot.
In the sights category, the RDP scored a five by all the testers. There were a couple of complaints about the flat-faced trigger being uncomfortable, and it got low scores in size and weight, but otherwise it was a clear winner. It was the top pick of six of the 10 shooters.
MSRP: Starts At $778 ; springfield-armory.com
2. S&W Shield EZ .380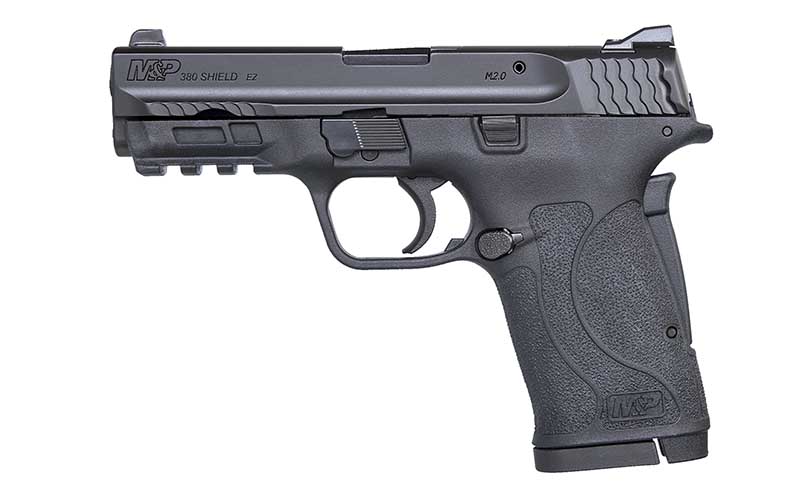 The Smith & Wesson Shield EZ took second three years ago and for good reason. It's the easiest to shoot and operate centerfire pistol in existence. It has good sights, a decent trigger and it's easy to shoot well. It's the largest gun in the group and weighs the most, but anyone can operate the slide and load the magazine without a loading tool.
While some might argue I should've chosen the 9mm version, I felt it was getting a bit heavy for what women preferred. There were a lot of compliments on magazine loading, ease of racking the slide and light recoil. Issues were that a really high thumbs-forward grip sometimes left the grip safety engaged, and the final round from a magazine sometimes popped up vertical causing a mis-feed. The EZ scored lowest in the size and looks categories.
The Shield EZ garnered 366 of a possible 450 points, putting it in a respectable second place once again.
MSRP: Starts At $454 ; smith-wesson.com
3. Ruger Max .380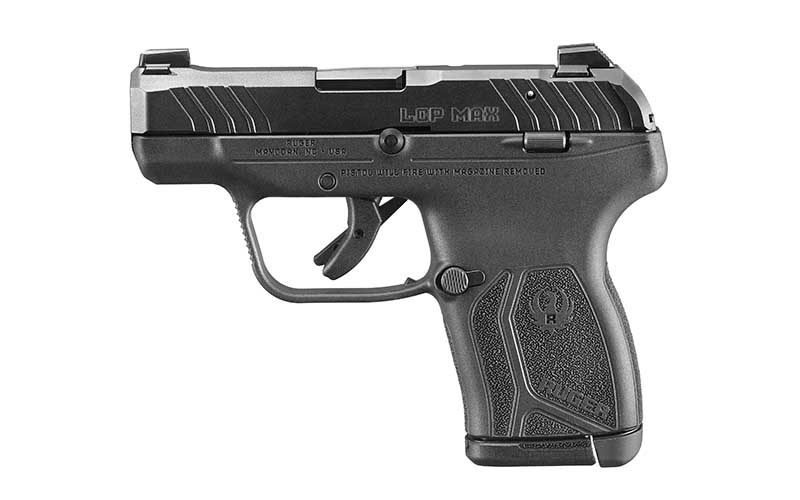 I almost missed this one, and I'm glad someone told me I must include it in the group. I don't think there was enough fanfare about the Ruger Max .380. I included the Shield EZ in the group because it's a favorite with women with low hand strength. In the previous article, I included the Ruger LCP II because it was so light and compact, but the downsides of low magazine capacity and a tiny grip area kept it low in the rankings.
The LCP Max overcomes these obstacles with a few bonuses. With a magazine capacity of 10 or 12 rounds, it certainly has capacity. The sights on the Max are dovetailed into the slide and feature a cocking surface on the rear and a Tritium white outline front that's really visible.
It's scandalously light at under 11 ounces, less than an inch wide and super concealable. There's also a raised wing at the rear of the slide that allows better grip for pinch and pull cycling of the slide. The slightly larger grip makes it easy to shoot well with little compromise in concealability. It scored high marks with the test group, putting it solidly in third place. There was mention that it was difficult to load the last few rounds in the magazine and that clearing the chamber required a definite snap to get a loaded round to clear the ejection port. Testers loved the size, weight and the slight tee shape at the rear of the slide.
MSRP: Starts At $479 ; ruger.com
4. Sig P365 XL

The Sig P365 was the winner last time out and still held its own, narrowly missing third place. If we count purchase numbers, the 365 certainly does well with it being the most purchased gun model in the U.S. While it certainly isn't dated, it's been around longer than any other gun in the test. Whereas there wasn't a single remark against it, no one chose it as their favorite.
I chose the 365 XL because it's newest in the line. I probably should've stayed with the original gun because the extra weight and size worked against it in this group. Size matters; smaller lighter guns allow more flexibility in the way women dress. My personal carry gun is the 365 and I was surprised it didn't fare better as a larger gun. The P365 XL scored 339 points.
MSRP: Not Published, Average Street Price Is $599.99 ; sigsauer.com
5. S&W Shield Plus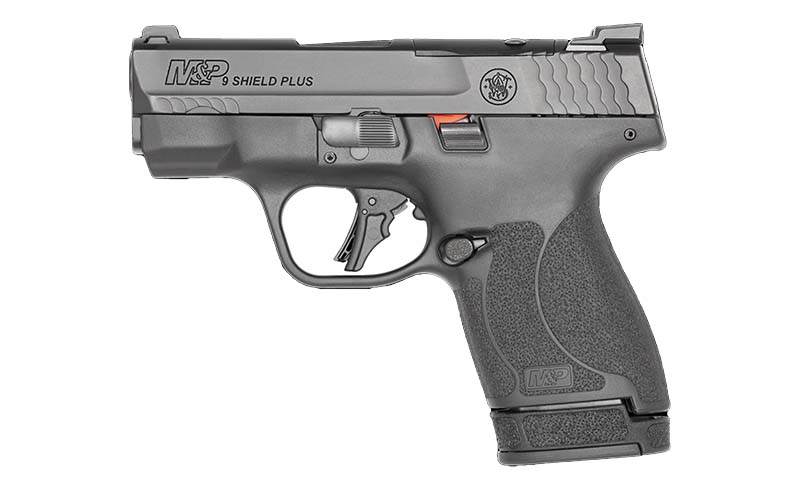 At one time, the Smith & Wesson Shield boasted a 20 percent share of the entire concealed carry market. Introduced in 2003, it was probably the best choice for a concealed carry handgun. The Shield 2.0 was a solid improvement with a better trigger and grip surface but facing a surge of 10-plus capacity competitors, S&W introduced the Shield Plus. With a flat-faced trigger, a slightly less aggressive grip texture and 10- and 13-round magazines, the upgrade is substantial. In short, the Shield Plus is a great gun.
As far as ratings go, the Shield Plus finished fifth. It's a great gun and would've been at the top of a similar test in 2015, but while all the other guns in this test were from the ground-up designs, the Shield Plus is an upgrade of a 2003 design. The Shield Plus is a very good gun. It's a bit larger than most of the other contenders and carries a little more weight, but it's accurate, easy to shoot well and reliable as a rock.
MSRP: Starts At $499 ; smith-wesson.com
6. Ruger Max-9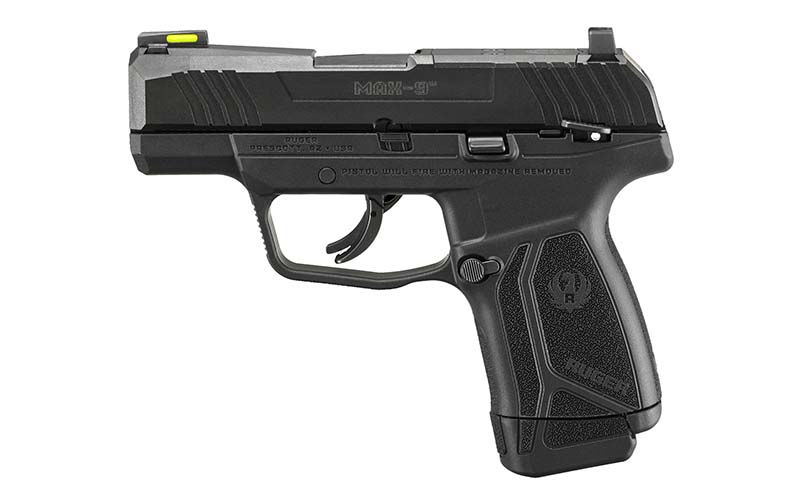 My first impressions of the Max-9 were completely positive. I like the sights and trigger and the combination of small size, low weight and good magazine capacity make it an excellent choice. While there were zero complaints about the Max-9, no one scored it at the top, and it finished with the lowest number of points. I suspect a red-dot sight would've placed it much higher, because the RDPs optic brought a lot of raves.
MSRP: Starts At $439 ; ruger.com
Conclusion

Over the years, I've seen so many times when women came to me for training equipped with a pistol that was a poorly match to their needs. The guy described at the beginning of this article had good intentions, but a poor judgment of what would really work for his wife and her friend. In fairness to him, at the time of his poor choice, none of the guns in this comparison existed.
The firearms industry has made great strides in supplying concealed carry citizens with guns well matched to the task. Every gun in this comparison is an exceptional instrument for the purpose it was designed for and there's not an unsuitable gun in the group.
---
More Info For The Armed Woman:
---
Best Concealed Carry Handguns For Women
Originally published 2019.
How The Subcompact Handguns For Women Ranked:
When it comes to selecting a handgun, especially when selecting a concealed-carry handgun, women have needs that are often quite different from those of men. Women—from teenagers to well into their 80s—have taken my classes, and their needs and wants vary drastically in regard to handgun preference.
One of the fastest-growing segments of the firearms market is women, and the largest segment of women's firearms purchases are related to personal defense. For individual instruction and teaching toward the North Carolina Concealed Carry Certification, over half my clients are women.
Women also struggle with daily concealed carry in the wide variety of clothing they wear. For men, it's fairly simple: We wear the same basic configuration of clothing, and it's fairly easy to conceal a firearm in the type of clothes we wear. Women's clothing is often much more fitted and varies with the occasion. As a result, most women prefer a smaller gun that works with all their wardrobe choices. For this reason, I've restricted this rundown to subcompact guns.
These factors create three issues that combine to make options in concealable handguns for women more difficult.
A small gun is preferred because it's easier to conceal, but small guns are more difficult to operate than full-sized guns because of the smaller grip and more perceived recoil resulting from lightweight.
The recoil is intimidating and creates issues with flinch or recoil anticipation.
The short sight radius compounds the problem and makes them harder to shoot well.
Because many Gun Digest readers are often asked about the right defensive handgun choice for the women in their lives, I wanted to cover the best and most likely choices and let women voice their likes and dislikes. In preparation for this, I assembled these choices based on lightweight, concealability and ease of operation—and all this information is derived directly from working with the women in my defensive pistol classes.
The guns in the "test" represent the best of what's currently offered in a field of truly excellent guns. At no time in history have shooters had as many good guns to choose from. It's harder today to find a poor choice than a good one, but because of the specific needs and broad range of capability of female concealed-carry citizens, preferences will vary.
Handguns For Women As Chosen By Women
For this article, I had 32 female defensive handgun clients rank seven guns.
Two guns dominated the results: The Sig P365 was a clear winner for women with good hand strength, and the Smith & Wesson Shield EZ was the clear choice of female shooters who had issues with strength or recoil.
The ease of operation of the EZ was apparent. When it came time to shoot it, the women were surprised at how easy it was to operate. The 365 was rated below the EZ in operation, but it was also rated high in ease of operation. Its magazine capacity, power and compact size helped seal the deal for the P365.
The Glock 43X garnered third place, and Mossberg's new MC1 came in close behind. Fifth place went to the diminutive Ruger LCP II, mostly based on its size and lightweight.
The 340 PD came in sixth, based on safety and simplicity.
The most popular concealed-carry pistol of the last 10 years—the Smith & Wesson Shield—garnered last place. It ranked low in ease of operation and recoil.
The top four guns were all introduced within the past two years; the two other guns are the oldest designs. I believe this is an indication of just how fast firearms development is moving in our modern world.
1. Most Popular Handgun For Women: Sig P365
No pistol in recent memory has shaken up the concealed-carry world like the Sig P365. It seems Sig Sauer did everything right—and all at one time. The standard magazine was a 10-rounder, and a 12-round magazine was available. Now, there's a 15-round magazine. It's a bit heavier than the Glock but considerably more compact. It comes standard with night sights and is available with or without a manual safety. With a takedown lever, it's easier to field-strip than the Glock or S&W. The fire control system is easily removable and therefore easier to maintain. The trigger is good, the reset is short and positive, and the sights are large enough to work well without being intrusive. In profile, it's only marginally larger than the LCP II, although it's considerably heavier and blockier. Still, it's the most compact of the guns in this group (other than the Ruger). Beside the 43x, it looks tiny. I can honestly find nothing bad to say about the P365.
MSRP: Not Published, Average Street Price Is $500 ; sigsauer.com
2. Lowest Recoil, Ease Of Use: Smith & Wesson Shield EZ
The first time I put my hands on the Smith & Wesson Shield EZ, I knew it was a winner. Based on the excellent M&P .22 Compact, the EZ is as easy to operate as the .22 version. Like the Ruger LCP II, it's chambered for the .380 ACP but carries more weight (18.5 ounces), making for remarkably low recoil—a big plus for timid shooters. The trigger is light enough, and the grip safety makes it safer than any other gun in this review except the revolver. Capacity is better than most (8+1), and the magazine is clearly the easiest to load, even employing a button to depress the magazine spring. While its size makes it more difficult to conceal, it makes the EZ extremely easy to shoot well. The three-dot sights, good trigger and low recoil make it the winner for ease of operation.
MSRP: Starts At $454 ; smith-wesson.com
3. Glock G43x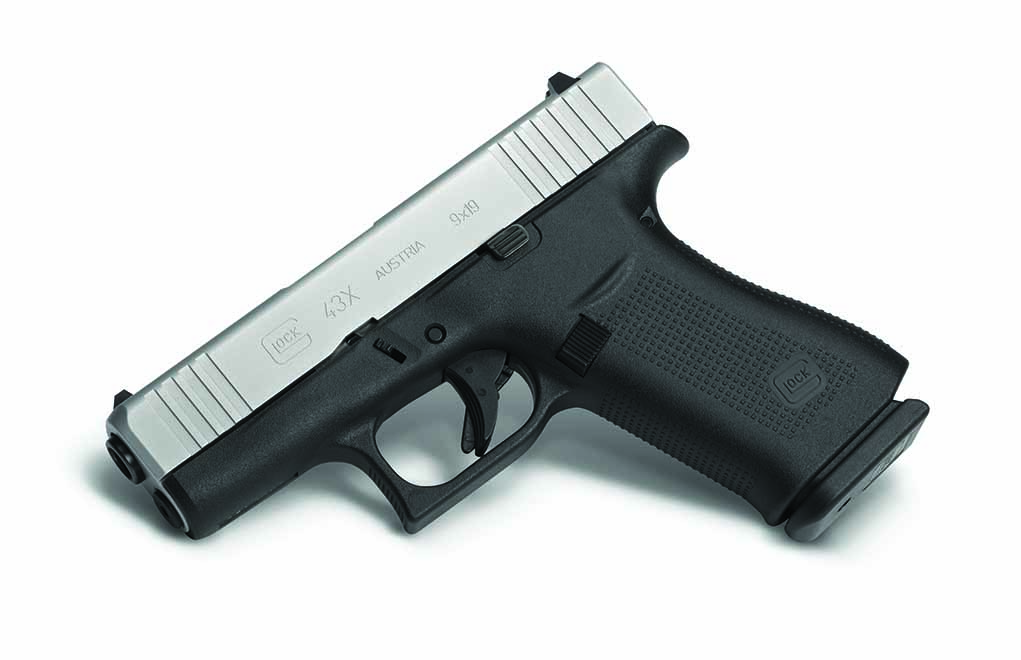 If you ask 10 people which company makes the best semi-auto pistols, at least four will say Glock—and no one can question the reliability and service Glock pistols provide. The Glock G43x is recent, and with a magazine capacity of 10+1, it's a real improvement over the standard G4, which can hold four more rounds than the G43. Sure, it's not as concealable, but it's easier to shoot well because of the longer grip (and no one in their right mind will argue that the magazine capacity isn't a bonus). Its weight comes in at 16.4 ounces—lighter than the S&W Shield and with at least two more available rounds. The slide is easier to operate, the trigger is good, the sights are easy to see and, well … it's a Glock.
MSRP: Not Published, Average Street Price Is $500 ; glock.com
4. Mossberg MC1-sc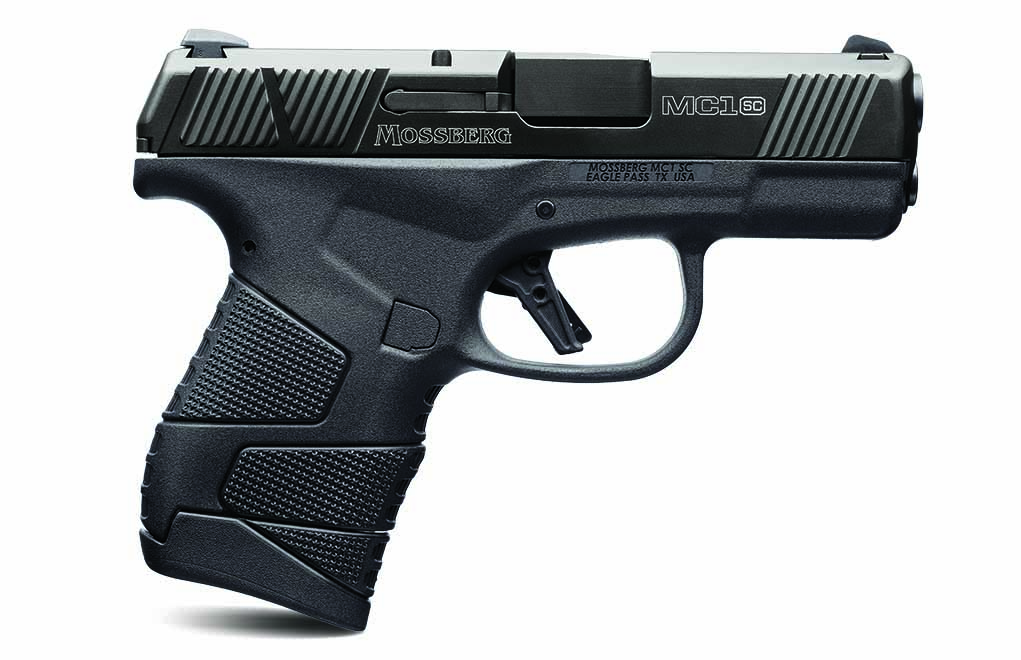 When I saw that Mossberg was introducing a concealed-carry pistol, I was skeptical. However, I remembered that Chris Cerino had recently been to the introduction of something new at Mossberg, so I called him. Chris and I are close, both in friendship and in our opinions about personal defense; and, sure enough, it was the Mossberg MC1 he'd been to Gunsite to see. Chris doesn't sugar-coat his opinions, and I was amazed that he had nothing bad to say about the MC1. I ordered one for a test—and I agree. At 19 ounces, it's a bit heavier than the Glock G43, but otherwise, it's about the same size. It has a flat-faced bladed trigger with nice three-dot sights and comfortable, but grippy, grip surfaces. It's accurate and reliable and uses a simple—but innovative—takedown system. My initial impression of the see-through magazines was negative. Even so, they've proven really tough, and if you don't like them, this pistol runs just fine with Glock 43 magazines. The slide has front and rear serrations, and it's reasonably easy to cycle. The MSRP for the base model is $425. However, I found it on line for under $350, making it a real value.
MSRP: $425 ; mossberg.com
Editor's Note: Mossberg has discontinued the MC1 series and replaced it with the MC2 series.
5. Ruger LCP II
Ruger's LCP II was a big improvement over the original LCP and has proven popular with people who need the smallest and lightest, yet still effective, concealed-carry pistol. While the .380 ACP chambering is considered the minimum as a defensive ammunition, recent advances in defensive ammunition have brought the little .380 up to being superior to the standard .38 Special load that law enforcement used for years.
At fewer than 11 ounces, and with a diminutive size, the LCP II certainly fills the bill for concealability and is the lightest and smallest gun in the group. It still has an internal hammer, but the bladed trigger of the LCP II is light and precise. It feels like a striker-fired trigger and is a big improvement over the original LCP. Magazine capacity is a reasonable 6+1, and the magazine is easy to load. The slide requires only a moderate effort and is smooth in movement. Sights are adequate and unobtrusive.
MSRP: $439 ; ruger.com
Editor's Note: Ruger now only offers the LCP II in .22 LR, but the LCP, LCP 380 and LCP MAX are still available in .380 ACP.
6. Smith & Wesson 340 PD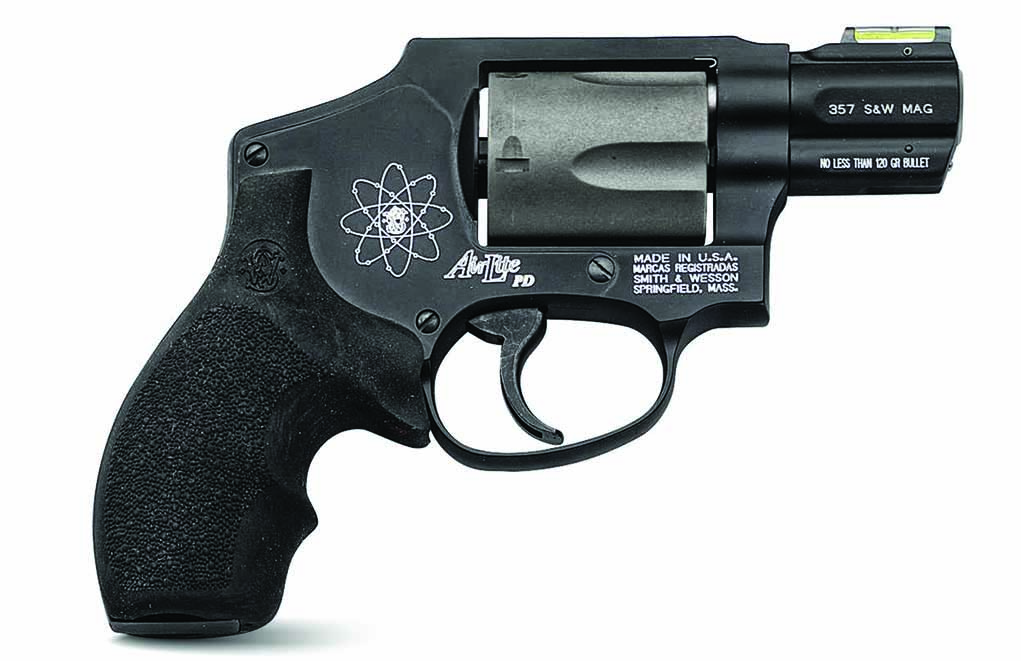 In my youth, the Airweight Model 37 was the undisputed king of lightweight concealed-carry revolvers. Today, it's been superseded by the even lighter 340 and 360 PDs. With a lightweight scandium frame and titanium cylinder, it tips the scales at fewer than 12 ounces—a remarkable feat, considering that it's chambered for the powerful .357 Magnum. While it's handicapped by low capacity and molasses-slow reloads, it's light and powerful and is the safest and most reliable handgun in this review. The 340 PD in the test is safe because the long-stroke, 10-pounds-plus trigger pull is almost impossible to accidentally pull. At 8 years old, my athletic grandson couldn't activate the trigger, even using both index fingers. It's also the easiest gun in the group to load and unload (and the most expensive). The reliability comes without explanation. There's no need for training how to manage malfunctions; simply pull the trigger again in the unlikely event of a dud round. It's more difficult to shoot well than the semi-autos, but for some people, the extreme level of safety and simplicity are viable trade-offs.
MSRP: $1,139 ; smith-wesson.com
7. Smith & Wesson Shield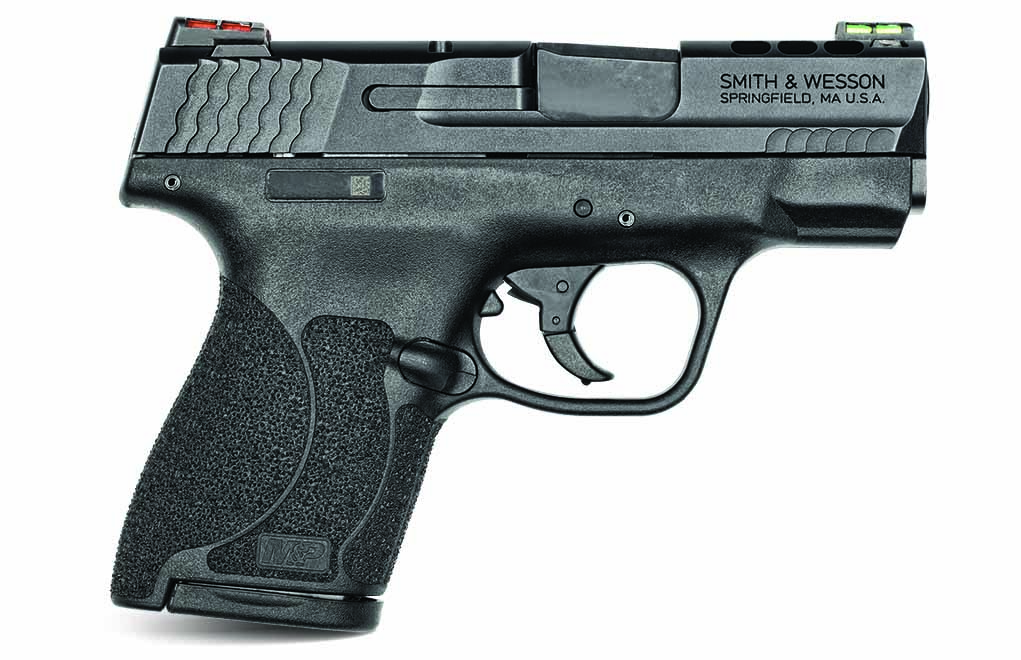 No discussion of concealed-carry handguns—handguns for women or otherwise—should overlook the Smith & Wesson Shield. The last I heard, the Shield accounted for fully 20 percent of the concealed-carry handgun market. That's a remarkable record! For this rundown, I chose a Performance Center Ported Shield with Hi-Vis sights. While it's an improvement over the standard model, the Shield seems a bit dated because of all the recent additions to the market. The trigger is better on the Performance Center version, and I suppose the porting helps. Nevertheless, the Shield was still the snappiest of the seven guns tested—with the possible exception of the J-frame revolver.
It was also the most difficult to cycle the slide and load the magazine. At 18.2 ounces, it weighs in a bit below the Shield EZ and is slightly more compact—but it's much more difficult to operate.
MSRP: $536 ; smith-wesson.com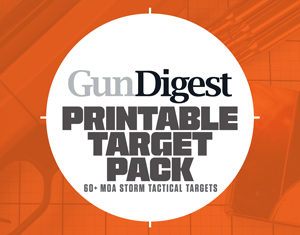 Next Step: Get your FREE Printable Target Pack
Enhance your shooting precision with our 62 MOA Targets, perfect for rifles and handguns. Crafted in collaboration with Storm Tactical for accuracy and versatility.
Subscribe to the Gun Digest email newsletter and get your downloadable target pack sent straight to your inbox. Stay updated with the latest firearms info in the industry.