Don't let its compact size fool you. The SR1911 Officer-Style 1911 is a full-powered defender.
How the SR1911 Officer-Style provides a powerful, yet compact defensive option:
Ruger's take on the U.S. Military's M15 .45 ACP
Designed as a full-powered compact pistol
All-stainless steel frame and barrel, lightweight aluminum frame model available
Chambered both .45 ACP and 9mm
Fast lock time, in part thanks to a titanium firing pin
The Ruger SR1911 Officer-Style .45 ACP Compact pistol is a 21st-century take on the M15 .45 that was produced for general officers in the U.S. military from 1972 to 1981. Produced by the Rock Island Military Arsenal (not to be confused with the modern commercial manufacturer Rock Island Armory) the M15 General Officers Model was created by cutting down and modifying existing 1911A1 pistols to make the new gun. The M15 was created because certain generals at the time wanted a full-power combat pistol that was more easily carried than the 1911A1. The new M15 would replace the .32 and .380 M1903 pistols that were carried at times even by the likes of George S. Patton.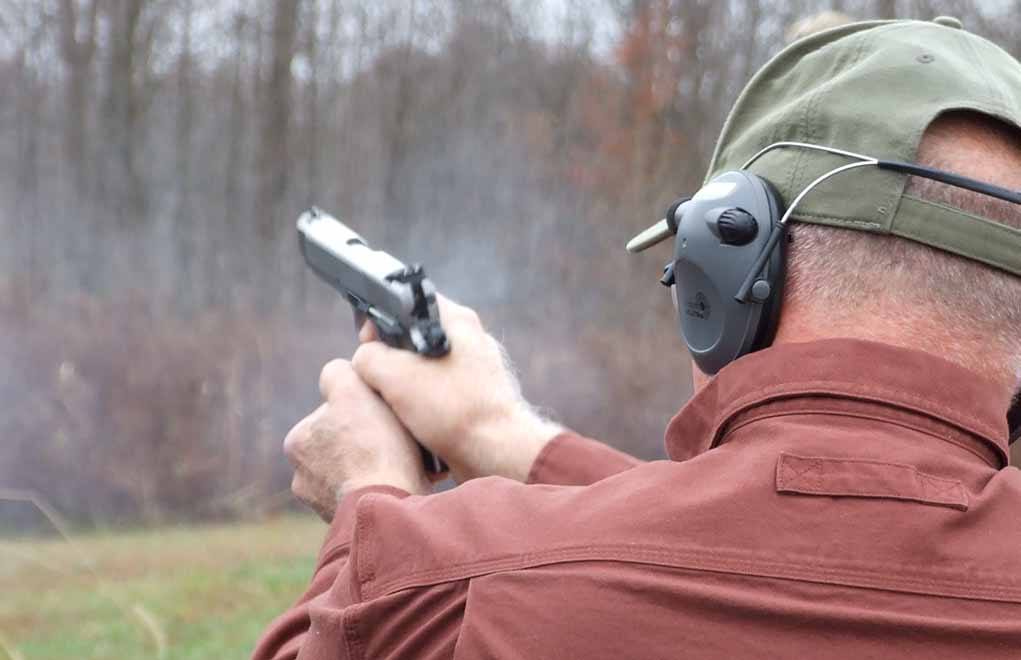 In the not too distant past, I would have said that manufacturing a compact.45-caliber combat pistol was a somewhat questionable project for personnel who were generally located outside of active combat zones. After all, even Gen. Patton never fired his silver Colt .45 Peacemaker or Smith & Wesson Model 27 .357 Magnum in combat during World War II — although Patton did shoot at a German plane with a .380.
Around October 18, 2018, Brigadier General Jeffrey Smiley was shot and wounded during a meeting in Kandahar, Afghanistan in a Taliban attack at the governor's compound. Two Afghan leaders were killed. The top military commander in Afghanistan, General Scott Miller, was also present but not injured. It was not known if the generals were armed with handguns or if they returned fire. Because of that I can see the need for the M15 General Officer's pistol considering the type of warfare we have engaged in since 2001.
The M15 was sized the same as a Colt Commander. The Colt company would eventually introduce what we now know as the "Officer's Model" .45 in 1985. Equipped with a 6- or 7-round magazine in .45 ACP, the Officer's Model, and the later aluminum-framed Lightweight Officer's Model, featured a shorter grip frame than the Colt Commander and a shorter 3.5-inch barrel.
The Colt Officer's series always seemed to me to be a cool pistol. One of the detectives I worked with years ago carried a nickel-plated Officer's Model as his duty sidearm. The original Colt Officer's handguns had developed a reputation for being unreliable. However, I owned a M1991A1 Compact .45, which was a budget-priced version of the Officer's Model and never had a problem with it. The Officer's concept still lives on today with Colt in its Defender Series and the longer-barreled Wiley Clap CCO (Concealed Carry Officer's) Series, neither of which seem to have reliability issues.
Now, Ruger has added an "Officer-Style" pistol to its fine SR1911 lineup that picks up where the original Colt Officer's Model left off — and it has no reliability issues.
Built To Impress
The Ruger SR1911 Officer-Style pistol is an all-stainless steel compact 1911 that brings the original concept into the 21st century. Equipped with a 3.6-inch barrel, this impressive pistol comes equipped with two 7-round magazines, giving up nothing in defensive capability over its full-size brethren — yet it is sized for all day carry.
When I took the SR1911 Officer-Style pistol out of the box, I was pleasantly surprised by the appearance of the matte stainless steel finish of the slide and frame. It appears to have a slight gold hue to it, reminiscent of the brushed-nickel finishes applied to various handguns in the 1980s, including the Colt Officer's Model. It gives the Ruger a richer tone than standard matte-finished stainless steel.
The weight of the Officer-Style is 31 ounces, which is important in terms of soaking up recoil from the powerful .45 ACP cartridge. The overall length is 7.25 inches and the height is 5 inches. The Ruger has many features favored by today's 1911 shooter. Starting at the top, it features a set of black, drift-adjustable Novak 3-dot sights. Novak sights are the gold-standard in combat handgun sights and are designed not to snag on clothing during a rapid draw. There are many manufacturers that make copies of the original design, but the Officers-Style Ruger uses the real deal.
The slide features wide, slanted grasping grooves at the rear only — the barrel is too short to perform a press check from the front. If you need to make sure of the Ruger's loaded status, there is a large circular viewing port at the rear of the chamber.
The Officer-Style has a black-accented, oval-shaped skeletonized hammer mated with a titanium firing pin in the slide for faster lock times. There is also a black-accented oversize beavertail grip safety to protect your hand from hammer bite. The mainspring housing, also black, is rounded and is a nice compromise between a flat and traditionally arched type.
The black manual thumb safety is extended and easily reached. While Ruger's website states that the black slide lock lever (which I refer to as the slide release) is also extended, it didn't appear that way on my test sample. More so than the thumb safety, the slide release needs to have a rear extension so that it can be released during a rapid reload without having to twist the pistol in the shooting hand to reach it. My thumb just can't quite reach it without twisting. The black-checkered magazine release is prominent enough to be operated easily by the shooting hand thumb, but not so prominent as to be accidentally activated.
The replaceable G10 grip panels feature the Ruger logo on both sides, which is textured to enhance the gripping service. Their gray-black color blends in well. If you haven't yet figured this out, the Ruger Officer-Style .45 is one sharp-looking pistol. The handgun has a skeletonized aluminum trigger adjustable for overtravel, which, when combined with the "Series 70" operating system, makes for a crisp trigger pull. There was no need for any adjustment.
On The Firing Line With The SR1911 Officer-Style
I took the Ruger to a friend's private range for testing along with an assortment of ball ammunition and SIG's Elite 230-grain FMJ practice .45s and 230-grain Elite V-Crown defensive ammo. I enlisted the help of a fellow police firearms instructor Probation Officer Mike Skeen (ret.) to help evaluate the Ruger. Skeen is a long-time aficionado of 1911 .45 autos.
Skeen was just as enamored with the look and feel of the Ruger as I was. We tested it right out of the box with no pre-cleaning or additional lubrication. I started out with the assorted brands of 230-grain FMJ ball. The reason I do my tests that way is that I believe many purchasers of new guns will do the same thing. I was not disappointed by the Ruger's reliability.
I had forgotten how pleasant it is to shoot a properly fitted and balanced .45 ACP — especially an all-steel one. I often test .40- and 9mm-caliber pistols, and I'd forgotten about the .45's pleasant muzzle blast — at least with standard pressure loads. It's not the push of a recoiling gun in the hand that bothers new shooters most, it's the muzzle blast. This is especially true if the handgun is being fired in an indoor range.

Skeen and I both averaged 3- to 4-inch groups at 30 feet shooting two-handed standing. The sights were regulated dead on to the point of aim. Switching to the SIG Elite .45 ball ammo produced the same results, as did SIG's Elite 230-grain V-Crown load — which felt the same as the practice loads in terms of recoil and blast. With a muzzle velocity of 830 FPS from a full-size pistol (which is actually 20 FPS slower than SIG's practice load), the V-Crown should still be traveling around 750 FPS or more from the short barrel of the Ruger (weather was not conducive to chronograph testing that day). There were no malfunctions of any kind.
In our opinion, the Ruger SR1911 Officer-Style .45 ACP is a great defensive and carry pistol. If you desire a lighter-weight version, there is an aluminum-frame 9mm variant that weighs in at only 27.2 ounces. Both have an MSRP of $979.
SR1911 Officer-Style Spec</strong
Model: Ruger Officer-Style
CHAMBERINGS: 9mm and .45 ACP
CAPACITY: 7+1
SLIDE: Stainless steel
BARREL LENGTH: 3.60 in.
GRIP FRAME: Low-glare stainless
GRIP PANELS: Deluxe checkered G10
WIDTH: 1.34 in.
SIGHTS: Drift-adjustable Novak 3-Dot
WEIGHT: 31 oz.
OVERALL LENGTH: 7.25 in.
HEIGHT: 5 in.
GROOVES: 6
TWIST: 1:16 RH
For more information on the SR1911 Officer-Style, please visit www.ruger.com.
Editor's Note: This article is an excerpt from the Tactical Gun Digest book, available at GunDigestStore.com.
---
Get More Ruger Info: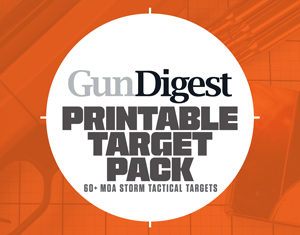 Next Step: Get your FREE Printable Target Pack
Enhance your shooting precision with our 62 MOA Targets, perfect for rifles and handguns. Crafted in collaboration with Storm Tactical for accuracy and versatility.
Subscribe to the Gun Digest email newsletter and get your downloadable target pack sent straight to your inbox. Stay updated with the latest firearms info in the industry.