One variable you need to keep under control when long-range shooting is rifle and scope level. To compliment the Whiz Wheel, Accuracy 1st has developed the very slick Anti-Cant Scope Level.
To complement the Whiz Wheel Ballistic Solver, Accuracy 1st Development Group has produced a very slick Anti-Cant Scope Level.
The longer range you shoot, the more critical level crosshairs become.
This is especially true from 500-1000 yards and beyond, where a slight cant in your scope can equal a full MIL or more of error. That little thing can cause a huge miss way, way out there.
The Accuracy 1st Scope Level is better than others I've seen on the market and has a curved vial with a grade 10 precision ball bearing. That gives it less friction, and the added benefit is that it can detect well below 1 degree of cant.
The level features rounded edges so nothing can get snagged, and it doesn't stick out beyond the turrets of the scope. At the range, I was able to quickly check level when peering through the scope by simply opening both eyes.
The vial material is a metered glycol solution that won't freeze, and the Pyrex glass is shockproof to handle recoil from cartridges as big as the .50 BMG.
At 550 yards the level made all the difference in my ability to accurately place rounds on target. At even greater distances the device would be absolutely essential.
This little device retails for about $95 — comparable to the cost of a good bi-pod — and is every bit as useful.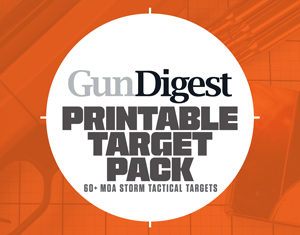 Next Step: Get your FREE Printable Target Pack
Enhance your shooting precision with our 62 MOA Targets, perfect for rifles and handguns. Crafted in collaboration with Storm Tactical for accuracy and versatility.
Subscribe to the Gun Digest email newsletter and get your downloadable target pack sent straight to your inbox. Stay updated with the latest firearms info in the industry.