Here are some gift ideas for gun lovers that virtually anyone who collects guns or shoots will appreciate.
The truth is, if you're searching for hunting gifts or cool gifts for guys, gun owners as a group are generally hard to buy for. Other than buying a young hunter their first deer rifle, or defensive handgun for a wife or girlfriend, you're wise to stay away from buying guns for other people.
Ammo is tough, too. Only if you directly ask someone can they tell you what their particular gun "likes."
Gun cleaning supplies are always appreciated, but it's too easy to miss things the shooter actually needs (like a brass brush in 7mm for example) or give them patches for the wrong caliber of rifle that simply won't work.
Ear and eye protection can get expensive. Targets are always handy, but some shooters have picky notions about what targets they like best.
Reloading stuff brings holiday cheer for sure, but components like brass cases, primers, powders and bullets are so varied it's impossible to know what to buy.
Good Gifts for Gun Owners
There is one gun gift that almost any gun owner would appreciate and use: A copy of the Gun Digest Annual Book (or other books for shooters with specific tastes – check out these Gift Ideas for Gun Lovers for some of our recommendations).
Consider this. The Gun Digest is a winning gift idea for the same reason that originally propelled it to superstar status back in the World War II era when it was first published.
The idea is that gun owners like to dream. Guns are serious investments, and we shooters like to take our time researching ideas for future purchases. We like to see photos, get the history, read gun tests and gun reviews and see prices. Same with optics and other gun accessories.
The late Dan Shideler, who edited the Gun Digest from 2010-2012, observed that reading about guns was, for those post-depression Americans, almost as much fun as shooting them.
Back in the early days, many gun owners returning from the war couldn't afford to buy a new gun. But they could afford a book about guns. Gun Digest served the need. It covered nearly every gun that existed, and had something for everyone.
Gun owners haven't changed much in the eight decades that have passed.
We still really, really like reading about guns. So if you want to impress someone this gift-giving season, give the Gun Digest — it's brought smiles to faces for more than sixty years. It'll work today, too.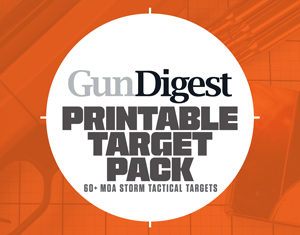 Next Step: Get your FREE Printable Target Pack
Enhance your shooting precision with our 62 MOA Targets, perfect for rifles and handguns. Crafted in collaboration with Storm Tactical for accuracy and versatility.
Subscribe to the Gun Digest email newsletter and get your downloadable target pack sent straight to your inbox. Stay updated with the latest firearms info in the industry.