Mark Mueller of Elite Tactical Advantage (ETA) stopped into the office for some show and tell today. The ETA product line currently focuses on tactical shotgun accessories, and the flagship products are the RhinoRail and BullDozer – aftermarket accessory rails that fit Remington 870, 1100, and Mossberg 930 shotguns. Watch out for more models to come.
We were most impressed with the RhinoRail, which weighs only 1.25 pounds!
This rail can take any red dot scope or BUIS-type sight; lasers, lights, sling adapter or even extra shell carriers. When you pick it up, it is hefty, and makes your shotgun look even more ominous. The rails are CNC-machined to tight tolerances for repeatability when using sights and other bolt-ons. The RhinoRail retails for $349; the full-length BullDozer $399.
Both rails feature over 36 inches of rail on four surfaces, and are built using the new NATO Stanag 4694 specification (100% backward compatible with MilSpec/Picatinny 1913 Standards).
ETA claims the rail serves as a heat shield with dissipating fins covering the entire length of the barrel. Assembly is simple, and everything is included – there is no drilling, tapping or other gunsmithing involved. If you're smart enough to shoot a shotgun, you'll be able to install this rail.
Also check out ETA's replacement Tactical Charging Handle and a much-improved and very affordable Tactical Safety replacement for Mossberg 500, 590, 930 and 935s, machined from aircraft aluminum.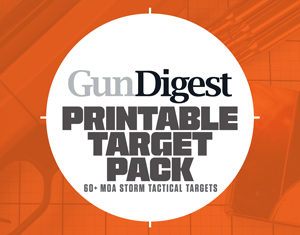 Next Step: Get your FREE Printable Target Pack
Enhance your shooting precision with our 62 MOA Targets, perfect for rifles and handguns. Crafted in collaboration with Storm Tactical for accuracy and versatility.
Subscribe to the Gun Digest email newsletter and get your downloadable target pack sent straight to your inbox. Stay updated with the latest firearms info in the industry.