Dead Air Silencers has recently announced the Mojave 9, a new 9mm suppressor with an innovative new baffle design.
At SHOT Show 2023, Dead Air Silencers unveiled the Mojave 9. This is the company's first suppressor to be made using Direct Metal Laser Sintered (DMLS) additive manufacturing technology, more commonly known as 3D printing, and it's what enables the Mojave 9 to have its revolutionary and complex internal baffle system.
This 3D-printed and patent-pending baffle design is called the Triskelion, and it's the core of the Mojave 9's performance. Dead Air promises that the unorthodox baffle design results in less back pressure, less flash and improved acoustic performance. The suppressor is also a modular two-piece system that enables users to trade weight and length for less sound reduction depending on their priorities. The use of 6AL-4V titanium also lends the system high thermal efficiency, high durability and low weight (9.6 ounces in its full 7.64-inch configuration, 8.2 ounces in its short 5.89-inch configuration).
The Mojave 9 is rated for 9mm, .300 BLK subsonic loads and .350 Legend with any type of firearm, and for .300 BLK supersonic loads when used with a semi-auto. Each suppressor will ship with a booster and a 1/2×28 piston, but they will also be compatible with all Dead Air P-Series mounts and their associated accessories.
Mike Smith, Research and Development Engineer for the project, said this about the new Dead Air suppressor:
Having been given the opportunity to design the 9mm suppressor we call the Mojave 9; I really wanted to wow our customers and give them something they've never seen before.
The Mojave 9 will have an MSRP of $1,099 and is slated to begin shipping in Q2 of 2023.
For more information, please visit deadairsilencers.com.
---
More On Suppressors: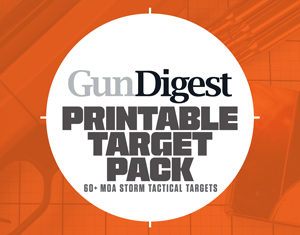 Next Step: Get your FREE Printable Target Pack
Enhance your shooting precision with our 62 MOA Targets, perfect for rifles and handguns. Crafted in collaboration with Storm Tactical for accuracy and versatility.
Subscribe to the Gun Digest email newsletter and get your downloadable target pack sent straight to your inbox. Stay updated with the latest firearms info in the industry.