Big happenings in the heartland, with CZ-USA and Creative Arms throwing their hats into the suppressor marketplace.
What Do These Manufacturers Have To Offer:
Creative Arms manufactures pistol and rifle suppressors.
Its selection covers the full gambit, from .22 all the way up to .30 caliber.
The CZ-USA suppressor selection is centered around rimfire and centerfire rifles.
This includes integrally suppressed rimfire rifles.
In the early 1900s, Hiram Percy Maxim put the "shhhhh" back into shooting when he invented and sold the first commercially available suppressors. Since his patent was approved on March 30, 1909, quite a few other people have learned to make and sell them.
The reasons are simple: Suppressors help firearms users operate more safely by protecting against hearing loss and more accurately by helping to mitigate gun recoil, muzzle blast and muzzle rise. While suppressor ownership and use laws vary from state to state, the benefits of using suppressors for gun owners are universal as their use and manufacturing continue to climb.
Two established manufacturers have joined the suppressor marketplace. Both hail from the heartland of America: Creative Firearms in De Moines, Iowa, and CZ-USA, headquartered in Kansas City, Missouri.
Creative Arms Suppressors
Creative Arms, owned by Bob Folkestad, is a self-described boutique firearms and suppressor manufacturer headquartered in Iowa's capital city.
"I began creating suppressors because this is America, and I can," Folkestad chuckled. "But, really, suppressors are nice for hunting and range shooting, and it's nice to have less felt recoil and shoot without hearing protection. Suppressors are like mufflers; they reduce sound, making you a friendly guy next to me at the range; and they reduce felt recoil, which gives you a more confident feeling when shooting."
Creative Arms makes both pistol and rifle suppressors.
---
Get More Suppressor Info:
---
Folkestad said Creative Arms rimfire suppressors are manufactured from aluminum and titanium, while its 9mm and .45 pistol (the .45 is used on a .40) and rifle suppressors in 5.56 mm and .30 caliber up to .300 Winchester Magnum are made from titanium.
"You want pistol suppressors to be lightweight, and we try to make them as light as possible, which is why we use aluminum, titanium and stainless steel.  You want rifle suppressors to be strong. Because of the equipment we use for manufacturing, we make our 5.56- and .30-caliber suppressors mono-core titanium. Creative Arms also makes integrally suppressed firearms in 5.56 NATO, .300 Black Out, .308 Winchester, 6.5 Creedmoor and the .450 Bushmaster."
Some interesting suppressors in Creative's lineup include the ".22 titanium" suppressor, which weighs 4 ounces and sports internals made of high-grade titanium. It's rated for higher-velocity rounds such as the .22 Magnum, .17 HMR and 5.7 FN.
The company makes a 9mm/.45-caliber pistol and a 9mm/.45-caliber rifle suppressor as well, with the latter being a lower-cost option for carbine platforms that don't require a recoil booster. The company's 5.56/.223 and .30-caliber model suppressors are manufactured from tool steel and are then treated with Ultra Ox coating (buyers should note that Creative Arms rates its .30-caliber suppressors to cartridges up to the .300 Winchester Magnum). For more information about the suppressors Creative Arms offers, check out its website: CreativeArms.com.
CZ-USA Suppressors
Just shy of 200 miles south and a bit west of Creative Arms' location is CZ-USA, which is generally known as the U.S.-based subsidiary of Czech firearms manufacturer Česká zbrojovka Uherský Brod. However, CZ-USA's suppressors are all made in Kansas City, Missouri.
Why did CZ-USA start making suppressors? The manufacturer's Zach Hein explained that it was because of the evolving needs on the U.S. law enforcement side dictating the requirement for a Scorpion-specific suppressor.
"We decided it was high time to throw our hats into the ring in the U.S. suppressor market," he said. "We're of the opinion that any product we can sell to law enforcement we should be able to sell to any civilian, so while the Hughes Amendment might preclude the real 'fun stuff,' we're happy to offer a line of suppressors that are optimized for CZ platforms. From the Scorpion S2 Reflex to our line of titanium centerfire reflex cans, the overarching theme in our suppressor line is that function should dictate form. The results are lightweight and robust, with no excessive bulk."
CZ-USA offers four different kinds of suppressors: the Rimfire, the Rimfire Integral, the S2 Ti Reflex and the Ti Reflex.
The Rimfire suppressor weighs 2.5 ounces and can be used on any rimfire cartridge under .224 inch in diameter; this includes popular cartridges such as the .17 HMR, .22 WMR and the .17 WSM. The Rimfire Integral is just that—integral—meaning that it's built into the actual barrel of the rimfire rifle. (I had the opportunity to shoot and hunt with CZ-USA's rimfire suppressor lines recently and can confidently say they're very quiet, accurate and lightweight.)
The S2 Ti Reflex was created to give large suppressor performance in a smaller package. CZ-USA partnered with Aerocharger to create the S2 Ti for the Scorpion Micro, which comes in at 8.2 inches in length and weighs only 9.6 ounces. The company also makes a stainless-steel version. It costs less but weighs a bit more, at 15.36 ounces.
CZ-USA's centerfire suppressors are the 5.56 Ti Reflex, 7.62 Ti Reflex and 338 Ti Reflex.
I have personal and profound experience with the 7.62 Ti Reflex suppressor, having used it on my CZ 557 6.5×55 Swede during a spring black bear hunt in Idaho's Frank Church Wilderness. The 20-inch 557 6.5×55 Swede handled well with the suppressor attached during the very vertical hunt in the Rocky Mountains. I used the CZ 557 with the 7.62 Ti Reflex to take a mature black bear the first day we hunted, anchoring him with a 90-yard shot. The 7.62 Ti Reflex weighed a mere 11.4 ounces, and I barely noticed it, because it balanced well.
To learn more about CZ-USA's line of suppressors, visit its website: CZ-USA.com.
The article originally appeared in the January 2020 issue of Gun Digest the Magazine.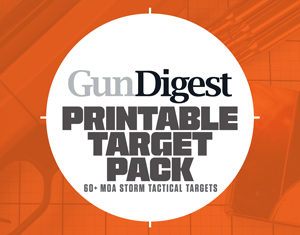 Next Step: Get your FREE Printable Target Pack
Enhance your shooting precision with our 62 MOA Targets, perfect for rifles and handguns. Crafted in collaboration with Storm Tactical for accuracy and versatility.
Subscribe to the Gun Digest email newsletter and get your downloadable target pack sent straight to your inbox. Stay updated with the latest firearms info in the industry.