Creedmoor Precision Remains Strong
Ever since Hornady introduced the 6.5 Creedmoor around 2007, the cartridge has steadily gained in popularity. As with many 6.5mm cartridges, the Hornady 6.5 Creedmoor is a relatively light-recoiling round that provides excellent ballistics and accuracy, particularly as distances stretch.
For this reason, the cartridge has always been well-respected among long-range target shooters. However, 6.5mm cartridges such as the 6.5 Creedmoor have also started becoming increasingly popular among hunters, who are beginning to recognize the benefits of the round's high ballistic coefficient (BC) and forgiving trajectory.
Hornady 6.5 Creedmoor – Now Ready for Game
In a move to make this cartridge further available to hunters, Hornady has added the 6.5 Creedmoor to its popular American Whitetail line of ammunition. While the cartridge has been available to American hunters in previous Hornady ammo lines such as the Precision Hunter, Full Boar, and Superformance lines, with the expansion into American Whitetail, Hornady is making it available at a more economical price point.
This new load is available with Hornady's 129-grain InterLock bullet, which has proven its effectiveness on North American game ranging from deer up to, and including, elk. The legendary InterLock bullet, as always, features its pioneering secant ogive design and its typical ring built to secure the core and jacket together during expansion to retain mass and energy.
"The 6.5 Creedmoor has fast become a customer favorite. The addition of this load to the American Whitetail® line truly rounds out our now comprehensive assortment of bullet options for 6.5 Creedmoor ammunition." said Neil Davies, Hornady Director of Marketing.
The new Hornady 6.5 Creedmoor American Whitetail load carries an MSRP of $29.40 for a box of 20 and is available from stocking dealers, major retail sporting goods stores, and their websites.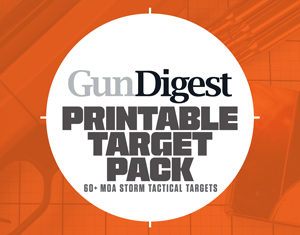 Next Step: Get your FREE Printable Target Pack
Enhance your shooting precision with our 62 MOA Targets, perfect for rifles and handguns. Crafted in collaboration with Storm Tactical for accuracy and versatility.
Subscribe to the Gun Digest email newsletter and get your downloadable target pack sent straight to your inbox. Stay updated with the latest firearms info in the industry.