Vortex Optics has just released the Defender CCW, a new micro red dot sight for concealed carry pistols.
Vortex Optics has just released the Defender CCW micro red dot sight, a new pistol optic designed for small concealed carry handguns. The optic is loaded with all the features that shooters have come to expect of modern pistol red dots, and it has some new tricks up its sleeve too.
The Defender CCW is available with two reticle options—either 3-MOA or 6-MOA—and it mounts via the common Shield RMS footprint. The optic is small enough to be used with micro-compact handguns (as well as full-size pistols), but Vortex claims that it features "the biggest sight window in its class" to help users shoot with both eyes open and maintain superior peripheral vision and spatial awareness. The unit is 1.6 inches long, has a weight of only 0.95 ounces and was designed to have a slim profile for a snag-free draw.
Modern carry optic features found on the Defender CCW include a large, aspherical lens for a distortion-free image, a SHOCKSHIELD polymer insert for added durability, a motion-activated reticle and auto-shutoff to save battery life when not in use (14-hour timer). The Defender CCW also has a manually adjustable brightness setting and the battery can be replaced without removing the optic from the weapon (takes one CR1632).
A new feature on the Defender CCW, and the most visually distinctive, is what Vortex is calling Fast-Rack. Simply put, it's texturing on the front face of the red dot that allows for easier one-handed racking off of unorthodox surfaces. This is a great idea for a self-defense pistol red dot, as one can never count on having both hands available in an emergency situation. The texturing helps contribute to the optic's rugged aesthetics as well.
Each Vortex Defender CCW will ship with a 1-inch shim plate, a Picatinny mount, a protective rubber cover, a lens cloth, a battery, a tool and multiple sets of the most common mounting screws. It's available now and has an MSRP of $349.99.
For more information, please visit vortexoptics.com.
---
More On Pistol Red Dots: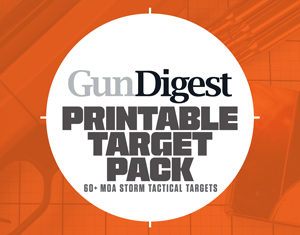 Next Step: Get your FREE Printable Target Pack
Enhance your shooting precision with our 62 MOA Targets, perfect for rifles and handguns. Crafted in collaboration with Storm Tactical for accuracy and versatility.
Subscribe to the Gun Digest email newsletter and get your downloadable target pack sent straight to your inbox. Stay updated with the latest firearms info in the industry.