The modern scope is a marvel, able to take more abuse, yet excel at its job like never before. Here's how some of the top options pull off this feat.
How Modern Scopes Have Been Improved To Hold A Zero:
More robust turrets and erector assemblies
Improved lens geometry and coatings
Reinforced circuit boards on electronic models
Scopes specifically designed for the rifles on which they'll be mounted
Riflescopes are part modern marvel and part work of art. With the earliest designs dating back to the mid-1800s, a once relatively simple product now rivals the finest Swiss chronographs.
Optics are not only that precise, they are designed to maintain that precision with every shock they endure. Many methods of achieving this have been in use over the years, and most recent advancements have given way to even more repeatable designs.
Keep It Steady
Naturally, zero is affected by ammunition type, weather and target distance. However, a scope must not drift out of zero from the standard practices of transport and firing.
If a scope is drifting zero by, let's say, one minute of angle, your gun can only be (at best) one minute of angle accurate because of the error imparted by the optic. For this reason, this is the most critical of criteria for selecting a scope. This ability even supersedes clarity of glass and magnification range. Essentially, a scope that can't hold zero is good for nothing more than a spotter. Until recently, being able to keep zero meant shelling out big bucks.
I decided to reach out to some manufacturers and chat up their staffs for a deeper look on how their new designs are keeping minute-of-angle precision after the routine abuse from magnum calibers, rough service and even reverse recoil, as is seen in airgun scopes.
Riton: The New Kids
Riton is a relatively new company, opening its doors in 2013. In just six years, it has gained some major industry attention among hunters, target shooters and PRS competitors. After working directly with CEO Brady Speth on several occasions, I can easily endorse Riton—not only for its quality products, but also for its passion for customer service.
I don't get into comparison research very often, but Riton's warranty is simply unheard of. Should you ever experience a problem with one of its optics, you will receive a new product within 48 hours of the company receiving the old one. No repairs, no refurbs; just a fresh product out the door as soon as possible.
My complete satisfaction with the brand came when I fired a three-shot group at 1,000-plus yards that landed inside of 4 inches. This was done with an RT-S MOD 7 5-25x56IR that features a first focal plane lens, locking turrets and Riton's signature spring system that reinforces the erector tube to ensure it stays put.
I reached out to Riton Business Development Manager Jerimiah Alexander to provide some insight on this system and how Riton is able to keep this level of precision.
"The number-one reason that Riton scopes hold zero: They are built right and built tough," Alexander explained. "Our turrets are built tough, and the 'gears' are made of strong material that keeps them tight. We use high-quality brass and stainless steel for turrets and other components. Our tubes are machined from one piece of 6061 T6 aircraft-grade aluminum.
"You can feel the positive clicks when rotating our dials. There's a return spring that provides tension and pushes the erector assembly back to zero. This must also be a quality piece so that it performs perfectly and does so under stress. We also have an additional set screw that holds the spring and assembly solidly in place.
"We also stay innovative," Alexander added, "which means we're constantly changing and making adjustments. Secondly, we have some proprietary things we wish not to share. This is partly how we stay ahead of the game."
Nikon: 100 Years Strong
Nikon has been at it since 1917 and has always been synonymous with "quality" … but usually at a price.
When it comes to building an affordable scope, the hardest hurdle to jump is the glass itself. When trying to set a price point, most scope manufacturers will exhaust their budgets for a projected market on this one critical component—and with good reason. Nikon manufacturers all of its own glass in-house, thereby throttling that cost down to leave enough budget to build high-quality internals and still hit a low price point.
Nikon's largest-scale success in this area came in 2017 with the release of the affordable BLACK series of optics. This series brought brilliant, affordable, long-range and AR-style scopes into just about any shooter's budget.
According to Nikon Brand Strategist Collin Russell, "As one of the few makers of optical glass in the world, Nikon has a unique advantage of having the knowledge and experience to specify and select the exact type of glass, lens geometry and multi-coatings needed to optimize the performance of any given optic."
I agree completely with this statement, because the only way to eliminate cost without sacrificing quality is to increase control. (Maybe it's a testament to the old adage, "If you want something done right, do it yourself.")
Sig Sauer: From Pistol To Parallax
When we think of Sig Sauer, we think of iconic firearms. However, in recent years, Sig has branched out to offer equally high-quality lines of optics to match its firearms. Sig's electro-optic lines include the simple and brilliant Romeo series of red-dot sights and its highly sophisticated Tango target scopes.
The Tango series includes the electronic LevelPlex system that is used to indicate cant right inside the reticle. This system is positioned there so that a shooter does not have to take their eye off the target before sending that long-range shot.
Scott Smith, Sig's vice president of product development, explained how the company keeps these components from getting destroyed during use:
"All of the PCBAs (printed circuit board assemblies) embedded in our scopes and reflex sights are extensively live-fire-tested. The boards in many cases are potted (epoxied) into place and mechanically restrained for impact testing.
"For example, our reflex sights were tested at up to 8,000 Gs. We found that the PCBAs must be mechanically constrained with both fasteners and epoxy, including several of the key components having to be conformal coated and epoxied onto the PCBA. The PCBA had to be constrained across the entire PCBA to prevent any type of flexing during recoil. In addition, our PCBAs feature a keep-alive capability that keeps the microcontroller powered up, even during intermittent loss of power. All Tangos are tested to greater than 1,000 Gs."
---
Scope Out More Optics Info:
---
This level of scrutiny certainly shows in the field. I've been using a 5-30x Tango6 for the past two years and have never had a need to re-zero it. A typical day in its life involves continual dialing up to 1,050 yards and back over the course of eight hours.
Bushnell: From Everyday To Every Solution
Once regarded as entry level, Bushnell has been continually improving its products in order to bring high-quality scopes to any budget. What were once considered everyday optics are quickly becoming the go-to for many hunters and target shooters. I like to give credit where it's due: Bushnell really did address its shortcomings and spent a lot of time and money developing its products into something I trust my trophy hunts to and that many professions stake their lives on.
Vista Outdoor Inc. Communications Coordinator Vic Ziliani was gracious enough to point out what has been done to increase Bushnell's reliability to deliver incredible scopes such as its hit success, the HDMR, and its new Forge series.
"Some of the testing and R&D we're doing with Bushnell products now include a more-severe recoil testing, with recoiling to a minimum of .30-06 on Prime and a minimum of 300 Win. Mag/.375 H&H on anything Nitro and above; specifying higher optical quality standards with respect to resolution, coatings, light transmission and low-light performance; and tightened tolerances on mechanical and optical components to reduce the severity in misaligned optics, which can cause optical aberrations."
The proof is certainly in the final product, because Bushnell is the official scope sponsor of PRS with its Elite Tactical. To earn attention in this discriminating group is no easy feat.
BSA: Bracing For An Unlikely Adversary
Many people look at you a little oddly when you tell them that a spring-piston air rifle will destroy a scope faster than a Barrett .50-caliber, but the truth is that they can—and do.
Airguns obviously don't generate intense felt recoil, but they do generate an entirely different type of recoil. This recoil acts in the opposite direction due to the violent motion of the spring gas piston. This reverse recoil acts on the scope differently than a gunpowder firearm does and, in turn, it damages them, because they are being jolted in a direction they are not built to withstand.
BSA Project Manager Kyle White Over explained what has been done to make BSA's scopes take the beating air rifles put on them.
"The stronger springs and tolerances are the primary elements making these scopes worthy of use on an air rifle. The mounting rings also help. In this case, the ring closest to the shooter has a pin in it. This pin, when the scope is mounted, inserts into a hole in the mounting rail. This also helps prevent damage due to recoil and is not typically found in firearm applications."
Final Thoughts
The technology from the Old West has fought through every major war and can be found in the hands of competitive shooters, sportsman and backyard plinksters alike. This once mind-blowing technology has been perfected in such a way that it is not only more reliable, it can also be used in more applications.
With the growth of the shooting industry this past decade, more and more quality optics are finding their way in, and many established brands are finding new success. What we know about them and how to make them better is increasing exponentially as time goes on.
Editor's Note: This article originally appeared in the 2019 Shooter's Guide issue of Gun Digest the Magazine.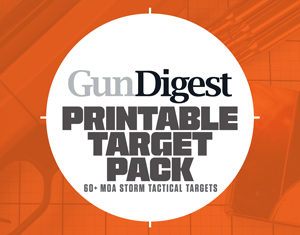 Next Step: Get your FREE Printable Target Pack
Enhance your shooting precision with our 62 MOA Targets, perfect for rifles and handguns. Crafted in collaboration with Storm Tactical for accuracy and versatility.
Subscribe to the Gun Digest email newsletter and get your downloadable target pack sent straight to your inbox. Stay updated with the latest firearms info in the industry.