The TruTec Xtreme is taking economical, tactical red-dot optics to the next level.
Editor's note: This article is sponsored content from TruGlo.
Magnified optics may get much of the attention these days as MSR fans seek to push the limits of long-distance accuracy, yet it's the red-dot that continue to rule the practical tactical side of town — and for good reason. From CQB work to fast-action steel ranging from "here" to "way out there," nothing beats a red-dot optic for lightning-quick target acquisition.
Choosing a red-dot that's right for you, however, can be an exercise in excessive frustration. With so many models to choose from amongst so many different manufacturers, many consumers give up the hair-splitting decision process and simply default to the seemingly best value for their budget. Yet even at the "price value" level, choosing one optic over another can be challenging. This is when a manufacturer's reputation and peer reviews come into play.
The TruTec Xtreme 30mm Red-Dot Sight
One of the leading sight-solution manufacturers that has earned benefit-of-the-doubt status is TRUGLO, Inc. As an industry leader in fiber-optic sight technology for the last quarter century, TRUGLO has gradually expanded its product offerings to encompass a broad range of weapon platforms and applications — all while keeping product innovation and cost-to-performance ratio in clear view. Their latest product for the MSR crowd — the TruTec Xtreme 30mm red-dot — certainly follows that well-trod path.
The Xtreme 30mm, as the name implies, is built on a 30mm tube chassis to deliver a wide field of view. That's a major plus for close-range work when you need to get that sight picture fast. It's also a treasured asset during low light conditions.
Another big thumbs up comes from the included machined aluminum cantilever mount. Designed to secure to Picatinny or Weaver-style rails, the mount is confidently solid and proportioned to allow the Xtreme to co-witness with iron backup sights — another win for real-world tactical applications. The height of the co-witness is an added benefit — the TruTec Xtreme comes with the perfect height instead of trying to determine the needed mounting height.
Downrange View Of The TruTec Xtreme
The operator's view of the TruTec Xtreme is on par with optics we've tested that carry a significantly higher price tag. The glass offers sharp downrange visibility and the 30mm objective lens provides good light transmission even toward the ragged sides of dusk and dawn. What we most appreciate about the sight picture, though, is the 2-MOA reticle. While most optics in this price range come with a 3- or 4-MOA red-dot, the Xtreme presents a crisp 2-MOA dot. For targeting silhouettes and steel beyond the 100-meter mark, that's exactly what we want.
To set point-of-impact, the TruTec Xtreme makes the job easy with windage and elevation adjustments calibrated for 1/2-MOA. That means one click moves the point-of-impact approximately 1/2-inch at 100 yards. Since most shooters zero their red-dots for 50 yards, one click moves the POI about 1/4-inch. Combined with the 2-MOA reticle, this allows for some tight zeroing. Once you've set your zero, screw-on caps keep your adjustments safe. For added convenience, the Xtreme comes with integrated cap lanyards to keep the caps secured to the optic chassis (another high-end touch without the high-end price).
Astute optic buyers are probably wondering about parallax. TRUGLO sets the TruTec Xtreme's to be parallax-free at 50 yards. Shooting on the extreme near or far sides of 50 yards can cause a POI shift, but we've found that staying within the recommended middle two-thirds of the field of view effectively kicks this issue to the curb. As for eye relief, it's unlimited, so place the Xtreme on your rail where it's most comfortable for your shooting style.
The Circuitry Of The TruTec Xtreme
Regarding the user interface and electronic function of the TruTec Xtreme 30mm, TRUGLO keeps it simple, yet the operation has a sophisticated flair. The "+" and "-" buttons located on the left side of the housing control everything. These, of course, allow you to adjust the brightness level of the red-dot to achieve just the right sharpness for the ambient light conditions.
This is a good ergonomic design because the buttons are large enough to manipulate while wearing gloves and their side-mount position lets you control the unit easily with your supporting hand, so you never have to disturb your grip to make adjustments. Also, there's no independent on/off switch to complicate matters. Simply depress either button to turn the sight on if the TruTec Xtreme is in full shut-down mode.
The cool thing about this sight, though, is that you never really need to shut it down. That's because the TruTec Xtreme 30mm has "intelligent" wake/sleep modes that utilize a sensitive motion sensor. When the optic is turned on and no motion is detected after 10 minutes (the default time), the unit automatically saves the current brightness setting and enters sleep mode. Any movement of the rifle/optic while it's in this state will automatically turn on the red-dot, making the firearm ready for action as soon as you pick it up.
As mentioned, this is an extremely sensitive motion sensor so, unlike most motion-sensitive red-dots on the market, there's no need to bump the Xtreme to turn it on. (Yeah, striking your optic to turn it on never seemed like a good idea to us, either.) The Xtreme also lets you change the sleep mode to activate after one hour or 12 hours instead of the default 10 minutes, or it can be completely disabled. The choice is yours.
If you're worried about long-term sleep mode running down the battery, don't. TRUGLO has developed a rather sophisticated electronic technology that allows the Xtreme to remain on (or in sleep mode) at a very low power state. Although we have not been able to test the duration of battery life while the optic is sleeping, the company states that the single CR2032 battery source can last for several years in this mode.
Again, this is performance that matches or rivals optics costing twice as much. Of course, if you're more comfortable with completely shutting down the unit for long-term storage, a hard shut-off is a simple matter of pressing both the "+" and "-" buttons simultaneously. The longevity of this scope is accentuated by its water resistance design and features an O-ring sealed battery.
Stylin' And Profilin'
Although most tactical firearm enthusiasts acknowledge that guns are tools, not works of art, aesthetics often factor into the purchasing decision. The TruTec Xtreme 30mm and cantilever mount exude authority and an all-business demeanor with their matte black finish and crisp lines. In other words, this is no poser optic — the looks back up the performance.
With an MSRP of $258 (we've found it on online for as low as $148.81), that's our idea of "bang for the buck."
TruTec Xtreme 30mm Red-Dot Key Features
2-MOA reticle for precision aiming
30mm objective lens
Digital push-button controls
Programmable automatic sleep mode
Motion-sensitive wake feature automatically turns on the dot when the optic is moved
Multiple brightness settings
Operates for thousands of hours on single CR2032 battery
Click windage and elevation adjustments
Machined aluminum cantilever Picatinny mount included
Integrated lanyard system prevents loss of screw-down W/E caps
Wide field of view
Unlimited eye relief
Optimal co-witness height for backup iron sights
Flip-up lens caps included
Water-resistant / fog-proof
Mounts to standard Picatinny or Weaver-style rails
For more information on the TrueTec Xtrem Red-Dot, please visit: www.truglo.com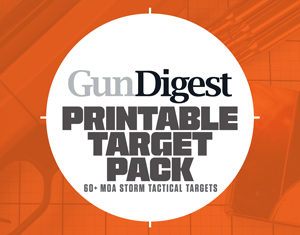 Next Step: Get your FREE Printable Target Pack
Enhance your shooting precision with our 62 MOA Targets, perfect for rifles and handguns. Crafted in collaboration with Storm Tactical for accuracy and versatility.
Subscribe to the Gun Digest email newsletter and get your downloadable target pack sent straight to your inbox. Stay updated with the latest firearms info in the industry.