Bushnell has just announced the Match Pro ED 5-30×56 rifle scope, designed to provide excellent long-range performance for competitors and advanced shooters.
Bushnell saw a good deal of success with the 6-24×50 Match Pro rifle scope, but many shooters wanted something more powerful. Now featuring a higher magnification level, a larger objective lens and several other improvements, the Match Pro ED 5-30×56 is finally available.
With its 34mm maintube, magnification on the Match Pro ED 5-30×56 now goes all the way up to 30x and the objective lens is now 56mm in diameter. The ED in the name stands for Extra-Low Dispersion Prime glass, and this high-grade glass has also been coated with an EXO Barrier to protect it against the elements. Other features also include a new easier-to-use zero stop, an integrated throw lever that can be used by left- or right-handed shooters (or removed entirely) and a 15-yard minimum parallax for extremely close engagements. Built tough as well, the Match Pro ED 5-30×56 has a very high recoil rating and is IPX7 waterproof and fog proof.
The Deploy MIL 2 etched glass FFP reticle (DM2) is also new. It's an illuminated 2/10 MRAD tree reticle with 11 brightness settings and an auto-shut-off feature to save battery. It's based on Bushnell's popular Deploy MIL reticle but now features a finer 2/10 MRAD grid for easier use at greater magnification levels.
I actually had the chance to put a Match Pro ED 5-30×56 to the test this July at a Bushnell/RCBS event in Wyoming, and I walked away very impressed. Whether it was on the range ringing steel at ridiculous distances or picking off prairie dogs from a truck, the scope performed marvelously. At long-range, adjustments were easy to make and the reticle was intuitive to use. At shorter ranges, the super clear glass made bagging prairie dogs a breeze.
While its performance may suggest a higher price point, the Match Pro ED 5-30×56 has an MSRP of only $699. It's available now and appears to be an excellent value scope for competitors and long-range shooters alike.
For more information, please visit bushnell.com.
---
More On Rifle Scopes: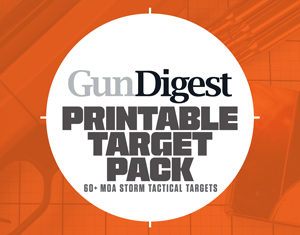 Next Step: Get your FREE Printable Target Pack
Enhance your shooting precision with our 62 MOA Targets, perfect for rifles and handguns. Crafted in collaboration with Storm Tactical for accuracy and versatility.
Subscribe to the Gun Digest email newsletter and get your downloadable target pack sent straight to your inbox. Stay updated with the latest firearms info in the industry.