Originally only available to law enforcement, Aimpoint's Duty RDS red dot sight can now be purchased on the commercial market.
Founded in Sweden in 1974, Aimpoint got its start developing red dot sights for hunting and sporting purposes. Eventually, the technology caught on with warfighters too, and by the late 1990s Aimpoint was under contract to produce red dot sights for the U.S. Army. Jump to 2022, and red dot-equipped rifles seem more commonplace than iron-sighted ones, and Aimpoint is still at the forefront of the technology's progression. This is evidenced not only by the company still serving as the gold standard of the electronic optic industry, but by their continued procurement of government contracts. The most recent of these was the Aimpoint Duty RDS. The red dot was developed to meet the requirements of law enforcement agencies and became exclusively available to them in January of 2022. Now, four months later, the Duty RDS is finally available on the commercial market as well.
The Duty RDS features a 2-MOA red dot reticle with 10 brightness settings; four are for use with night vision and six are for daytime conditions. The sight is powered by a single CR2032 battery and can stay illuminated for over three years on brightness setting seven. The battery can also be replaced without removing the optic thanks to its side-mounted battery compartment.
Developed for duty-use, as its name implies, the Duty RDS is incredibly tough and resistant to the elements. The optic features a pressure-forged aluminum housing that can withstand most temperatures found on Earth, and it can survive being submerged in up to 80 feet of water. Despite being so rugged, the red dot sight manages to remain very light as well, weighing only 3.8-ounces without its mount.
Each Duty RDS includes one single-piece mount/spacer, two flip-up lens covers, one battery and an Allen T10 wrench. The sight is now available to the U.S. commercial market and has an MSRP of $499.
For more information, please visit aimpoint.com.
---
Zero In On Aiming Solutions: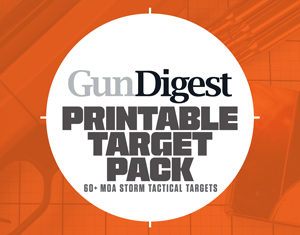 Next Step: Get your FREE Printable Target Pack
Enhance your shooting precision with our 62 MOA Targets, perfect for rifles and handguns. Crafted in collaboration with Storm Tactical for accuracy and versatility.
Subscribe to the Gun Digest email newsletter and get your downloadable target pack sent straight to your inbox. Stay updated with the latest firearms info in the industry.