Already known for their mounts, American Defense Manufacturing has gone the whole hog with the Spek red-dot.
How The ADM Spek Is On Target:
1X magnification facilitates shooting with both eyes open.
2 MOA dot makes for quick target transition and more precise shots.
Weighs in at a scant 3.9 ounce.
Runs 5 years off a single AAA battery.
American Defense Manufacturing (ADM) has been making optics mounts for some years now. I've got red-dot and magnifying optics mounts on rifles, and I've always been pleased with their performance.
The system uses a throw lever with a built-in locking tab, so you aren't depending solely on friction or the cam geometry of the lever to keep it closed. And, the lever tightness can readily be adjusted. All of this can be done without tools—no Allen wrenches or tiny socket wrenches to adjust this or that. The company even manages to shave off a bit more weight by using titanium in the construction of some of the mounts. However, titanium costs, and you don't save weight by saving money. That's life, folks.
But now, ADM is also offering ADM-branded red-dots to go with its mounts.
ADM Spek Specs
The ADM Spek is a 1X red-dot that comes with a 2 MOA dot. There are the expected 10 power settings, and it runs on a single AAA battery. Now, the current standard is either an AA or a lithium 123 battery, but the AAA has its advantages—mainly, weight and size. If you're crafting a red-dot optic that weighs 3.9 ounces with an AAA battery, how much more weight will it have if you jump up to an AA or a 123? It isn't just the battery; it's also the extra weight of the larger housing.
The rated life of the AAA battery in the Spek with the power setting at "5" is five years. So basically, if you install the battery and leave it set at 5, you can change the battery during each presidential election cycle and not have to worry about it running out on you. (Five years? I'll lose the package that has the other three or seven AAA batteries before then!)
Because ADM makes mounts, you can order your Spek already installed in a mount; and, you have choices. You can have a low mount, a lower-third co-witness or a co-witness. Additionally, you have all three choices in both aluminum or titanium-upgraded mounts. As I mentioned, titanium is extra, adding a whopping $56 to the cost.
---
Zero In On Aiming Solutions:
---
ADM Spek Test Run
I had a chance to give a Spek-equipped rifle a test run at the 2020 SHOT Show (as it turned out, maybe five minutes before COVID-19 overran the Las Vegas area), and I was pleasantly entertained. The dot was crisp, and I could dial it up enough for it to be seen in the bright desert sun, even against the sandy background.
Mounting is easy: There's a button on the throw lever. Press the button (once you get a feel for it, it becomes second nature. The first few times, you might have to actually pay attention) and rotate the lever forward.
With the jaws open, place the mount over the rail of your AR (or other firearm). You might have to tip it a bit to get the jaws to clear. That's normal.
Then, rotate the lever back, and you'll feel it cam tightly against the rail. Once the lever comes down flush, the lock button will cam itself into position and keep the throw lever from opening.
Spek Mount Adjustment
If you find that your rifle has an out-of-spec rail, here's how to adjust the mount:
Do you see the nut on the far side of the mount—the eight-sided nut? If your mount is too tight or too loose, open the throw lever all the way and then press it in toward the base. When you do this, you'll see the lock nut on the other side get pushed out of its seat. You can now hand-turn (no need for tools) to tighten or loosen the fit. Clockwise tightens; counter-clockwise loosens.
Adjust it a flat or two and then check the fit on the rail. There's no need to hurry here. Get it so that it's hand-tight on the rail. Too tight, and you'll need a pry bar to open it (once you press the lock button, of course). Too loose risks adding vibration, which means a wandering zero, battered parts … and a short service life for your optic.
There you have it: a ready-to-go red-dot optic, complete in its own base—one that doesn't require any tools to mount or adjust.
Editor's Note: This article originally appeared in the 2021 Long-Range Shooting issue of Gun Digest the Magazine.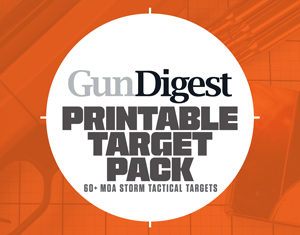 Next Step: Get your FREE Printable Target Pack
Enhance your shooting precision with our 62 MOA Targets, perfect for rifles and handguns. Crafted in collaboration with Storm Tactical for accuracy and versatility.
Subscribe to the Gun Digest email newsletter and get your downloadable target pack sent straight to your inbox. Stay updated with the latest firearms info in the industry.