USA Ready Defense … threat stopped!
New products, it's been a slow roll coming out of 2020. By this time any previous year, the greater shooting world would have a solid handle on what's hitting the shelves for the next few months. A few surprises would crop up at the SHOT Show, sure. But for the most part, they'd be few and far between. Finally, however, companies are laying their cards down on the table.
Most recently, Winchester announced a full suite of new ammunition heading out to gun retailers in the coming year. Among the most intriguing, its USA Ready Defense line of pistol ammunition. If the name sounds familiar, it should. Winchester has churned out premium range ammunition—both rifle and pistol—under the "USA Ready" banner for some time now. But the new options are a marked break from the FMJ fodder previously defining the line.
As most would suspect hollow-point bullets are the order of the day with USA Ready Defense. Though, they're hardly a rehash of Winchester's hallowed Silver-Tip line of defensive ammunition. Taking a cue from some other popular bullet designs, the ammo-maker includes a polymer insert in the bullet's cavity. Unlike other examples of this technology, the plug isn't monolithic, but vented. Think the petals of a flower, though, one you wouldn't want to come nose to nose with.
Winchester calls the design "Hex-Vent" and touts two main benefits—preventing barrier material from clogging the hollow point and directing fluid flow into the cavity. Both assets aim at the same goal—consistent and complete expansion of the bullet when it reaches its terminal destination. Interesting concept, one—at least concerning clogging—has proofed out in other ammo.
As to other aspects of USA Ready Defense, the ammo is loaded with match-grade primers and velocity is optimized for reliable performance, even out of next-generation micro pistols. Caliber-wise, Winchester launched the line with the big three: 9mm (124 grain +P, 1,200 fps MV), .40 S&W (170 grain, 1,170 fps MV) and .45 ACP (200 grain, 1,000 fps MV). Par usual for defensive ammo, USA Ready Defense is sold in batches of 20. Winchester has yet to release the MSRP on the ammunition, nor announced when it will hit store shelves.
For more information on USA Ready Defense, please visit winchester.com.
---
Rise Your Concealed Carry IQ: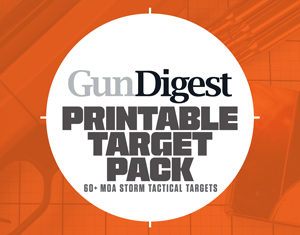 Next Step: Get your FREE Printable Target Pack
Enhance your shooting precision with our 62 MOA Targets, perfect for rifles and handguns. Crafted in collaboration with Storm Tactical for accuracy and versatility.
Subscribe to the Gun Digest email newsletter and get your downloadable target pack sent straight to your inbox. Stay updated with the latest firearms info in the industry.