Looking for a new iron or piece of kit to enhance the one you already own? Check out these 7 new bits of guns and gear to grow your firearms wish list.
The New Guns And Gear:
Sauer Introduces 270th Anniversary Collection of Limited Edition Rifles

When it comes to longevity, few gunmakers match J.P. Sauer and Sohn. For 270 years, the German manufacturer has turned out magnificent irons, more than one responsible for taking once-in-a-lifetime trophies. In celebration of this legacy, Sauer has offered up a special set of commutative rifles long on timeless elegance and maximum precision. In a nice twist, three of the rifles—100, 101 and 404—are chambered .270 Winchester in honor of the anniversary, while the 303 comes in .308 Winchester. Additionally, the guns come stocked in grade 5 and 7 walnut, and each features Sauer's 270th-anniversary logo in black and gold on the grip cap. Furthermore, the grip cap features "Wild Man with a Club" verbiage. Only 10 sets of these guns were made, with only one available in the United States.
MSRP: N/A
---
Federal Special Edition 100th Anniversary Shotshell Packaging

No matter how you cut it, taking a shotgun in the field throws most back to golden days. Federal Premium gets this, and in celebration of 100 years of producing some of the nation's top ammunition, the company is packaging several of its shells that harken back to a halcyon era. Much like the boxes you saw squirreled away in your granddad's gun room, the special edition 100th Anniversary shotshell packaging features throwback names, type and graphics. Honestly, it'll prove difficult to part with the boxes after the ammo is spent. Federal offers four campy boxes for its 12-gauge Top Gun ammo, loaded with No. 8 shot.
MSRP: $10.99, box of 20
---
Springfield Armory 9mm Garrison

Even updated, 1911s remain a welcome throwback to the golden age of American handguns. Balancing advancement and tradition perfectly, Springfield Armory's 9mm Garrison is an ideal pistol for someone looking for modern performance with throwback appeal. The guns pops in regard to the choice of finishes, which includes a richly blued carbon steel or very dynamic stainless steel. Combine with thin-line hardwood grips, the gun cuts the classic 1911 profile, while offering a bit of contemporary bling. Skeletonized hammer, extended beavertail, forged match-grade barrel (5 inches) and low-profile, hi-visibility sights also bring out the most in the pistol.
MSRP: Starting at $849
---
Galco's Trail Belt

OK, there's very little throwback about Galco Gunleather's Trail Belt. But, be honest, when it comes to comfort and performance you don't really want to throwback to some of the cramped and unpleasant straps from the days of yore. The Trail Belt certainly isn't that, utilizing breathable and flexible nylon in a tubular web construction. Designed to move with the wearer's body, the belt doesn't bite but is still solid enough to use as an IWB support system. At the same tick, it's easy enough on the body to make it ideal for a day hike or work shift. The Cobra D-Ring buckle is a nice touch, holding fast, but with a quick-release action.
MSRP: $98
---
Browning A5 Shotgun Vintage Tan

Despite sporting a different operating system than the original Auto 5, the old hammering humpback still retains its retro charm. Browning recently kicked up the gun's nostalgic good looks with the introduction of a Vintage Tan Camo pattern. Very similar to the splotchy camo popular from the 1960s to 1980s, the 12-gauge is a looker, as well as a doer, for anyone heading out to the duck blind or turkey woods. Available with a 26- or 28-inch barrel—each chambered for 3½-inch shells—the surprisingly light semi-auto can reach out. And with features such as a chrome-lined barrel and rugged composite stock, the gun is built to last well into the future.
MSRP: $1,940
---
Elite Survival System Liberty Gun Pack

If you tote a classic gun or a retro replica for self-defense, you understand holster options are few and far between. Some inventive thinking is required to take the heater on the go. Elite Survival System offers just this with its Liberty Gun Pack. Designed for carry on a belt or attached to Molle platforms, the pack can be worn in a horizontal or vertical position. And outfitted with a holster compatible with most compact and subcompact pistols, it's friendly with a wide swath of handguns. Boasting plenty of extra storage, 1000 denier nylon construction and ripcords to access the firearms compartment, this attractive piece of EDC luggage is just the ticket to take a classic heater on the go.
MSRP: $50
---
SnapSafe Safe Must-Have Accessory Pack

So, you have a safe for all your treasured firearms. Good for you. What are you doing to take care of them now? Whether you realized it or not, the system meant to protect your valuable firearms can also cause them the most harm. Hence the reason why Hornady's SnapSafe is offering the tools to tend to them when under lock and key. The heart of the comprehensive suite includes a dehumidifier and hygrometer to monitor and battle the scourge of gun safes: moisture. But there are a few extras that are more than handy, including a magnetic hook, LED light strip, document bag and document basket. Basically, if you have a safe, you need these accessories.
MSRP: $142
Editor's Note: This article originally appeared in the July 2022 issue of Gun Digest the Magazine.
---
Get More Guns And Gear: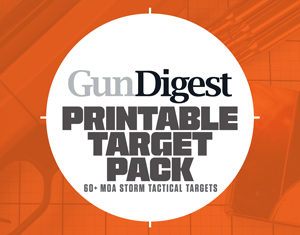 Next Step: Get your FREE Printable Target Pack
Enhance your shooting precision with our 62 MOA Targets, perfect for rifles and handguns. Crafted in collaboration with Storm Tactical for accuracy and versatility.
Subscribe to the Gun Digest email newsletter and get your downloadable target pack sent straight to your inbox. Stay updated with the latest firearms info in the industry.