Putting a new twist on an old system, MTM's Metal Ammo Can Tray gets your ammunition into shipshape.
How Metal Ammo Can Trays Get Your Extra Rounds In Order:
Works in conjunction with common .30- and .50-caliber ammo cans
Trays are stackable keeping everything in order
Made of sturdy plastic, the tray can be carried fully loaded
Has tie-down holes to secure to a vehicle
There are about a million and one things sexier than ammo storage. Except, it's an issue you'll have to take the reins of sooner or later – unless you buy your stuff one box at a time (unlikely). Or maybe you love digging around to find those green tips you got on sale last month, instead of shooting them.
MTM Case-Guard is generally a good place to turn when it comes to getting your shooting gear in order. And their new Metal Ammo Can Tray seems right in line with making sure you have your ammunition in shipshape. Working in conjunction with .30- and .50-caliber metal ammo cans (who doesn't have a load of those?), the trays create a stackable system. Best yet, they're affordable as all get out, with a starting MSRP of $10.31.
More from MTM Case-Guard:
Since 1968, MTM has continued to design and produce products for the shooting enthusiast. From ammo boxes to gun rests to clay target throwers, MTM offers a huge variety of products essential to the sportsman. MTM introduces a practical way to transport and store the millions of 30 and 50 caliber metal ammo cans that are currently in use today. The Metal Ammo Can Tray is ideal for stacking, storing and carrying traditional metal military ammo cans.

The Dark Earth cans are made of high impact plastic, made right in the USA. Each tray securely holds multiple ammo cans- 30 cal tray holds up to four cans, while the 50 cal tray can store up to three. Trays are stackable with or without ammo cans in them and can be stacked tall. The new Metal ammo Can Trays are excellent for organizing ammo, tactical gear, tools and survival gear. Each tray is capable of holding up to 100lbs of gear and includes tie-down holes for easy transportation.

**Tray only, ammo cans not included

For complete details and purchasing information please visit http://www.mtmcase-gard.com.

Metal Ammo Can Tray for 30 or 50 Cal Features:
•Each tray securely holds multiple metal ammo cans
•Trays are stackable with or without ammo cans
•Excellent for organizing ammo, tactical gear, tools and survival gear
•Each tray will hold up to 100 lbs. gear
•Tie down holes for easy ATV attachment
•Made in the USA
•MSRP: $10.31 (MAC30)
•$11.53 (MAC50)
For more information on the MTM Case-Guard Metal Ammo Can Tray, please visit .
---
More Gun Storage Knowledge: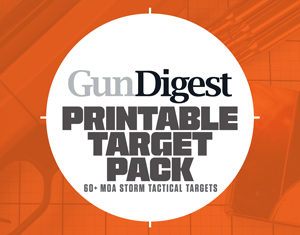 Next Step: Get your FREE Printable Target Pack
Enhance your shooting precision with our 62 MOA Targets, perfect for rifles and handguns. Crafted in collaboration with Storm Tactical for accuracy and versatility.
Subscribe to the Gun Digest email newsletter and get your downloadable target pack sent straight to your inbox. Stay updated with the latest firearms info in the industry.