Pairing Savage Arms with Vortex Optics, the 110 APEX Hunter XP just made hunting season a whole lot easier.
What The 110 APEX Hunter XP Offers:
Model 110 rifle in 17 chamberings
3-9x40mm Crossfire II
Adjustable AccuTrigger
Synthetic stock with adjustable length of pull
Left-handed and Muddy Girl stock available in certain calibers
Ready to hunt? Right now? There's no need to go out and piece together the perfect rig, since Savage Arms has done all the heavy lifting for you. Introducing the 110 APEX Hunter XP, the gunmaker has paired its well-known bolt-action with Vortex Optics' top-notch 3-9x40mm Crossfire II scope. More than enough to put meat on the table.
The package deal comes in 17 different chamberings, many in left-hand models and a handful with the option of Muddy Girl Camo. The Model 110 rifle comes outfitted with Savage's adjustable AccuTrigger and an adjustable stock. However, it's not the company's relatively new AccuStock, as it's only adjustable for length of pull, perhaps a bit more practical in a hunting rifle. The scope has multi-coated lenses, a single piece 1-inch main tube and features capped turrets, to ensure they keep their zero.
The 110 APEX Hunter XP comes in at a relatively economical $700. If you need to get outfitted just this minute, the deal is fairly tough to beat.
More From Savage Arms:
WESTFIELD, Massachusetts – – Savage is proud to introduce the 110 Apex Hunter XP, which pairs a Model 110 rifle with a 3-9x40mm Vortex Crossfire II scope that comes mounted, bore-sighted and ready to hunt. Shipments of these firearms have been delivered to dealers.

The platform provides accuracy and adjustability like no other package rifle thanks to the Savage AccuTrigger, thread- in headspacing, floating bolt head and precision button-rifled barrel. Plus, its length-of-pull can be quickly adjusted to fit any hunter for better comfort and consistency. The Crossfire II Dead-Hold BDC reticle makes it easier to place accurate shots at extended range, and the optic is securely mounted to a one-piece EGW 0 MOA rail.

Features
•Redesigned Model 110 rifle
•3-9x40mm Vortex Crossfire II scope, mounted and bore-sighted
•Dead-Hold BDC reticle's hashmark design reduces guesswork on holdover and windage
•Vortex Hunter medium rings and one-piece EGW 0 MOA rail
•User-adjustable AccuTrigger
•Adjustable length-of-pull
•Modern ergonomics
•Detachable box magazine
•Available in left-hand models and with Muddy Girl stock

The available model list also includes the 110 APEX Hunter XP in left-hand and Muddy Girl Camo options, plus the 110 APEX Storm XP which is the stainless steel receiver and barrel option.
---
Looking For More Great Rifle Content?:
---
110 Apex Hunter XP Specs
MSRP: $699.00
Action: Bolt
Barrel Color: Black
Barrel Finish: Matte
Barrel Length: 20, 22, 24 inches depending on caliber.
Barrel Material: Carbon Steel
Calibers: .223 Rem., .204 Ruger, .22-250 Rem., .243 Win., .25-06 Rem., .260 Rem., .270 Win., .270 WSM, .30-06 Spfld., .300 Win. Mag., .300 WSM, .308 Win., .338 Win. Mag., 6.5 Creedmoor, 6.5×284 Norma, 7mm Rem. Mag., 7mm-08 Rem.
Magazine Capacity: 2, 3, 4 rounds depending on Caliber.
Length of Pull: 13.75 inches
Magazine: Detachable Box Magazine
Receiver Color: Black
Receiver Finish: Matte
Receiver Material: Carbon Steel
Stock Color: Black, Muddy Girl
Stock Finish: Matte
Stock Material: Synthetic
Stock Type: Sporter
Weight (lb): 7.67-8.05 lbs depending on caliber
For more information on the 110 Apex Hunter XP, please visit www.savagearms.com.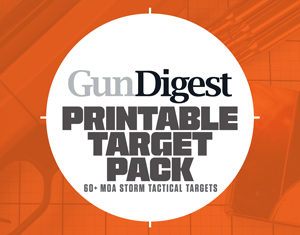 Next Step: Get your FREE Printable Target Pack
Enhance your shooting precision with our 62 MOA Targets, perfect for rifles and handguns. Crafted in collaboration with Storm Tactical for accuracy and versatility.
Subscribe to the Gun Digest email newsletter and get your downloadable target pack sent straight to your inbox. Stay updated with the latest firearms info in the industry.