Top-notch triggers from Geissele Automatics … and so much more.
As far as gun companies go, Geissele (pronounced "Guy's-Lee") Automatics is something of an enigma. They're a truly mysterious company that, unlike most others, maintains a virtual silence about their in-development products. As a result, the hype comes from actual end use and their products have earned them a reputation of quality unlike few others.
Oddly enough, conversations with a fair number of well-worn gun enthusiasts has allowed me to formulate the conclusion that many storied shooters have yet to realize that the company makes a long list of products that parallel the quality of their well-known triggers.
Geissele Triggers
Geissele makes one of the best triggers on the market. There are, of course, plenty of extremely good manufacturers out there, and most make a truly fine product. However, Geissele triggers are the definition of rugged and are made for a wide variety of end users and rifles. The company produces triggers not just for the AR-15 and AR-10, but also for the IWI Tavor and X95, HK 416, M4/M16, SCAR, ACR, SIG MPX and MCX and Remington 700. It should be noted that some of these triggers are for select-fire/full-auto rifles, and you should be on point with ensuring you don't install one illegally.
Hi-Speed National Match: This is an expensive trigger. It's also my favorite trigger the company makes. It currently resides proudly in my Brownells retro M16A1 replica. I put a great deal of time into that rifle, and it wears authentic Vietnam-era furniture, dated circa 1967 to 1969. I also got my hands on a real-deal deployed sling from the collection of a late vet I knew when I was younger. He slung his own M16A1 with it during Tet, or so he told me.
This trigger is fully adjustable but must be set to a specific pull weight for use in matches. I have mine set to a 4.5-pound pull with a light first stage. If you haven't shot much with an original or replica 20-inch rifle with a rifle buffer tube, you have no idea just how smooth an AR can be. Carbines today cycle rough by comparison. I sometimes feel like I'm pulling up in a restored classic car when the old timers at the range get their hands on the build.
Super Dynamic Combat (SD-C): Not only is this trigger cool looking with a straight face, but it's also extremely functional in that it provides a wide, completely flat frontal surface area. This feature provides a sense of equal leverage despite gloves or finger placement. The version I have is a two-stage.
Where this trigger shines is in the pistol/SBR role. I have it installed in my Brownells BRN180S pistol build with a 10.5-inch barrel. This trigger may, in fact, be the best available for a small build in that it offers a very consistent break in a light gun. Pistol builds and SBRs often struggle in precision due to light system weight and compact grips and stocks. This trigger alleviates these symptoms and allows for excellent precision despite hand placement.
Super 700: This release came as a surprise to many, but it's really an inevitability considering that the Remington 700 is probably the most common base for precision rifles in our recent history. The marriage of Geissele and the Remington 700 is a happy one.
The trigger addresses a few shortcomings in other triggers out there. For one, it's externally adjustable through the trigger guard. Many competitors require the removal of the action from the stock to access the adjustment screws. The Super 700 can be adjusted while it's installed in the rifle, even at the range.
Geissele 2 Stage (G2S): This is the closest you'll get to a "budget" trigger and still have the "G" on it. I have this trigger installed in a full Brownells BRN180 rifle build with the special HK-style lower available on a limited basis. My own BRN180 rifle is decked out with Geissele parts; it handles and shoots like a dream. It's probably the best DIY rifle you can put together today with all the benefits of the SCAR, ACR and other like platforms, but at a fraction of the cost. The G2S trigger is perfect for the build and provides a reliable and crisp two-stage pull. It breaks clean and is well suited to midrange carbines. If you want to upgrade your stock carbine with a real and tangible step up, this is a perfect place to start.
---
Get On Target With The AR:
---
Tavor/X95 Super Sabra Trigger Pack and Bow: I wasn't a huge fan of the X95's trigger. The rifle handled poorly as a result. The Super Sabra blows the stock unit out of the water—it changed the rifle completely. I have no idea why IWI doesn't contract Geissele to put on of these in every one of their rifles—it's a night-and-day difference.
Beyond Triggers
While known for their triggers, Geissele makes a full line of other products, including complete rifles. Not everyone knows this—most react like it's some sort of secret that the Big G makes optics and mounts, handguards, safety levers, trigger guards, bolt carrier groups, bolt stops, buffer tubes, springs, buffers and so on. They're all fantastic.
Super Precision 1-6x 30mm Scope: I've beaten this scope, and it has proven more rugged than almost any other in its size and price range. I ran the grueling Wolverine 5K with this optic on my carbine, and it survived tremendous abuse in that competition alone. Not only has the finish held up, but it has held zero the entire time. It's a second focal plane optic; however, I leave it at 6X most of the time to take advantage of the mil reticle. The optic features an illuminated dot in the reticle, which is great at 1X in competition. At 6X, it occupies a DMR role and can be used quickly and effectively on holdover alone.
The rifle I have it on is the Remington 700 with KRG chassis in this article. It also has the Super 700 trigger. This build is chambered for 6.5 CM and is set up to be an extremely portable precision rifle. I built this rifle with special input from some MARSOC and Delta guys I know as a concept to test out the idea of a tight confines sniper rifle ideally suited for 120-grain bullets out to 3/4 mile. Using Hornady 120-grain ELD bullets at 2,800 fps, the rifle performs better than a 175-grain M118LR .308 Winchester out of an M40A3 rifle with a 24-inch barrel! It beats it by an entire mil of drop at 1,000 yards.
Why is any of that important as far as the scope is concerned? Well, using 120-grain bullets and a Geissele scope, it's able to go to 880 yards (1/2 mile) with a 100-yard zero and holdover alone in the reticle. If you think 6X is too little at 800 yards, you should try it first. The speed of engagement is incredibly fast.
Super Precision Optics Mounts: I have a couple of these mounts and used them on a variety of rifles from .22LR to .338 Lapua—and literally swapped them directly from rifle to rifle. I write down the zero and click it in, and, sure enough, it's right there as if it had never been removed in the first place. The mounts are of the highest quality and even have ring caps serial numbered to the individual ring. They're very serious about how repeatable these mounts are.
Handguards: The AR market is saturated with handguards, but none are as rigid or as strong as the Geissele variants. I've used versions of the handguard for years now and can say that they're the standard of quality the entire industry should aspire to. Why do I say this? The most demanding shooters trust them, and they're considered the standard for the National Matches.
Additionally, I love the MK8 M-lok rail as well. It's a much lighter rail, suitable for general-purpose use,
and comes in a variety of lengths. I found it most useful in the 15-inch configuration.
Small Parts Galore: As evidenced in the photos, Geissele makes a number of small parts to enhance your rifle. Among the hidden ones are the Super 42 spring and buffer. They're made of a tri-wire twist and take after the German MG42 machine gun, nicknamed Hitler's Buzzsaw. This terrifying Nazi weapon had a firing rate so fast it sounded like a great sheet being ripped in half! The Geissele variant provides the same technology to last tens of thousands of rounds without losing strength.
The guns in this article, with the exception of the Remington 700, all make use of Geissele lower parts kits. The BRN180S has a Geissele Maritime Bolt Catch and a Super Configurable Safety with dogleg levers. These are great additions to any carbine build and are basically fumble-proof.
The BRN-180 rifle build has a Geissele buffer tube in DDE color, Geissele iron sights and a Geissele trigger guard to match the buffer tube. Both BRN180 builds make use of Geissele M-LOK rail covers. They're textured and provide excellent traction when shooting with sweaty or cold hands.
When Geissele parts run throughout the rifle, so does the quality.
Editor's Note: This article originally appeared in the November 2020 issue of Gun Digest the Magazine.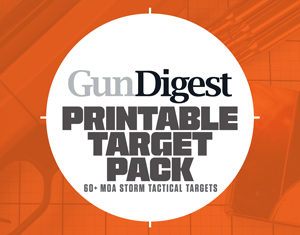 Next Step: Get your FREE Printable Target Pack
Enhance your shooting precision with our 62 MOA Targets, perfect for rifles and handguns. Crafted in collaboration with Storm Tactical for accuracy and versatility.
Subscribe to the Gun Digest email newsletter and get your downloadable target pack sent straight to your inbox. Stay updated with the latest firearms info in the industry.