Aguila Ammunition has released its first 300 Blackout round, tailored to excel downrange.
Aguila's .300 Blackout is loaded to perform downrange and produce mild recoil.
The cartridge features a 150-grain FMJ bullet with a muzzle velocity of 1,900 fps.
The cartridge is supersonic, not optimized for shooting suppressed.
The roots of the .300 BLK, or .300 AAC Blackout, are purely tactical, but in a relatively short period of time the cartridge has blossomed into a favorite among everyday AR shooters.
The appeal of the .300 Blackout is obvious, with the less than 10-year-old cartridge not only offering shooters a .30-caliber option for their black rifles, but doing so with little hassle. The .300 BLK is completely compatible with the AR-15 platform, utilizing the same bolt and magazine as the 5.56 NATO without reduced capacity. A shooter need only have the appropriate barrel to harness everything the cartridge brings to the table.
The market has been quick to hitch its star to the meteoric rise of the cartridge, with gun and outdoor stores' racks bursting with a full selection of rifles chambered for the round, and its shelves brimming with .300 Blackout ammo. Aguila Ammunition is among the most recent to "blackout," offering what appears to be a snappy round, perfect for the range or competition.
Topped with a 150-grain full metal jacket bullet, the new round is designed to outperform the 5.56 NATO in every barrel length, particularly in pistol-length guns. At the same time, it's not so hot as to make the recoil unmanageable.
"Our new .300 AAC Blackout design delivers impact and accuracy, with low recoil much like other Aguila rounds," said John Domolky, Director of Sales for TxAT/Aguila Ammunition.
Aguila lists the muzzle velocity of its .300 BLK ammo at 1,900 fps, which is a good clip for the round. And while there was no ballistic coefficient listed for the bullet, if the company's numbers prove true, it's a decent downrange performer. The bullet looses just over 150 fps at 100 yards, and it delivers 1,004 ft-lbs. of energy at that range.
One thing to keep in mind about the new .300 Blackout round from Aguila, which is certainly not lost on those who shoot suppressed, is that it's supersonic. In turn, this .300 BLK ammo is not optimized for a reduced sound signature. But there's always a trade-off in how ammunition is loaded, and Aguila is shooting for downrange performance. It will be interesting to see if the company also has a heavier, subsonic .300 BLK round in the works.
Aguila is offering both 50- and 20-round boxes of its new .300 BLK ammo, and at the present time has not released an MSRP for either.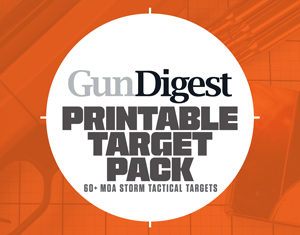 Next Step: Get your FREE Printable Target Pack
Enhance your shooting precision with our 62 MOA Targets, perfect for rifles and handguns. Crafted in collaboration with Storm Tactical for accuracy and versatility.
Subscribe to the Gun Digest email newsletter and get your downloadable target pack sent straight to your inbox. Stay updated with the latest firearms info in the industry.